A brand new series of official Animal Crossing Amiibo Cards have been announced by Nintendo and are on their way to Animal Crossing: New Horizons soon!
Following the Animal Crossing Direct presentation earlier today revealing an upcoming major update to Animal Crossing: New Horizons with Brewster and much more, a new Series 5 of Animal Crossing Amiibo Cards were announced in detail.
The new Series 5 Animal Crossing Amiibo Cards are scheduled to release on November 5th, 2021 — the same day as the massive Version 2.0 Update with dozens of new features will be available for download!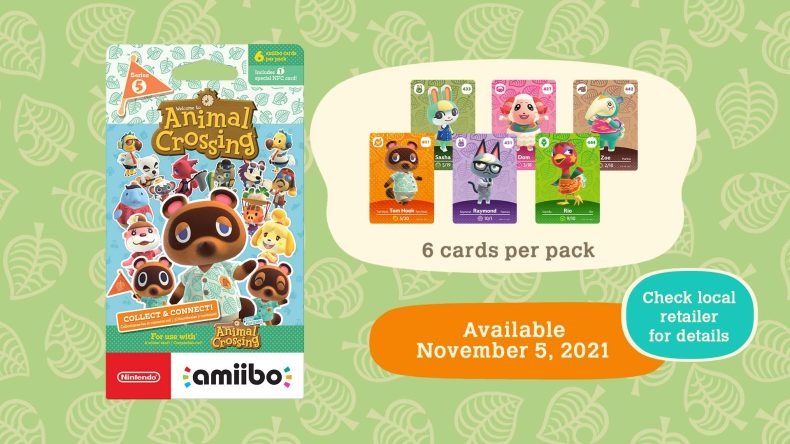 In North America, fans can find 6 randomly selected cards in each pack of Series 5 they pick up. In Europe and Japan, players can pick up 3 randomly picked cards in each pack instead.
Complete List Of Series 5 Animal Crossing Amiibo Cards
There are 48 new amiibo cards in total found within the fifth series with a mix of special characters who have previously received cards, new special characters and villagers who never had cards, plus a set of new villagers coming in the Version 2.0 Update!
In the section below, you can find the complete collection of Animal Crossing Amiibo Cards in Series 5 with English names, photos, and card numbers.
If you use screenshots of this article in a video or other content, please consider including a link to this page.
While you're here, don't miss out on everything else that's available for free in Version 2.0 of Animal Crossing: New Horizons including Brewster, Kapp'n, Gyroids, Cooking, new shops, and much more. Plus, a new DLC expansion called Happy Home Paradise will soon be available.
Let us know your thoughts in the comments on whether you'll considering collecting the new Series 5 of amiibo cards!
Stay tuned to Animal Crossing World for everything on Animal Crossing: New Horizons, including our extensive Guides section here. Our most popular pages include What's New In October / Halloween 2021, Spooky Set Items & DIY Recipes, Jack's Halloween Event, Series 5 Amiibo Cards, Halloween Costumes, New October Critters, Acorn & Pine Cone DIY Crafting Recipes, Redd Art, and Sea Creatures.