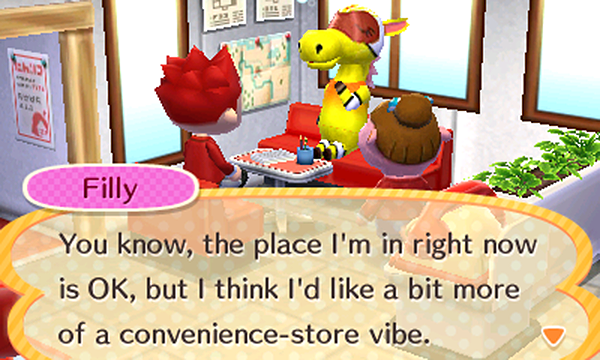 The Filly Special Design Request DLC that we reported on for the United Kingdom last week is now available in North America as well through Nintendo Zone hotspots.
Filly comes with a small selection of the 7-Eleven items released in Japan back in August, but unfortunately excludes all the items featuring the 7-Eleven logo. Still, it's better than nothing to get some of the items release overseas at least.
Here's our video showing off the DLC in action:
And here's a screenshot listing the included items:
You can pick up Filly and his associated items for free right now by connecting to a Nintendo Zone hotspot in North America and searching for special design requests using the blue Nintendo 3DS on the second floor desk at Nook's Homes.
Or if you can't make it to a Nintendo Zone yourself, we've confirmed that the classic trick to access Nintendo Zone DLC at home using a fake hotspot works for Filly. Learn more on what this trick is and how to use it yourself by checking out our guide here.
There's no word on how long this DLC will be available in North America, so I highly suggest checking it out sooner rather than later. It will be available until January 9th, 2016 in Europe at GAME Nintendo Zones.