Animal Crossing: New Horizons will feature the most freeing character customization in any mainline Animal Crossing game yet, according to a recent interview with developer Aya Kyogoku.
Speaking to Polygon, Kyogoku revealed that the latest game in the series has entirely gender-free parts for both hairstyles and facial features allowing you to pick from the same shared pool, no matter the gender of your character. Furthermore, she added that they are changeable at any point during your time on your island in Animal Crossing: New Horizons.
03/20 UPDATE: Animal Crossing: New Horizons has now been released and you can access our complete guide to changing your character's appearance including hair styles and colors here!
Here's the direct quotes of Aya Kyogoku, director of Animal Crossing: New Horizons, straight from Polygon's article:
"Right from the start, you'll be able to choose the way you want to look," Kyogoku said, in an interview with Polygon during E3. "All the facial parts or hairstyles are all gender-free. So you can select from a pool of hairstyles and facial features and then they're also changeable at any point in the game. So if you feel like a certain way one day, then you can make that change pretty easily."
Since your hair style and facial features can be changed at any point in the game, we're definitely wondering how this will take shape in the game. Will there be some sort of new item or location on the island available from the start that can interacted with to enter a character editor, like in Happy Home Designer?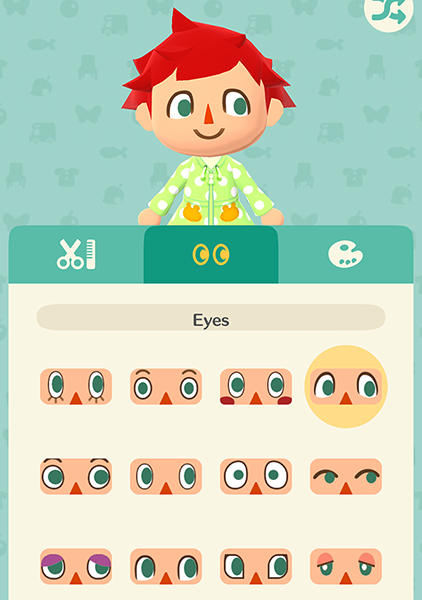 (pictured above: Animal Crossing: Pocket Camp's Edit Character screen)
We could also see a simple button in the interface menus to access character editing like in Pocket Camp, but that would feel quite out of place for a mainline Animal Crossing game. And it seems highly unlikely Shampoodle will return in its original form given that the deserted island wouldn't feature such a shop initially.
Finally, the option to change your player's skin tone will be made available too as previously confirmed by Kotaku yesterday!
Pre-orders are now open for Animal Crossing: New Horizons at Amazon, GameStop, and Best Buy. Stay tuned to Animal Crossing World for more on Animal Crossing: New Horizons as we approach the release date next year.