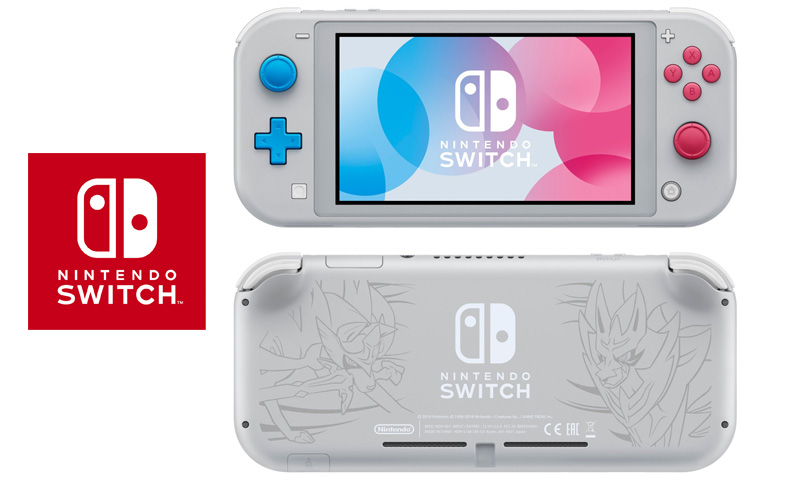 Nintendo introduced the brand new, smaller Nintendo Switch Lite system today with exciting yellow and turquoise colors, but an interesting Pokémon Sword and Shield special edition was revealed too!
The Nintendo Switch Lite Zacian and Zamazenta Edition (yeah, that's the full title!) is a specially designed version of the new console featuring blue colored buttons on the left side, and pink colored buttons on the right side. Additionally, there's an extensive pair of illustrations of two legendary Pokemon on the backside of the system!
What's special and notable about this special edition compared to previous themed Nintendo Switch releases is that it features changes to the button colors and additional flairs like the Pokemon illustrations on the back.
UPDATE: Looking for news on an Animal Crossing: New Horizons Nintendo Switch system? Read our new analysis article on when an AC Switch might be announced!
So far with the original flagship Nintendo Switch system, we've only seen base color changes to the Joy-Con controllers — no button color changes, illustrations on the back, or other design changes.
With the new Nintendo Switch Lite, it looks like we'll now be seeing the return of completely themed special editions for games just like in the past on the Nintendo 3DS XL — including for Animal Crossing: New Leaf and Animal Crossing: Happy Home Designer.
We'd guess that it's highly likely Animal Crossing: New Horizons will receive a special edition Nintendo Switch Lite system just like this Pokemon one. Since the game releases in March 2020 as the first major release in the new year after the holidays are over, it'd be a very logical choice for the next themed console.
Alongside Pokemon Sword and Shield, Animal Crossing is one of the main reasons for the Nintendo Switch Lite to exist to begin with. Between targeting young kids who need parents to purchase the system for them and casual gamers who enjoy Animal Crossing, the lower price tag of the Switch Lite will be important and a special edition of the low-priced console is even better.
One question left on our minds though is whether there will be Animal Crossing themed Joy-Con controllers released too for the original Nintendo Switch system, or if a Nintendo Switch Lite version is the only type of Animal Crossing theming we'll see released with New Horizons.
If you're interested in the Nintendo Switch Lite Zacian and Zamazenta Edition though, it will release later this year on November 8th, one week ahead of the launch date for Pokémon Sword and Pokémon Shield on November 15th! Note that this is not an actual bundle as the edition does not include a copy of the game and costs the regular price of $199 USD.
Animal Crossing: New Horizons News Nintendo Switch Speculation