A whole bunch of very exciting potential new features and content have been revealed for Animal Crossing: New Horizons, thanks to a deep datamining analysis!
Please note that this rumored information comes from datamining conducted by Ninji on Twitter and is not official information from Nintendo. Animal Crossing World did not datamine the game ourselves and are simply reporting on the information uncovered by other people.
OCTOBER UPDATE: Looking for the latest datamining information? Check out our Fall Halloween Update Datamine Hints New Upcoming Features For Animal Crossing: New Horizons article here.
With that said, let's dive right into the most notable upcoming new features for Animal Crossing: New Horizons rumored by this datamine! Be warned this could be quite the spoiler.
Crazy Redd's Ship On The Private Beach
As many Animal Crossing: New Horizons players have likely already discovered, every island features a sort of 'secret' beach area towards the very back of your island. It's a really nice piece of land, but sticks out as an odd spot with no clear purpose in the game yet.
However, it turns out that this acre (the square area of the map) has a very interesting name inside the game's code! Specifically, the secret beach acre is named " Nつねきち" internally.
What is つねきち? Interestingly, that's exactly the name of Redd in Japanese. Check it out yourself on the Japanese Animal Crossing Amiibo Card for Redd himself shown below!
According to the datamining, it appears that Crazy Redd will have his own ship that can dock on the secret beach we mentioned earlier. Additionally, the gameplay mechanic where he would sometimes sell fake art will be returning.
For those who are new to the Animal Crossing series, Crazy Redd is a special character from past games who operated his own shady black market business selling exclusive furniture or art and paintings.
Given his shady nature though, there was a good chance of his art and painting being fake forgery versions that could not be donated to the Museum.
Redd visiting with his own ship containing black market wares showing up on your island through the secret beach is a pretty genius idea and would be a perfect fit for the character. Tom Nook and Redd are said to have a rough history, so sneaking in the back of your island unnoticed would make a lot of sense.
Museum Upgrades: Museum Shop & Museum Gyroid Cafe
The Museum has an absolutely gorgeous design in Animal Crossing: New Horizons but when it comes to actual function, fans have definitely noticed some missing content.
Thankfully, significant new content for the Museum seems to be on the way with two additional Museum upgrade levels found in the game's code. This could be similar to how the Nook's Cranny store upgrades into better versions with more features as you progress.
According to the information found through datamining, all three levels of the Museum including the initial one we currently have, contain sections for art like painting or statues. These new items will likely be obtained through Redd as previously discussed.
Additionally, there appears to be two more standalone buildings for a Museum Shop and a Museum Cafe. Presumably, the Museum Shop would function similarly to the version seen in Animal Crossing: New Leaf with custom exhibit rooms for rent and additional museum themed items for sale.
As for the Museum Cafe, it would likely include the past special character Brewster serving coffee as a barista. This cafe allegedly includes a section featuring Gyroids as well, which would make sense as Brewster has a known fondness for Gyroids.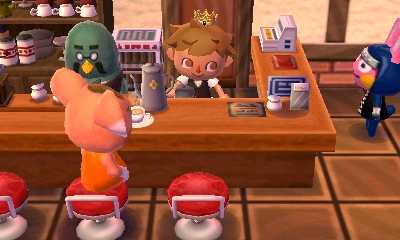 We're a little confused as to why these would be standalone though if the Museum building itself is getting upgrades. However, this could easily be a misunderstanding of the code.
Six Types of Bushes
As many fans have been hoping for, plantable bushes will be returning to Animal Crossing: New Horizons with the following bush types seen in the game's files as of the latest version:
Azalea
Hibiscus
Holly
Hydrangea
Camellia
Osmathus (likely Sweet Olives)
Most of these bushes were seen in Animal Crossing: New Leaf on the 3DS, but Camellia would be a new addition to the series. Ninji does note that this list of bushes actually changed between version 1.0 and the latest update, so it's subject to change.
While we're on the topic of gardening, an unused shop interface titled 'cGardening' has been found as well. This is the same system used to power the Nook Miles redemption menu or purchasing from traveling merchants like Kicks.
It's likely that this 'cGardening' interface could mean our hopes and dreams for Leif selling bushes or other related items in the upcoming Earth Day update will come true.
Planting & Harvesting Vegetables
While bushes have been an expected addition by many Animal Crossing fans, a completely different type of plant has been discovered — vegetables!
According to items found in the Animal Crossing: New Horizons files, the following foods may be available to grow and pick in future updates:
Tomato
Potato
Carrot
Pumpkin
Wheat
Sugar
This would be quite the crazy addition as while similar games like Harvest Moon have always heavily featured farming, the Animal Crossing series has largely strayed away from the concept.
As it turns out, there's a bunch of empty functions like this, which act on a 'Fg' item (plant, tree, hole, rock, fence), interspersed with other Fg functions

And through leftover internal names, we can see they likely involve unreleased features…#ACspoilers #ACdatamining pic.twitter.com/bZstr9lALz

— Ninji (premium) (@_Ninji) April 19, 2020
If there was ever a time for farming vegetables to be introduced though, the new crafting system in Animal Crossing: New Horizons certainly makes sense. We figure you'd likely harvest these foods as crafting materials to make food items. Or…
Cooking?!
Inside of Animal Crossing: New Horizons, there's a 'play report' feature that generates reports for Nintendo containing aggregate data on what players do. The company can use this information for studying how the game is played.
Three versions of this play report feature exist including 'get_recipe_diy', 'get_recipe_clothing', and 'get_recipe_cooking'. Currently, only the 'get_recipe_diy' function is actually used though.
It's possible that a Cooking feature could be in the works for Animal Crossing: New Horizons, otherwise it would rather pointless to generate such a report. This possibility ties in perfectly to the vegetable farming items we discussed earlier too!
Diving & Sea Creatures Returning
It's not a huge surprise, but the diving feature and associated sea creatures to catch have been found returning in the files for Animal Crossing: New Horizons!
Specifically, a file for a new "Seafood" page in the Critterpedia NookPhone app was found containing 33 different items, including the existing manila clam. This could explain why manila clams aren't able to stack up in your inventory, since fish and bugs don't stack either!
A diving feature allowing you to catch different creatures and seaweed is mentioned by Ninji too. He doesn't directly correlate this with the Seafood files, but it's pretty safe to assume they're connected as they were in Animal Crossing: New Leaf.
Apparently, there's already space reserved in the save file to store the data for these creatures too!
A New Nook's Cranny Expansion
As of right now, there are only two versions of the Nook's Cranny general store available in Animal Crossing: New Horizons, with the first upgrade unlocking for most players right around now.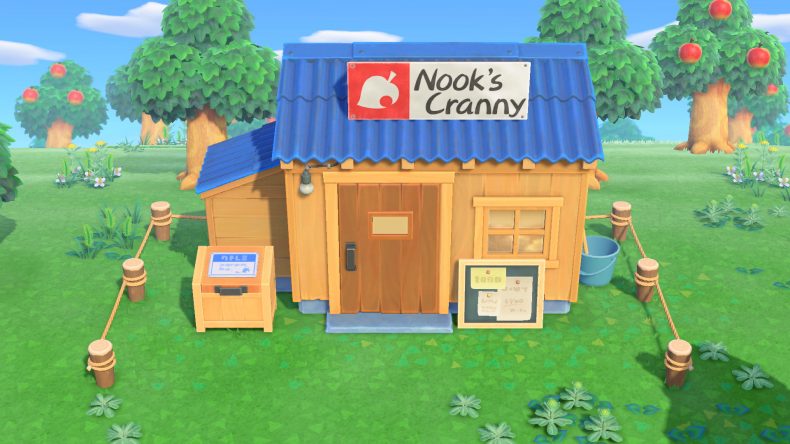 Thankfully, a reference to a third version of Nook's Cranny has been found in a datamined file. There aren't any details on requirements or new features, but this finding should please those who were worried about missing future upgrades.
Given that players who don't time travel are only just beginning to unlock the first Nook's Cranny upgrade this week, it's just about the right timing for an update to include a second upgrade soon.
Extra Odds & Ends
We focused on covering all of the highlights here, but you can read Ninji's full tweet thread covering over all of this datamining discoveries on Twitter by clicking the tweet embedded below:
I've not posted much about this, but I think it's a good time to share some secrets about unreleased features in Animal Crossing that game code hints at…

Some of this might make it into the Earth Day update, some might change before release

Mute #ACspoilers if not interested

— Ninji (premium) (@_Ninji) April 19, 2020
---
It's worth noting that we aren't able to verify most of this information ourselves, but it does come from the credible dataminer Ninji who has previously revealed other details from Animal Crossing: New Horizons.
We trust Ninji as a worthy source for the information, yet it's important to be know that it's easily possible for parts of unreleased features to be found in the game's code, even if Nintendo has no intentions of actually releasing them.
This can happen for a number of reasons including simply abandoning an idea in favor of working on something different or choosing to prioritize a more important feature. We can't guarantee everything will come to fruition, but hope you enjoy this sneak peek of what could be on the way soon for Animal Crossing: New Horizons!
Let us know in the comments below what potential new Animal Crossing: New Horizons feature covered in this article you'd most like to see happen! For more on Animal Crossing: New Horizons, check out our many helpful pages on the game in the Guides section here.
Ad Type 3 Animal Crossing: New Horizons Datamine News Rumors