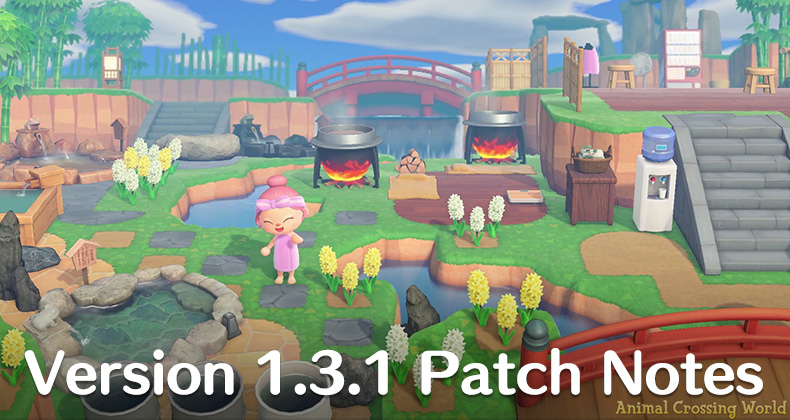 Nintendo has just released a brand new update for Animal Crossing: New Horizons tonight alongside a brief period of server maintenance for the game!
Unlike most of the minor updates for New Horizons in the past, the official patch notes released by Nintendo for this update are actually quite helpful in identifying which bugs and glitches were fixed.
However, just to get any disappointment out of the way, it's safe to assume all adjustments in this update are limited to minor changes like fixing bugs and glitches — not any exciting new features.
Here's the official English patch notes for Version 1.3.1 of Animal Crossing: New Horizons from Nintendo of America below:
Version 1.3.1 Official English Patch Notes
Ver. 1.3.1 (Released July 9, 2020)

The software has been updated if you see "Ver. 1.3.1" in the upper-right corner of the title screen.

Bug Fixes

Addressed issue where players could not properly use a zen bridge or red zen bridge placed on top of a cliff (third tier).
Addressed issue where a wet suit would not be available for sale within Nook's Cranny.
Addressed issue where hermit crabs would appear in places other than the beach.
Addressed issue where a dialogue bubble would improperly appear after speaking with island residents.
This article originally contained roughly translated Japanese patch notes, but has since been updated with the official English patch notes from Nintendo of America.
So as expected, quite a few different bugs were fixed in Version 1.3.1 of Animal Crossing: New Horizons! We're happy that Nintendo chose to be quite specific this time as to exactly what though.
Please note that you will need to be updated to Version 1.3.1 to play online multiplayer with other players and access other network features going forward after this update. Local multiplayer can only be played with others on the same version of the game as you.
Your copy of the game should update automatically for you, but if for some reason it doesn't, you can manually trigger the update by pressing the + button on the Animal Crossing: New Horizons home screen icon, selecting Software Update, and hitting Via the Internet.
Stay tuned to Animal Crossing World for everything on Animal Crossing: New Horizons, including our extensive Guides section here. In particular, don't miss out on our new Sea Creatures, Pascal's Mermaid Set, and Pirate Gulliver guides.