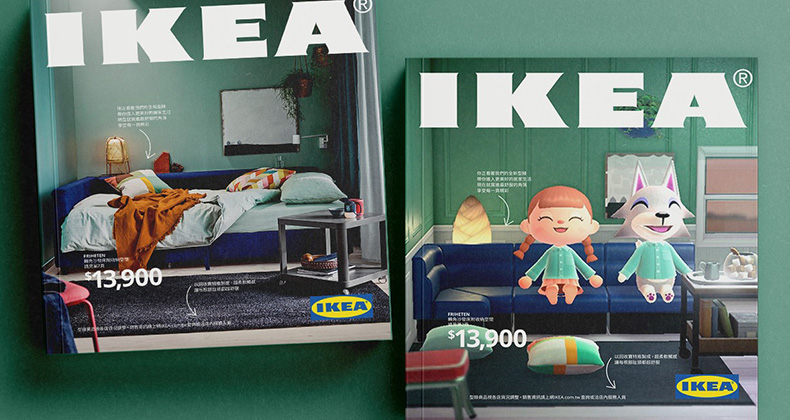 We've seen all sorts of moves by global brands since March to integrate into Animal Crossing: New Horizons and catch the trend, but the latest attempt from IKEA might just be one of the best yet!
If you've ever wished you could browse through a real looking catalog of Animal Crossing furniture, you can get a taste now thanks to the lovely folks over at IKEA Taiwan. To help promote their real 2021 catalog, the company has released a series of pages from the publication remade with matching screenshots taken in Animal Crossing.
They haven't just simply taken screenshots and shared them on their own though — rather the screenshots from Animal Crossing: New Horizons have been cleverly embedded into the catalog pages, including the pricing and names of IKEA furniture just like the real version!
Of course, there are limitations in whether equivalent enough furniture exists in Animal Crossing to match IKEA's designs, but the company has done a surprisingly good job at finding close matches. And in cases where there wasn't a perfect match, a little creativity has gone a long way — like the Dinosaur plushie replaced by a fossil display!
Going beyond just the actual furniture, IKEA has even gone as far as to replicate the human models in some catalog shots replacing them with Animal Crossing player characters styled identically to complete the look.
If only the actual in-game catalog interface in Animal Crossing: New Horizons looked this great, right? Take some notes Nintendo… there's a fantastic way to introduce new furniture sets in a future update!
IKEA certainly isn't the first brand to make an attempt at using Animal Crossing to promote themselves, yet it's one of the most creative we've seen so far. Although KFC Philippines's island where you could find the Colonel for free chicken was definitely a top contender as well…
We've included some of the best photos of IKEA's Animal Crossing themed furniture catalog above and even more below, but you can find the complete collection yourself here on the company's Taiwan Facebook page.
Stay tuned to Animal Crossing World for everything on Animal Crossing: New Horizons, including our extensive Guides section here. In particular, don't miss out on our recent August Fireworks Show Event, Tripping & How To Craft King Tut Mask, and Dreaming With Luna guides.