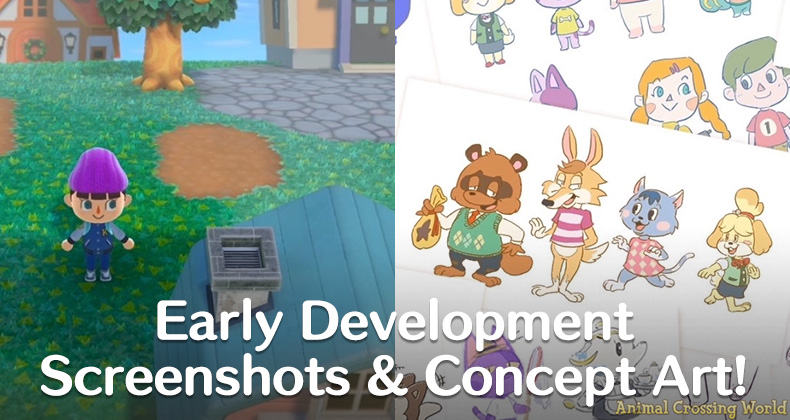 New early development screenshots and concept art for Animal Crossing: New Horizons have been shown off for the first time, thanks to a conference held in Japan this week!
There's no question that Animal Crossing: New Horizons is a strikingly beautiful game with a unique design compared to past titles, but of course it wasn't always that way from the beginning.
Unlike previous games in the Animal Crossing series which were revealed years in advance, we only saw our first glimpse at New Horizons' graphics just nine months before release. That's made for many mysteries of the game's development, but we're getting a small peek this week for the first time!
Animal Crossing: New Horizons Early Beta Screenshots
Speaking at the CEDEC 2020 conference in Japan recently, the Animal Crossing: New Horizons team at Nintendo shared a few never before seen screenshots of the game from early in development. We don't know exactly when these were taken, but it seems safe to say sometime in early 2018 at least given the vast differences from what we saw at E3 2019.

Interestingly, but rather predictably, it appears the initial versions of Animal Crossing: New Horizons closely resembled the design of Animal Crossing: New Leaf on 3DS as they got started. The grass, cliff texture, and cobblestone designs all have a very New Leaf-esque look to them.
On the other hand, the trees stand out as relatively similar to the final tree design seen in Animal Crossing: New Horizons, which leads us to believe that trees are one of the first new assets Nintendo created. It makes a lot of sense given how much of the game's visual identity revolves around them!
We can also spot what appears to be a very, very early version of the Resident Services building in the first screenshot surrounded by cobblestone, just like major buildings in past series titles. It seems to take up a much smaller footprint though compared to the real Resident Services in the final game.
A very rough and early mini-map can be seen in the bottom right corner of the second screenshot too. The concept of having a visible on-screen mini-map with the player location indicated was likely an early planned feature based on this.
Creating paths around your island using the Island Designer app looks to have been a very early feature concept as well given that paths can be seen in both screenshots, not to mention they're actually outlined on the rough mini-map as well just like in the final game.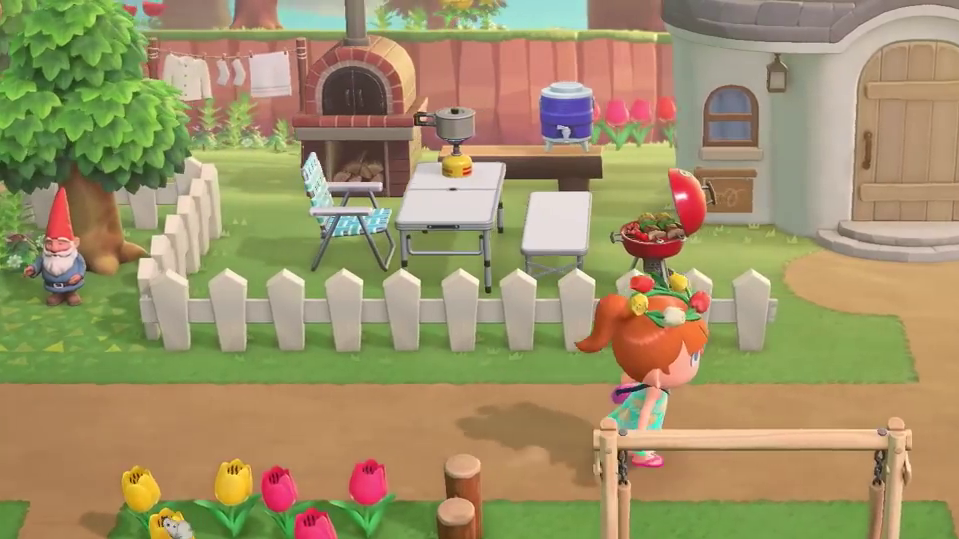 Finally, we can't forget to mention that Nintendo has teased us with the infamous white wooden fences once again in the second screenshot! We've discussed these fences before with how they appeared in the Animal Crossing: New Horizons E3 2019 reveal trailer, yet can only be found in a different color inside of the game. At this point, we'd love to see them in an update just for sake of principles.
Animal Crossing: New Horizons Villager Concept Art
Those screenshots weren't the only peek behind the curtain shown at CEDEC 2020 though! Nintendo has given an inside look at the process of designing villagers and characters in Animal Crossing: New Horizons as well.
Most notably, we've got a lovely image seen above showing off a variety of different character concept art that was created and tested over the course of development. Definitely a lot of experimentation going on here with unique styles for sure!
Of course, eight brand new villagers were introduced into Animal Crossing: New Horizons for the first time too, which would obviously lead to concept art for them. Check out our first look at early concept designs for new villagers Sherb, Dom, Cyd, Judy, and Audie below!
The Animal Crossing series took quite the generational leap going from a low resolution Nintendo 3DS title all the way to the relatively powerful Nintendo Switch in HD, which required much thought on how to properly bring the designs over and improve them accordingly. In the images below, we can see Bob used as an example to illustrate these changes.
And while it's not really a matter of art, we thought this slide below using stock photos as representations for various villager personalities was quite funny and interesting to see from Nintendo! I don't think any translations should be necessary to figure these out, especially the Jock type.
Animal Crossing: New Horizons Furniture Concept Art
Finally, the presentation from Animal Crossing's developers went into surprising depth over the design of furniture! As we all know, a large focus was placed on furniture in Animal Crossing: New Horizons and the customization of it with many possible variations for each item.
In the concept art image below, we can see the immense amount of thought and design that went into just one furniture item — the Retro Fan!
Animal Crossing: New Horizons also introduced the concept of outdoor furniture to the series, with some Nook Miles items like the Lighthouse specifically intended for outdoors use. However, those items can also be placed indoors creating an issue where they must be well designed for both situations!
Therefore, a consistent standard of height scale for furniture both indoors and outdoors had to be established, as detailed in the image seen below.
Another advancement to furniture in Animal Crossing: New Horizons was the addition of more detailed item interactions, such as the elaborate Bamboo Doll item that many of us experienced near launch. Check out the detailed concept art below for the Bamboo Doll!
It's quite incredible seeing how much detailed work went into the furniture across the game if every item has this level of concept work done. While we still wish there were more furniture to enjoy in New Horizons, it makes us a bit more appreciative of what there already is and a better understanding of why there may not be more.
---
That just about wraps up our summary of the new screenshots, concept art, and development information released for Animal Crossing: New Horizons this week! Check out Famitsu's article to see even more photos though. Special thanks to Siliconera and PushDustin for some translations used in this article.
Stay tuned to Animal Crossing World for everything on Animal Crossing: New Horizons, including our extensive Guides section here. In particular, don't miss out on our popular Acorns & Pine Cones, Redd Art, Sea Creatures, Pascal's Mermaid Set, and Pirate Gulliver guides.