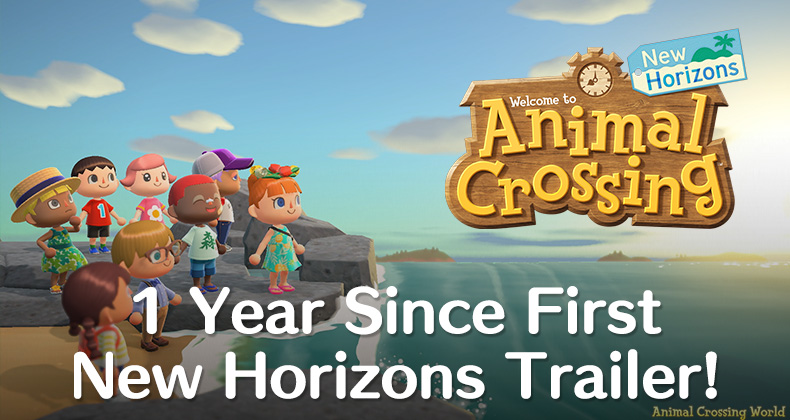 Exactly one year ago today, Animal Crossing: New Horizons was first revealed during the E3 2019 Nintendo Direct presentation!
Fans had been desperately waiting for any sign of the untitled 'Animal Crossing Switch' first announced in the September 2018 Nintendo Direct 9 months earlier, and more than 30 minutes into the Nintendo Direct, we still hadn't heard anything about Animal Crossing.
Finally at the 33 minute mark, just when hope was beginning to wane, a new trailer began on a black screen with an unknown announcer narrating the arrival of the Nook Inc. Getaway Package — wait, what?! It's certainly not how anyone expected Animal Crossing Switch to be revealed.
But there it was, our very first look at the deserted island life in Animal Crossing: New Horizons! Right away, the brand new crafting system with materials like tree branches and stone was introduced, and perhaps a bit unsettling at first given the experience of Pocket Camp in the years prior.
As the trailer went on though, it became clear that this was the real Animal Crossing game we had waited 6 years to see — not just some weird crafting spin-off title!
Other major new features seen in the trailer included the ability to place furniture outside, a newly enlarged beach, digging up trees to move them, the new Island Designer paths, the shocking new Vaulting Pole tool, and newly expanded 8-player multiplayer. It's pretty crazy how much they managed to pack into a 1 and a half minute video!
Unfortunately, all those amazing new reveals led up to the disappointing delay announcement of March 20th, 2020 after a previously scheduled 2019 release date. But here we are a full year later with months sunk into Animal Crossing: New Horizons. It's sure hard to believe sometimes!
Sadly, there won't be any similar Nintendo Direct happening this week due to the cancellation of E3 2020, and according to some reports Nintendo has no plans for such an event until at least July.
We're willing to bet that there probably would have been some sort of Summer Update announcement for Animal Crossing: New Horizons in an E3 Nintendo Direct under normal circumstances. The timing just seems right given that the last in-game event (Wedding Season) is taking place right now.
Two Changes From New Horizons At E3 Versus Release
While our minds are on the topic of the initial E3 reveal, there's two interesting changes from the E3 demo trailer build in comparison to the final release version of Animal Crossing: New Horizons we're enjoying today we want to highlight.
Grass Textures
As you might have noticed in the screenshots included earlier throughout this article, the version of Animal Crossing: New Horizons shown off at E3 2019 featured quite different looking grass than what we see on our islands today.
The previous version of grass graphics seen at E3 2019 were far more plain with more of a 'carpet' look covering the entire world, and small batches of the classic Animal Crossing triangle patterns added conservatively.
Check out the example below that we created a while back between the original E3 gameplay and another version of New Horizons shown off sometime later, which still remains accurate to the final game:
The adjustments in grass between the two versions are even more stark when you compare the winter snow season between E3 and the final game:
So, which version of the grass and snow do you prefer? Personally, I was a huge fan of the change after E3 bringing back more of a 'classic' Animal Crossing grass look. However, looking back on both versions in hindsight, I can't help but wonder what it would have been like to play the original E3 version too.
Especially when it comes to the snow season, there's something uniquely appealing about the early look of that snow at E3. Let us know in the comments below what you think!
The Missing White Fences
While it's quite minor, another interesting departure from the E3 version of Animal Crossing: New Horizons involves some of the outdoor customization options, or rather lack of. Near the very end of the E3 2019 trailer when the group of friends all make their way to the beach, there's a conspicuous item that can't be found in the final game.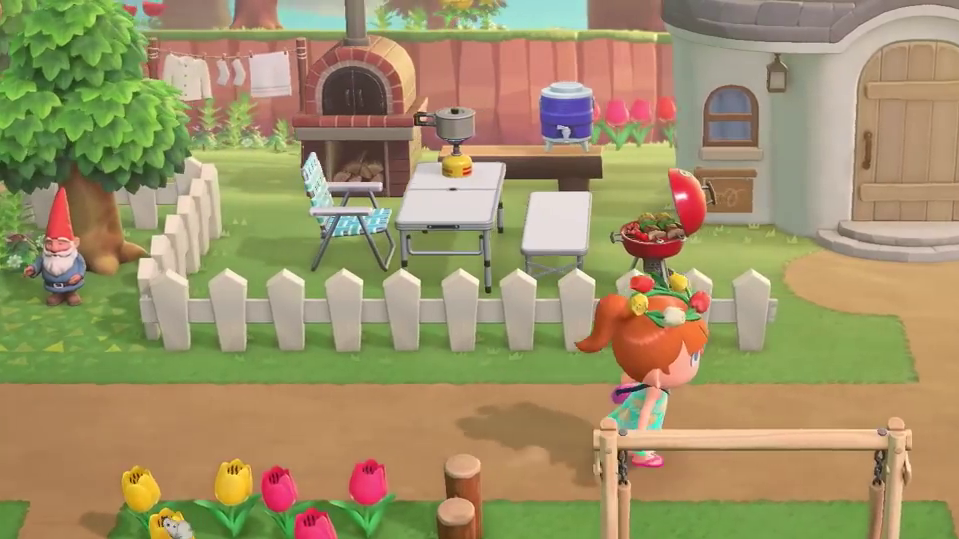 Did you spot it yourself when re-watching the trailer recently? The missing item is none other than that white wooden fence along the dirt path way and surrounding a villager's house!
Interestingly, the exact same fence model does exist in the final game, but it's only available in light brown. For whatever reason, this white colored version spotted at E3 just miraculously disappeared from the game at some point in development.
And adding insult to injury, the official Japanese website for New Horizons features another type of white fence in some artwork at the very back near Julian, and it also doesn't actually exist in the game! In this case, it appears to be a white version of the Lattice Fence.
Hopefully we'll see some fence customization options arrive in the future to give the people what they demand — white fences! Stay tuned to Animal Crossing World for everything on New Horizons, including our extensive Guides section here.