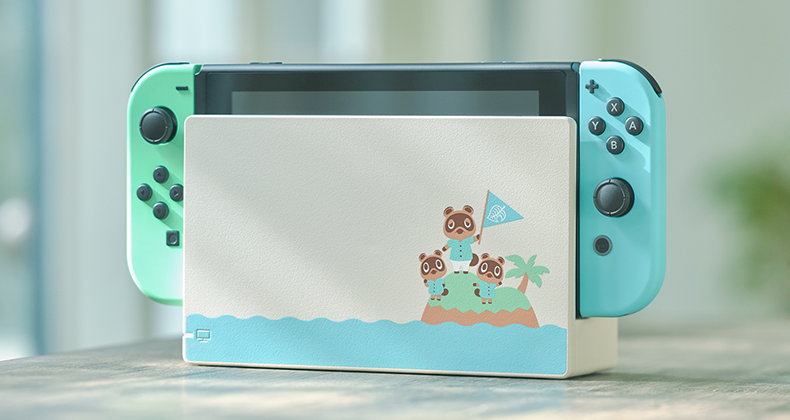 After many months of being perpetually sold out following the launch of Animal Crossing: New Horizons, Nintendo's special edition Animal Crossing console is back in stock at Best Buy today!
As a reminder, the Special Edition Animal Crossing: New Horizons Switch features a gorgeous set of two pastel Joy-Con controllers in green and blue, matching white wrist straps, a beautiful ocean pattern on the system's backside, and the standout white dock highlighting Tom Nook, Timmy, and Tommy on a deserted island.
It's currently available as of this article's publication at Best Buy's US website for $299.99 right here. We're not sure how long this stock will last, but it was previously available for a short time a few nights ago as well.
UPDATE: Currently available at Walmart Canada here for Canadians as well.
If the system is back out of stock again by the time you read this article, we'd recommend keeping an eye on both Best Buy and GameStop's website often for more as we have seen the special edition console pop up a few times in the past few days.
The main four series of Animal Crossing Amiibo Cards have also been announced by Nintendo to be due for a re-stock sometime in November later this year. All 400 of those amiibo cards are compatible with Animal Crossing: New Horizons.
It's certainly an exciting time to be an Animal Crossing fan right now between these dual long anticipated re-stocks of merchandise and the incoming Fall Halloween Update due to be released as early as tomorrow night!
Stay tuned to Animal Crossing World for everything on Animal Crossing: New Horizons, including our extensive Guides section here. In particular, don't miss out on our popular Acorns & Pine Cones, Redd Art, Sea Creatures, Pascal's Mermaid Set, and Pirate Gulliver guides.
Animal Crossing: New Horizons Merchandise News Nintendo Switch