Brand new furniture has been announced for Animal Crossing: New Horizons featuring Super Mario items to celebrate the 35th anniversary of Super Mario Bros!
Hidden inside of this morning's Super Mario 35th Anniversary Direct, Nintendo made the surprise announcement that Super Mario themed furniture items are on their way to Animal Crossing: New Horizons in a future update.
Unfortunately, these new Super Mario furniture items won't be arriving for quite some time though with an expected release date in March 2021. There's no release details beyond that, though a release date of March 10th for MAR10 Day wouldn't be much of a shock.
In recent years, the mobile game Animal Crossing: Pocket Camp has regularly released Mario content around MAR10 Day as well.
Nintendo hasn't shared any official screenshots or images from Animal Crossing: New Horizons of exactly what these new Super Mario items will look like, but we can look back at Animal Crossing: City Folk on Wii below for a potential preview of what to expect. (via Nookipedia)
We're only speculating, but one possible reason that the release date is so far away is Nintendo could be working on implementing all of the other Nintendo series furniture items missing in New Horizons for release at the same time as the Super Mario series.
Releasing only the select few Nintendo themed items that are specifically from Super Mario, while leaving out all of the other associated Nintendo items that the series has been known to include like Link's Triforce and Star Fox's Arwing could be quite the disappointment to some fans. So it'd make sense to release more than just Mario items if the launch is so far away.
We'd like to see the return of a fun mechanic to unlock the new items as well, rather than simply dropping them into the Nook Shopping menu for purchase. In Animal Crossing: New Leaf, fortune cookies could be purchased from Timmy & Tommy for Bells providing a random Nintendo themed item.
Hopefully with the lengthy wait until release, Nintendo will be hard at work on developing a similar system to fortune cookies to make the introduction of these items a bit more exciting and ideally with more generally Nintendo themed items as well!
The timing of other known future content updates for Animal Crossing: New Horizons could be a factor as well. We already know to expect the Fall Update imminently including the Halloween event with Jack. Then later in November, the Harvest Festival event for Thanksgiving will follow shortly. And of course Christmas with Toy Day won't be far off in December.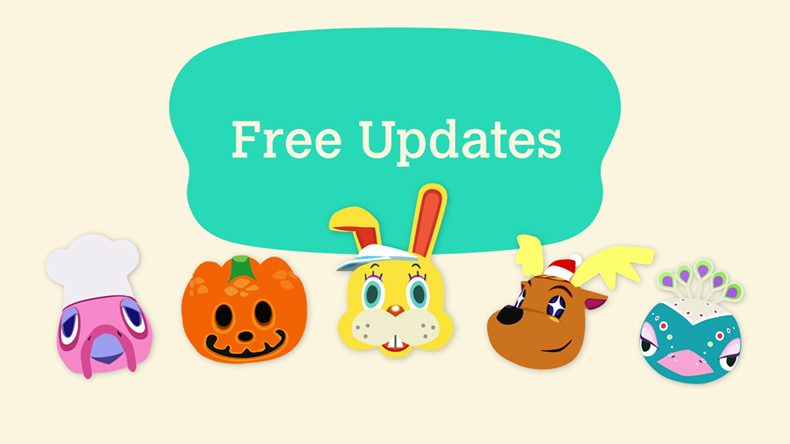 Finally, the last known major event release will be the Festivale with Pave event taking place on February 24th, 2021. So Nintendo could be planning that March would be the first and most ideal location for a new content update unrelated to any event.
Let us know in the comments below what you think about this fun new announcement of furniture coming soon to Animal Crossing: New Horizons, and what other new items you'd like to see!
Stay tuned to Animal Crossing World for everything on Animal Crossing: New Horizons, including our extensive Guides section here. In particular, don't miss out on our popular Acorns & Pine Cones, Redd Art, Sea Creatures, Pascal's Mermaid Set, and Pirate Gulliver guides.