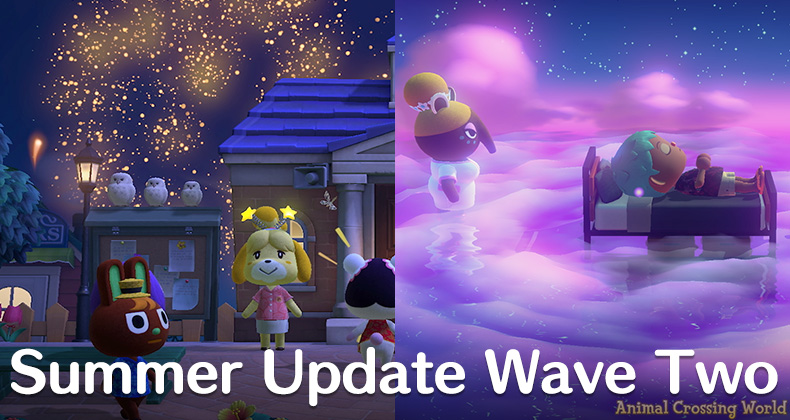 Full details on the upcoming Summer Update Wave Two for Animal Crossing: New Horizons have been revealed by Nintendo giving us our first in-depth look at the August Fireworks Show event, the new version of the Dream Suite, and more!
Even better, we won't have to wait very long to enjoy all of the exciting new additions as this update is scheduled for release in just a couple days on Thursday, July 30th. That's actually a few days earlier than the originally advertised release date of early August!
Anyway, without further ado, let's dive into every single possible detail we know so far about the second wave of the Summer Update for Animal Crossing: New Horizons! Even if you've already watched the trailer, we've covered a few smaller details you might have missed or weren't even included in the video…
August Fireworks Show Event
The main highlight of the new Summer Update Wave Two is definitely the return of the Fireworks Show event taking place every Sunday during the month of August. This new event will actually occur in August on both Northern Hemisphere and Southern Hemisphere islands, so players enjoying their time in the snow right now have no reason to worry.
During the Fireworks Show events, you'll find beautiful fireworks setting off into the night sky of your island beginning at 7PM every Sunday with Isabelle, Redd, and villagers hanging outside of Resident Services enjoying the night time fun.
From what we can see so far, the Fireworks Show event in Animal Crossing: New Horizons will be very similar to the past version seen in Animal Crossing: New Leaf on 3DS, as we outlined in our speculative article about the update last month.
Speaking of Redd, he'll be coming out of hiding and operating his very own prize booth during the festivities selling Raffle Tickets for Bells to enter Redd's Raffle allowing you to get some fun festive items to enjoy during the fireworks.
Based on the trailer, some of the festive prizes that we can see and confirm as available include Star Boppers, Bulb Boppers, Bubble Wands, Roman Candles, Noisemakers, Sparklers, Fans, and Balloons!
Check out the collage we put together below showing off all the sightings:
In past Animal Crossing games though, you could also get some items like the Boppers directly from Isabelle as weekly rewards for attending the Fireworks Show event, so it's possible some of these items will come from her instead of Redd's Raffle.
There were some neat furniture toy items to get from Redd in New Leaf as well that we haven't yet seen in New Horizons, so he may actually be giving out more items than just these playful party ones we're seeing today. We'll know the answers soon!
Another lovely feature of the Fireworks Show events in Animal Crossing: New Horizons that we can't forget to mention is the ability to display your custom design patterns as fireworks in the sky! This returns from New Leaf, but should be better than ever before with the improved pattern capabilities in New Horizons.
Given the incredible creative potential of the Animal Crossing community so far, we're sure to see some amazing screenshots from the custom fireworks feature! It's likely that you can activate your custom patterns as firework designs by speaking to Isabelle prior to the event beginning at 7PM as that's how it worked previously.
Dreaming With Luna
The long awaited and rumored Dream Suite feature is finally coming to Animal Crossing: New Horizons allowing you to easily visit faraway islands from other players without the need for a direct connection! It was honestly only a matter of time before this feature arrived given it's a natural fit for New Horizons' unprecedented island customization.
And although we just referred to it as the Dream Suite, there won't actually be any kind of physical Dream Suite building in New Horizons. Instead, the beds in our house will become more useful than ever before as a method of access to the dream world!
Using player beds as an entry for the dreaming feature a pretty clever idea as constructing an entire building would probably be considered a waste of precious island space for many players, and having to travel off to another island like Harvey's would just create an unnecessary hassle.
By lying down in your bed and dozing off to sleep, you'll be greeted by a new special character Luna in the dream realm. Speaking to Luna will allow you to enter a Dream Address code to visit another player's island, or upload your own island and create a Dream Address to share.
For those not already familiar with the New Leaf version, what makes Dreaming so special in Animal Crossing is that dream islands are essentially a copy of an island saved on Nintendo's servers that is downloaded by other players who visit.
So when you visit another player's dream island or upload your own, everyone can enjoy an island without any fear of vandalism or griefing since it's only a copy. That means you don't need to be online or playing at the same time as the other player too. All around, it's just a fantastic alternative to typical online play.
By the way, while you're visiting another player's dream island, you can also easily grab some of their hopefully amazing custom pattern designs using the handy Custom Design Portal outside of Resident Services. So much for Wendell, eh?
Note that upgrading from your starter tent into a full house will be required first to unlock the dreaming feature, as well as an active membership to Nintendo Switch Online as it is considered an online function.
Save Restore From Server
Beginning in the Summer Update Wave Two, the Island Backup & Restoration Service will begin automatically uploading your island and player save data to Nintendo's servers regularly.
Then in the unlikely event of your Nintendo Switch becoming damaged or lost, it may be possible to fully restore your island from the server by contacting Nintendo Support. Yes, it appears that this feature will actually require contacting Nintendo — it will not be self serve.
Using the Island Backup & Restoration Service will also require an active Nintendo Switch Online membership, so you will have to subscribe if you're concerned about fully protecting your island.
Finally, it's important to understand that this is different from the upcoming Save Data Transfer feature, which is not included in the Summer Update Wave Two. Nintendo says that the transfer function will still be arriving later this year.
More Seasonal Items
Following the Japanese Tanabata Festival and Summer Solstice seasonal items in the past couple months, more new seasonal items will be added in the Summer Update Wave Two for you to enjoy.
In the Japanese announcement, a new pair of Ancient Robe clothing items were revealed to celebrate the Chinese Qixi Festival holiday, so we can definitely expect those soon. We're not certain, but it seems there may be more new seasonal items based on other holidays too based on the wording of the announcement.
Free Fireworks Wallpaper Item
Every major content update to Animal Crossing: New Horizons so far has included a fun free bonus item after downloading, including the Snorkel Mask for Summer Update Wave One and the World Map for the Spring Update.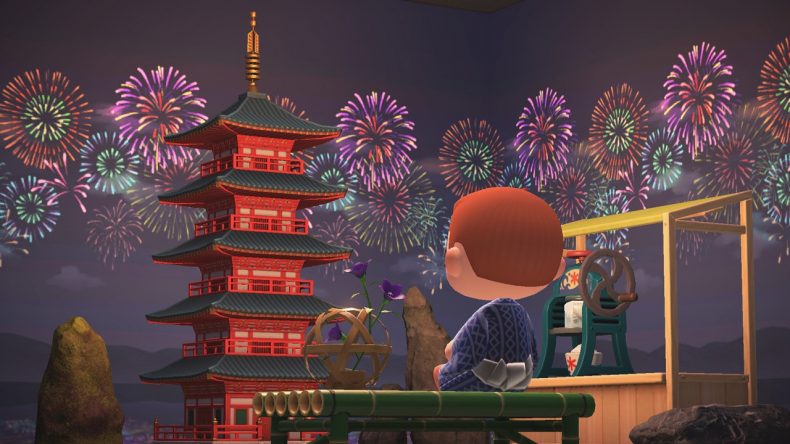 Of course, the Summer Update Wave Two will be no exception to this rule and possibly brings us the best item so far! After installing the update, players will receive the stunning Fireworks Display wallpaper for use in their homes. We don't know, but it sure looks it could be animated, which would be truly stunning!
Next Update Coming In The Fall
Finally, we have official confirmation of when the next major content update for Animal Crossing: New Horizons will be coming and a hint of what to expect.
Announced at the very end of the update trailer, the Autumn Update will be arriving later this fall. We can see the special character Jack's icon teased as well, which indicates the update will contain Animal Crossing's Halloween event.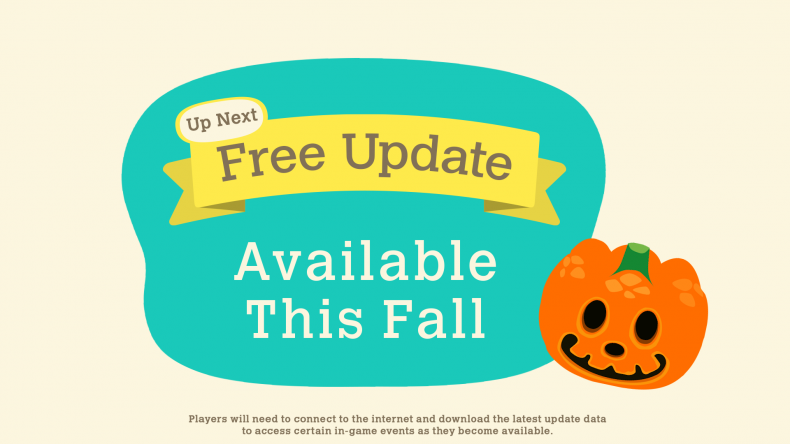 Halloween was a pretty major event in past Animal Crossing games, so we're certainly expecting this one to be the biggest event since the infamous Bunny Day back in April.
It's likely at least a couple major new non-event features will be introduced in the Autumn Update too since that's been the trend. We can't say for sure, but it seems about the right time for either the datamined Vegetables & Farming feature or Brewster's Cafe & Gyroids to be released!
---
That just about covers absolutely everything we know so far about this exciting major new Summer Update Wave Two coming to Animal Crossing: New Horizons later this week.
Stay tuned to Animal Crossing World for everything on Animal Crossing: New Horizons, including our extensive Guides section here. In particular, don't miss out on our recent Sea Creatures, Pascal's Mermaid Set, and Pirate Gulliver guides.