The highly anticipated Fall Halloween Update for Animal Crossing: New Horizons is finally here, and many of the new features can now be enjoyed in October!
It can be a little confusing sometimes though as to exactly how to access all of the new experiences in Animal Crossing updates, so in this article we'll break down absolutely everything that is new in detail.
Note that this article is intended for casual Animal Crossing players who don't time travel and are just experiencing the new update today! If you've already been playing around with the update for an extended time, it may not be for you.
New Bugs, Fish, Sea Creatures In October For Animal Crossing: New Horizons (Northern & Southern Hemisphere)
Get Started With Growing & Farming Pumpkins
Perhaps the standout feature of the latest update for most fans, the ability to grow Pumpkins is now available in October for real time players!
Here's a basic summary of the most important points on how to grow and harvest pumpkins in the Fall Halloween Update:
You can buy Pumpkin Starts from Nook's Cranny in October, but they're half price from Leif if you can find him.
Pumpkin Starts can be planted anywhere besides the beach, including next to each other.
Pumpkins grow in 4 days, starting from the day you plant them to the day they can be harvested.
Water them every day to maximize your harvest and get 3 Pumpkins from a single plant.
Four different colors can be grown, but Pumpkin Starts produce a random type of color.
Orange Pumpkins are by far the most common to grow with Green, Yellow, and White being fairly rare in comparison.
Want a specific color? Plant a harvested Pumpkin of your desired color with a shovel to produce more of that type!
For far more detailed and lengthy information, check out our full How To Plant, Grow, Harvest Pumpkins Farming Guide here.
What can you do with your new pumpkins after they grow? A brand new set of Spooky Set DIY Crafting Recipes have been added in the update that can be crafted using Orange Pumpkins!
You can also use other types of pumpkins for customization, which we'll cover later in this article.
Buy Or Craft New Spooky Set Furniture & Items
Speaking of the Spooky Set, there are 17 different Spooky furniture and items to be found in total with the latest Halloween Update for Animal Crossing: New Horizons.
These new items are largely split into two categories — some can be crafted and purchased now, while a few others are exclusively available from the Halloween Event with Jack on October 31st.
The following Spooky Set items can be found for sale in the corner of an upgraded Nook's Cranny store, or crafted using DIY Crafting Recipes found in both balloon presents and villagers crafting in their homes:
Spooky Arch
Spooky Candy Set
Spooky Chair
Spooky Fence (recipe only)
Spooky Lantern
Spooky Lantern Set
Spooky Scarecrow
Spooky Standing Lamp
Spooky Table
Spooky Tower
As you can see, there are plenty of different ways to get your hands on those Spooky Set items. If purchased from Nook's Cranny, no crafting is required, but if you're using a recipe then some Orange Pumpkins grown from farming will be necessary.
Additionally, there are another few Spooky Set items and recipes that you can only get in the evening of October 31st for Animal Crossing's Halloween event with Jack:
Spooky Carriage
Spooky Flooring
Spooky Garland
Spooky Rug
Spooky Table Setting
Spooky Wall
Spooky Wand
Those items above won't be accessible until then unless you choose to time travel. For more details and photos of every Spooky Set item, check out our full Spooky Set Pumpkin Items & DIY Crafting Recipes (How To Get) guide here.
Customize Spooky Set Furniture With Colored Pumpkins
All of the Spooky Set items we just discussed above come in an orange flavor of color scheme by default, but there are three additional color variations for most furniture!
To change the color of a Spooky Set furniture piece, you'll need to grow and harvest pumpkins of the color you'd like, and use a DIY Workbench to customize.
By doing so you can enjoy Green, Yellow, and White variations of the fun new Halloween furniture!
Collect Halloween Candy at Nook's Cranny
Throughout the entire of month of October, you can begin collecting Candy for use in the big Halloween Night event on October 31st.
Halloween Candy be found for purchase inside the cabinet at Nook's Cranny for just 120 Bells each, but you can only buy a single piece per day. We recommend picking one up each day running up until Halloween.
When the Halloween event begins in the evening on October 31st, you'll be able to play Trick or Treat with your villagers and Jack the Pumpkin Czar to win special prizes. The more Candy, the better!
Lollipops have been added to Animal Crossing: New Horizons as well, but those cannot be collected until the evening of October 31st for the Halloween Event with Jack as far as we know at this time.
Over 15 New Halloween Costumes & Clothing
A fresh batch of brand new Halloween themed costumes and clothing is now available in Animal Crossing: New Horizons with this update! Almost every item has six different color variations too, so there's plenty of variety to enjoy.
Here's a few of our favorite new Halloween clothing added in the Fall Update below:
Mage's Dress (Orange Variation)
Magic-Academy Robe (Purple Variation)
Impish Horns (Red Variation)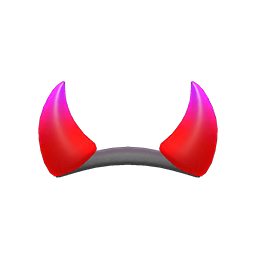 Mage's Striped Hat (Green Variation)
Impish Wings (Black Variation)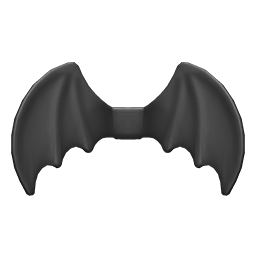 That's just a taste though — if you want to see the entire catalog of new Halloween clothing added in Version 1.5, check out our Halloween Costumes & Clothing Guide with photos of every item and color variation here.
Unlock New Halloween Face Paint & Eye Colors
Nintendo advertised some brand new Face Paint and Eye Color options in the Fall Update trailer last week, but it wasn't made entirely clear how to access them.
It turns out the answer lies in the Nook Stop Terminal! During the month of October, you can find two new unlocks to purchase for Nook Miles:
Body-Paint Costume Tips for 2,400 Nook Miles
Exploring New Eye Colors for 2,400 Nook Miles
After being unlocked from the Nook Stop Terminal, you can customize your character into the new style options by using a mirror or vanity furniture item.
But don't worry — these new customization options remain permanently unlocked after purchasing them with Nook Miles. They won't disappear after spooky season ends in November!
Unlock New Halloween Reactions
Two fresh and spooky reactions & emotes have been added in the Fall Update called Haunt and Scare! They're perfect for getting into the Halloween spirit.
Unfortunately, this is one part of the update that real time players will have to do some waiting. Both of the new Halloween reactions can't be unlocked until the proper Halloween event is held during the evening on October 31st.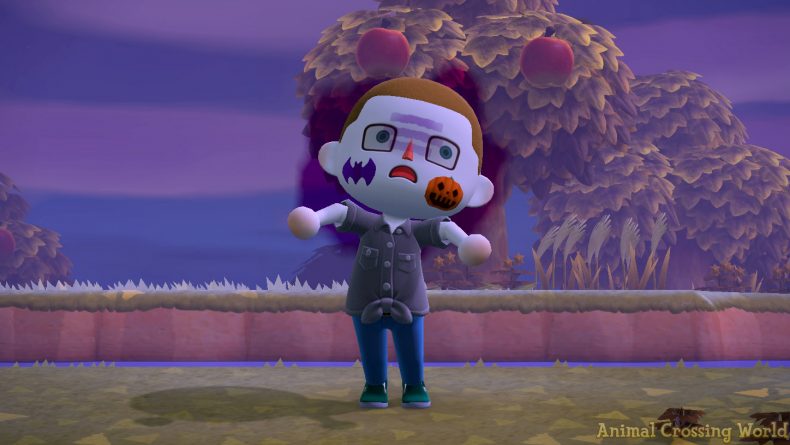 Still missing some reactions from before, or need a refresher? Check out our full Reactions & Emotes: How To Unlock, Complete List By Personality guide — just updated to include the Halloween additions!
Check Your Mail For Jack's Portrait
Be sure to check your mail for a special gift from Jack the Pumpkin Czar! Inside, you can find a brand new item called Jack's Portrait.
https://twitter.com/ACWorldBlog/status/1311148322548338689
A portrait may not sound too exciting at first, but this is no ordinary portrait — it glows in the dark!
Nook Shopping Catalog Toggle & Dream Island Revisiting
Finally, there have been two minor quality of life changes included with the Fall Halloween Update.
When browsing your furniture or clothing catalog in the Nook Shopping menu, it's now possible to toggle on or off the display of items that are Not For Sale! Or in the words, you can choose to hide items that cannot be re-ordered.
As for the Dream Suite, you can now view a list of recent Dream Islands that were previously visited in the past, as well as mark some of the best ones as favorites to easily return to later.
---
Stay tuned to Animal Crossing World for everything on Animal Crossing: New Horizons, including our extensive Guides section here. In particular, don't miss out on our popular Pumking Farming, Spooky Set Items, Acorns & Pine Cones, Redd Art, and Sea Creatures guides.