Halloween Candy is a new item to collect in Animal Crossing: New Horizons (ACNH) during October for the Halloween Event with Jack! Learn how to buy it and what to do with it in this guide.
Candy is a new feature introduced in the just-released Version 1.5 Fall Halloween Update for Animal Crossing: New Horizons and requires a fully updated game to experience. Learn more about everything in the update here.
How To Get & Buy Halloween Candy
Halloween Candy can be purchased from Nook's Cranny throughout the month of October inside the cabinet either at the back left in the original store or towards the right in the upgraded shop. Each piece of Halloween Candy at Nook's Cranny costs 120 Bells.
Notably, you can only purchase one piece of Candy from Nook's Cranny per day on your own island — Timmy & Tommy will not sell you more.
However, this limit only applies to your own island. If you travel to another player's island in online or local multiplayer, you can purchase another piece of Candy at their shop!
Another option to get additional Candy is creating and using a second player character on your island. Time traveling can be used as well to circumvent the Candy purchase limit if you wish to do so.
Get Candy During Halloween Event On October 31st
In addition to buying Candy in advance from Nook's Cranny, you can obtain plenty more from your villagers after 5PM on October 31st while experiencing the Halloween Night Event with Jack. It's as easy as putting on a costume and visiting villagers inside of their homes.
When you speak to villagers indoors, they'll often give you a free piece of Candy from being so impressed by your costume. This process is quite repeatable as well throughout the night, as long as you wait a few minutes between attempts.
Sometimes you'll even get a one-time bonus of 3 Candies at once when you show your costume a villager for the very first time during the night if you have no candies on hand! Generally speaking, it's really not that difficult to get more Candy when playing the Halloween event if you don't collect enough in advance.
Villagers can sometimes give you Candy when they're outside as well on occasion, but we have found indoor villagers to be a more effective and repeatable way of generating Candy on Halloween Night.
How Much Candy Do You Need For Halloween?
In the lead up to Halloween, many players will be asking themselves exactly how much Candy they need to collect beforehand, or even worrying they don't have enough.
It's impossible to give a definitive answer due to some elements of randomness, but we were able to obtain all of the Halloween Night exclusive rewards by using only about 15 pieces of Candy. That includes Candy used to obtain Lollipops.
As explained in the section above though, it's not difficult to obtain more Candy on Halloween if you didn't collect enough beforehand. So we don't suggest fretting too much over not having much before the event begins, unless you have a very limited amount of time to play on Halloween.
What To Use Halloween Candy For In Animal Crossing
There are three possible uses for Candy in Animal Crossing: New Horizons, however the primary purpose is during the Halloween Night Event on October 31st.
Give Halloween Candy To Jack & Villagers On October 31st
On Halloween Night beginning at 5pm on October 31st, you'll be able to find both the Pumpkin Czar Jack and your favorite villagers dressed up roaming your island looking for candy! By giving them your stocked up candy, you can get spooky themed Halloween rewards.
Specifically, giving your hard earned Candy to Jack on Halloween Night can get you his very own Jack's Robe and Jack's Face clothing items helping you mimic his spooky look.
When it comes to sharing your Candy with villagers roaming your island outdoors, they'll give you Lollipops and these Spooky Set items exclusive to Halloween Night:
Spooky Flooring
Spooky Garland (+ recipe)
Spooky Rug
Spooky Table Setting (+ recipe)
Spooky Wall
After having received all of the items above, villagers will give you more Spooky Set items and recipes that aren't exclusive to the event.
By using the Lollipops randomly obtained from villagers, you can get a couple more Spooky Set items from Jack in exchange for Lollipops:
Spooky Carriage (+ recipe)
Spooky Wand
Let Candy Rot For Ants
In case you haven't already caught an Ant bug in Animal Crossing: New Horizons, you can do so by using a piece of Candy!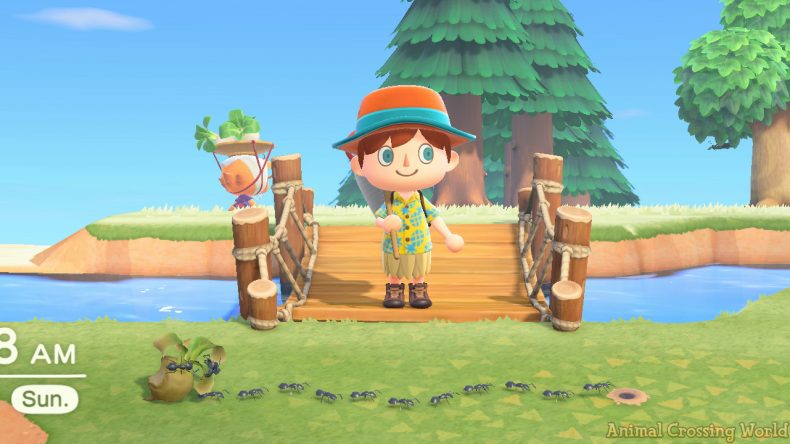 Simply place a Candy item on the ground outside and walk away from that area of your island. Then return a bit later after you've been far enough away, and there's a good chance you'll find Ants crawling over your Candy.
For more information on how to catch Ants & Flies in New Horizons, check out our complete guide here.
Eat Halloween Candy For Fruit Energy
One more final use for Candy in Animal Crossing: New Horizons is to simply eat it gaining fruit energy that allows you to destroy rocks and pick up trees in your inventory.
However, we wouldn't recommend doing so given that both Fruit and Turnips already offer much better energy, without being as rare as Candy is to get.