The exciting new Winter Update for Animal Crossing: New Horizons has just been released for download tonight bring fresh new events and features to the game!
This major new update release brings Animal Crossing: New Horizons to Version 1.6.0 with a slew of major additions to the game including two new holiday events for Thanksgiving and Christmas, new Reactions, new Hairstyles, a storage expansion option, and more.
Besides that, the typical mention of adjustments and bug fixes is included, although we're not quite sure yet exactly what has been fixed or changed yet.
RELATED: Absolutely Everything New In Animal Crossing's Winter Update (14 New Features & Additions)
Full Animal Crossing: New Horizons v1.6.0 Patch Notes (English)
The official English patch notes from Nintendo of America for the Version 1.6.0 Winter Update of Animal Crossing: New Horizons can be found below:
Ver. 1.6.0 (Released November 19, 2020)

The software has been updated if you see "Ver. 1.6.0" in the upper-right corner of the title screen.

General

Two seasonal events, Turkey Day and Toy Day, have been added.
Residents can visit Resident Services to put in a request to increase the capacity of their home storage.
Luna can now offer random dream destinations by selecting the "Surprise me" option.
A new feature for transferring save data between different systems has been added.

This feature only transfers save data for Animal Crossing: New Horizons. When necessary, please use the Nintendo Switch "Transfer Your User Data" feature as well. Learn more about save data transfer here.

The following content has also been added:

Additional Nook Miles redemption items.
Additional limited-time seasonal items from Nook Shopping.
Additional DIY recipes that use seasonal materials.
Additional Animal Crossing: Pocket Camp collaboration item.

Fixed issues

Other adjustments and corrections were made to improve the game play experience.
RELATED: Check Out Every New Item Added In The Winter Update For Animal Crossing: New Horizons (Datamine)
You will need to be updated to Version 1.6.0 to play online multiplayer with other players and access other network features. Local multiplayer can only be played with others on the same version of the game as you.
Observed Changes In Version 1.6.0 Missing From Patch Notes
Most major updates for Animal Crossing: New Horizons, including the ones released back in July and September, have contained a selection of smaller changes that weren't officially announced in the update trailer or included in the patch notes.
These undocumented changes in the past have included new items in the Nook Stop Terminal, quality of life improvements to Saharah, new Custom Design Portal features, and even the return of the Camera Interface glitch!
We're anticipating that the same might be the case in the Winter Update and will be documenting any secret or unmentioned changes and additions. Here's what we've uncovered so far prior to the update based on small details released in the press releases and the Japanese announcement:
A new letter can be found in your mailbox from Nintendo celebrating the latest update! Inside the letter, you'll find a new Yule Log to help introduce the upcoming festive holiday season.
Please let us know in the comments below if you spot any more interesting small changes or additions that haven't been mentioned already, so we can update this article as the best resource!
How To Download Animal Crossing: New Horizons Winter Update Version 1.6.0
Your copy of the game should update automatically for you, but if for some reason it doesn't, you can manually trigger the update by pressing the + button on the Animal Crossing: New Horizons home screen icon, selecting Software Update, and hitting Via the Internet.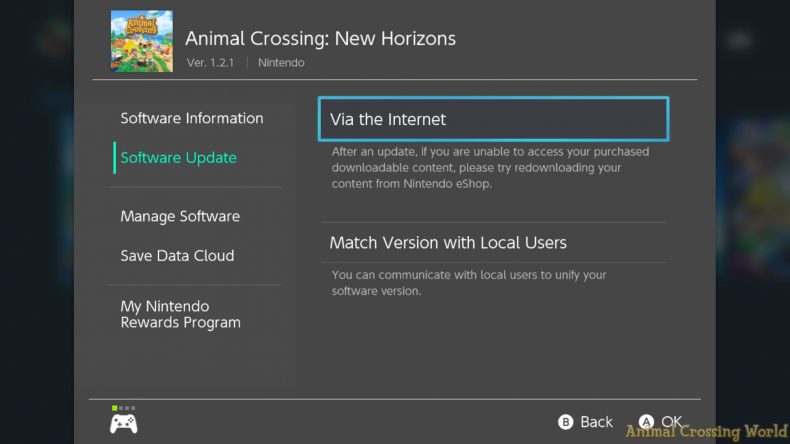 After you've had a chance to play around with the Winter Update, be sure to let us know in the comments below what you think and if you've noticed any other changes not covered by Nintendo in the official patch notes!
Stay tuned to Animal Crossing World for everything on Animal Crossing: New Horizons, including our extensive Guides section here. In particular, don't miss out on our popular Mushrooms, Maple Leaves, New Fish & Bugs In November, Spooky Set Items, Acorns & Pine Cones, Redd Art, and Sea Creatures guides.