The festive new Winter Update for Animal Crossing: New Horizons (ACNH) has finally dropped today bringing a number of new features and content both available today or in the future when we get closer to the holidays.
Especially with this update more than any other before, it can be a little confusing as to exactly what pieces of content are available to experience now in Animal Crossing: New Horizons, and which will have to wait until later. We'll break down absolutely everything that is new in great detail!
This article will start off with the most immediately available additions and dive into the more complex features later on, so keep on reading even if you already know everything about the first sections.
Unlock 9 New Reactions With Nook Miles
Reactions are one of the best ways to express yourself in Animal Crossing: New Horizons and you can truly never have too many options! It's great that the previous Halloween Update brought in a second page to the Reactions menu, because the Winter Update is ready to use that fresh new space.
These new unlockable reactions include Excited, Here You Go, Sit Down, Sniff Sniff, Ta-da, Take a Picture, Wave Goodbye, Work Out, and Yoga!
After updating your game, just head over to the Nook Stop Terminal inside of Resident Services to purchase the new Hip Reaction Collection item for 2,700 Nook Miles that unlocks all 9 brand new Reactions available with the Winter Update. Unlike past reactions, there's no need to do anything complex to unlock them — it's that simple.
For a complete list of all Reactions you can unlock in Animal Crossing: New Horizons, check our full Reactions & Emotes: How To Unlock, Complete List By Personality guide!
Unlock 6 New Hairstyles With Nook Miles
Along the same lines, six brand new Hairstyle customization options have been introduced to Animal Crossing: New Horizons with the Winter Update today. In particular, most of these new styles appear to have been created with greater diversity and inclusivity in mind.
You can pick them up as unlocked options by interacting with the Nook Stop Terminal inside of Resident Services and purchasing the new Top 6 Stylish Hairstyles item for 2,800 Nook Miles that unlocks all 8 eight of the new Hairstyles. Then just head over to a mirror-like item either outdoors or inside your house to access the character customization menu!
Expand Your House Item Storage By 800 Slots
Limited storage space has always been an annoying restriction in every Animal Crossing game going all the way back to the beginning, and that trend has continued in Animal Crossing: New Horizons. Despite already offering by far more storage than any other title in the series, some players have hit the cap.
With more and more new items being added to Animal Crossing: New Horizons with each game content update, it was only a matter of time until storage space became a problem for the wider audience. Thankfully, the Winter Update seeks to solve this issue with a substantial increase.
For a low fee of just 500,000 Bells, Tom Nook will be happy to dramatically expand your house's item storage space bringing the total slots from 1,600 to 2,400 items! There's two small catches though — you need to have fully paid off and expanded your house, and he'll want it paid up front.
It feels great seeing all of that available storage space in your home once you've got it though! We're so pleased that Nintendo made this change, and hopefully they'll consider a further increase in the future if new items continue to be implemented.
Visit Random Dream Islands With Luna
If you've ever wanted to explore a completely unknown Dream Island with Luna without having to look up more Dream Codes online, you're in luck!
Beginning with the Winter Update, you can now ask Luna to surprise you with a entirely random Dream Island visit without needing to enter any codes. That's a returning feature from New Leaf and it's going to make for a lot of fun discoveries!
As for players stumbling upon your own island as a dream, Luna will ask you for permission to allow discoverability through this feature the first time you sleep after the update.
Craft New Turkey Day Set Items On Thanksgiving
The first of Animal Crossing's two new holiday events is Turkey Day held on November 26th for American Thanksgiving! During Turkey Day, Franklin will task you with collecting ingredients across your islands to help him cook some delicious dishes for the villagers.
This fun festive event will introduce eight brand new Turkey Day Set DIY Crafting Recipes, and three non-recipe Turkey Set items.
Unfortunately, the Turkey Day event remains unavailable until November 26th, even if you time travel by adjusting the date on your Nintendo Switch. Thanks to the magic of datamining though, we can still get a preview of the event's items and how to craft them.
Here's a few of the most interesting Turkey Day Set items below that can be crafted after playing the Thanksgiving event, but you can see the complete collection in our Thanksgiving Turkey Day Set Furniture & DIY Crafting Recipes guide:
Turkey Day Hearth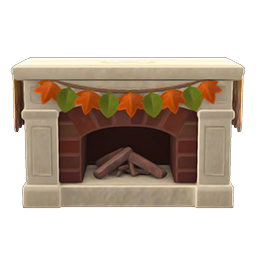 Craft the Turkey Day Hearth using the following materials and items:
1 Campfire
30 Stone
10 Clay
Turkey Day Wheat Decor
Craft the Turkey Day Wheat Decor using the following materials and items:
Turkey Day Decorations
Craft the Turkey Day Decorations using the following materials and items:
2 Softwood
5 Clump Of Weeds
2 Clay
In addition to everything else, you can get the bonus Cornucopia item seen below directly from Franklin on Turkey Day! We're guessing based on past Animal Crossing games that this will be a reward for correctly cooking all of his dishes with a 'secret' ingredient included.
Buy New Christmas Toy Set Items In December (Nook's Cranny)
As you'd expect from a release titled the Winter Update, there's a vast amount of new festive holiday content for Animal Crossing: New Horizons. We'll need to split this content into a couple different sections, but let's start off by checking out some new toy items!
From December 1st to 25th, a new set of Christmas Toy themed furniture items will become available to purchase at the upgraded Nook's Cranny shop. Each of these new items sports a selection of different color variations and are pretty fun to interact with.
the puppy so cuttteeee #AnimalCrossing #ACNH #NintendoSwitch pic.twitter.com/0SsFrQDgWZ

— cass (@casscrossng) November 19, 2020
Here's a few of our favorite Christmas Toy Set items below that can be found in Nook's Cranny in December, but you can see the complete collection in our Christmas Toy Set Furniture Items at Nook's Cranny guide:
Kids' Tent
Puppy Plushie
Tin Robot
Buy New Christmas Clothing In December (Able Sisters)
Similarly to the toy items found at Nook's Cranny, a small collection of new Christmas themed holiday clothing will be sold at the Able Sisters shop during December as well. It's not quite as big of a set as the Halloween Costumes we saw in October though.
If the Toy Day event on Christmas Eve works the same in Animal Crossing: New Horizons as it did in past games, then you'll definitely want to make sure you pick up the entire Santa clothing set before then!
Get & Craft New Christmas Items On Christmas Eve
Speaking of Toy Day, there are another bunch of items that we believe are exclusively obtainable on December 24th as part of the Toy Day event with Jingle. During this event, you'll get to play as the island's Santa Claus going around delivering gifts to your villagers.

The full details on exactly how the Animal Crossing: New Horizons version of Toy Day will work remain a bit unclear right now as we sort everything out from a new update, but we believe you can get all of the items above through the event.
Get New Refreshments & Items For New Year's Eve
After the Christmas season passes over, we're expecting a barrage of foods, drinks, and more to be made available running up until the New Year's Eve celebration in Animal Crossing: New Horizons!
Most of the items highlighted above should be orderable from the Nook Shopping Seasonal menu beginning on December 26th, but a couple might be more intricately tied into the New Year's Eve event. We'll be doing our best to find out the specifics soon.
New Winter & Summer Seasonal Nook Shopping Items
Speaking of seasonal items, two new ones are scheduled for an introduction in Nook Shopping very soon on December 1st with each celebrating the seasonal transition across the globe.
For the Northern Hemisphere, a gorgeous Aurora Wall will change the entire mood of your room and signal auroras coming to your island soon too. And in the Southern Hemisphere, a cute new Sunflower Rug represents the peak of summer!
Unlike when the Summer-Solstice Crown and Winter-Solstice Sweater were released earlier this year to everyone with no seasonal restrictions, some datamining indicates the items may be properly locked to each island hemisphere requiring trading with friends.
New Seasonal DIY Recipe Additions
In a minor and odd addition, three new crafting recipes have been added to various existing collections of seasonal recipes in Animal Crossing: New Horizons. Unlike the majority of other new content in the Winter Update, these items are available today through time traveling and are not locked.
Festive Rug

Unlock the DIY Crafting Recipe for Festive Rug by shooting down balloons in the sky from December 15th to January 6th. Craft the Festive Rug using the following materials and items:
5 Red Ornament
5 Blue Ornament
5 Gold Ornament
Falling-Snow Wall

Unlock the DIY Crafting Recipe for Falling-Snow Wall by shooting down balloons in the sky during winter snow season. Craft the Falling-Snow Wall using the following materials and items:
Summer-Shell Rug

Unlock the DIY Crafting Recipe for Summer-Shell Rug by shooting down balloons in the sky during Summer season. Craft the Summer-Shell Rug using the following materials and items:
New Animal Crossing: Pocket Camp Collaboration Bonus
Players who have downloaded Animal Crossing: Pocket Camp on their phone, linked to their My Nintendo account, picked up the Special Order Ticket, and redeemed it on the eShop can get a new collaboration item in New Horizons with the Winter Update!

This neat little new Pocket Camp inspired item brings the phone case design from the mobile game onto your NookPhone in Animal Crossing: New Horizons.
If you've already completed the Pocket Camp link to New Horizons previously, just look for the Pocket Camp Phone Case for order inside of Nook Shopping. Check out Nintendo's guide here on setting up the link if you haven't already.
Invite Franklin & Jingle To Photopia With Amiibo!
Remember Photopia? That island with Harvey you can visit and summon characters using amiibo in the photo studio?
Since Franklin and Jingle have now been added as characters in Animal Crossing: New Horizons for either events, it's possible to invite these festive fellows into Photopia as well if you have their amiibo cards!
Pick Up & Customize Yule Log From Your Mailbox
Finally, be sure to check your home's mailbox after downloading the Winter Update as another special gift from Nintendo is available in the form of a Yule Log furniture item!
Don't forget to give customizing your new Yule Log present a try in the Animal Crossing: New Horizons Winter Update! 🎉 Who doesn't want a strawberry version? #ACNH pic.twitter.com/3tQ6xBGIGT

— Animal Crossing World 🛩️🏝️ (@ACWorldBlog) November 19, 2020
It's a pretty nice item on its own, but don't sleep on the ability to customize the Yule Log into four additional delicious versions of Chestnut, Whipped-Cream Topping, Strawberry, and Green Tea.
---
Whew! That should cover just about every possible detail worth knowing about the Winter Update for Animal Crossing: New Horizons, but let us know in the comments below if we missed anything or made an error. This article is quite the undertaking, so it's very well possible.
We'd also like to give a special thanks to the hard work from contributors of the ACNH Data Spreadsheet Project for the datamined information and images used in this guide.
Stay tuned to Animal Crossing World for everything on Animal Crossing: New Horizons, including our extensive Guides section here. In particular, don't miss out on our popular Mushrooms, Maple Leaves, New Fish & Bugs In November, Spooky Set Items, Acorns & Pine Cones, Redd Art, and Sea Creatures guides.