A new paid DLC expansion called Happy Home Paradise is coming to Animal Crossing: New Horizons soon introducing new design options and activities!
Announced as a surprise in the latest Animal Crossing Direct today, Animal Crossing: New Horizons – Happy Home Paradise is an optional paid DLC expansion to the game releasing alongside the free Version 2.0 update.
Animal Crossing Happy Home Paradise Paid DLC: Release Date & Price
Animal Crossing: New Horizons – Happy Home Paradise will launch as a paid expansion on the same day as the free Version 2.0 Update in just a few weeks on November 5th, 2021!
You can purchase the Happy Home Paradise DLC for $24.99 USD standalone with pre-orders opening on October 29th.
Alternatively, Animal Crossing: New Horizons – Happy Home Paradise will be made available as an included feature of the new Expansion Pack version of Nintendo Switch Online.
That new subscription will cost $49.99 for an annual term, a significant increase over the standard Nintendo Switch Online at only $19.99. We'd recommend simply purchasing the DLC standalone at $24.99 for most players.
What's New In Animal Crossing: Happy Home Paradise
If you're familiar with the spin-off game Animal Crossing: Happy Home Designer on Nintendo 3DS, the Happy Home Paradise DLC appears to bring much of that experience inside of Animal Crossing: New Horizons!
Essentially, the expansion is laser focused on the design and decoration aspects of Animal Crossing and is sure to cater to players dedicated to that. If that's an important part of Animal Crossing for you, this DLC may not be for you.
Visit The Happy Home Paradise Resort
After unlocking the Animal Crossing: New Horizons – Happy Home Paradise DLC, you can visit a brand new Resort area by talking to Orville at the Airport and selecting 'I want to go to work'.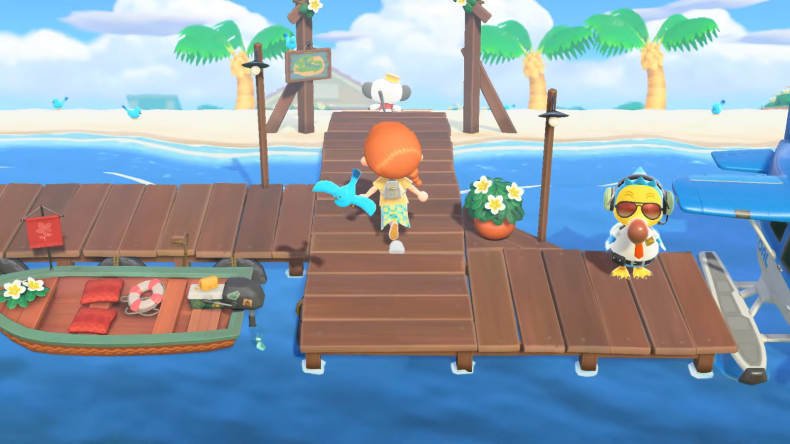 Throughout this Resort area, you can discover villagers dreaming of their ideal vacation homes and design their dream homes using furniture and more!
Design Indoors & Outdoors
For example, you can meet Maple dreaming of a vacation home filled with all of her favorite stuffed bears. You'll get to pick an ideal island acre to design her home on, with many different terrain options available.
Embracing the outdoor design options of Animal Crossing: New Horizons, you can extensively decorate the exterior space around a villager's home with trees, paths, and more.
You can even adjust the season, time of day, and weather to fit exactly what you think a villager would love to live in most.
Incredible New Design Options
Perhaps the most exciting part of Animal Crossing: New Horizons – Happy Home Paradise is an incredible suite of new interior design features that many players only dreamed of!
Room Size Adjustment: Customize the exact dimensions of a room to fit the scene, choosing from 4 to 10 tiles wide and 4 to 10 tiles long.
Partition Walls: Make rooms within rooms using Partition Walls with full height to divide a room's space how you wish.
Counters: Two different heights of Counters are available to add more variation to your rooms.
Pillars: Pillars can be used as more realistic supports alongside your Partition Walls.
Lighting: You can adjust the ambient lighting of a room far more finely than ever before with many color and dim options.
Soundscapes: Completely change the feel of a room by adding sound effects using a Soundscape. For example, a construction themed room can now feature the noises of a work site.
Polishing: Some furniture items can enjoy special effects when polished, like fluttering butterflies around a garden flower bed item.
Design New Buildings, Like Hospitals & Schools
There's more than just villager vacation homes to design in Happy Home Paradise! You can decorate a number of different facilities such as schools, restaurants, hospitals, and more.
After designing one of these unique facilities, you'll find some of your favorite villagers taking part in their activities.
Earn Poki & Buy Furniture
On the Happy Home Paradise Resort area, you'll find a special shop within the main office that sells rare items for a new Poki currency! Every time you complete some work for a villager, Lottie will reward you with some of this unique Poki currency.
Use New Design Options On Your Personal Island
Perhaps the best feature that Happy Home Paradise offers is the ability to use almost all of the new design options introduced in the DLC on your own personal island!
New features like Partition Walls, Counters, Pillars, Lighting, Soundscapes, and Polishing can all be used to decorate your own home off the Resort area.
It appears that these new design abilities will be unavailable to players who haven't purchased the Animal Crossing: New Horizons – Happy Home Paradise expansion — this is the best reason to pick it up in our view.
Remodel Your Island's Villager Homes
Finally, but certainly not least for many Animal Crossing players, is a new ability to personally customize the interior of villager homes on your own island!
Details are light right now, but it appears that after designing a large amount of homes, it'll be possible to initiate a remodel by talking to Tom Nook at Resident Services. This is certainly a feature some fans have been waiting a long time for!
---
While you're here, don't miss out on everything else that's available for free in Version 2.0 of Animal Crossing: New Horizons including Brewster, Kapp'n, Gyroids, Cooking, new shops, and much more! Plus, we've got the entire list of new Series 5 amiibo cards here!
Stay tuned to Animal Crossing World for everything on Animal Crossing: New Horizons, including our extensive Guides section here. Our most popular pages include What's New In October / Halloween 2021, Spooky Set Items & DIY Recipes, Jack's Halloween Event, Series 5 Amiibo Cards, Halloween Costumes, New October Critters, Acorn & Pine Cone DIY Crafting Recipes, Redd Art, and Sea Creatures.
Animal Crossing: Happy Home Paradise Animal Crossing: New Horizons News Version 2.0 Update