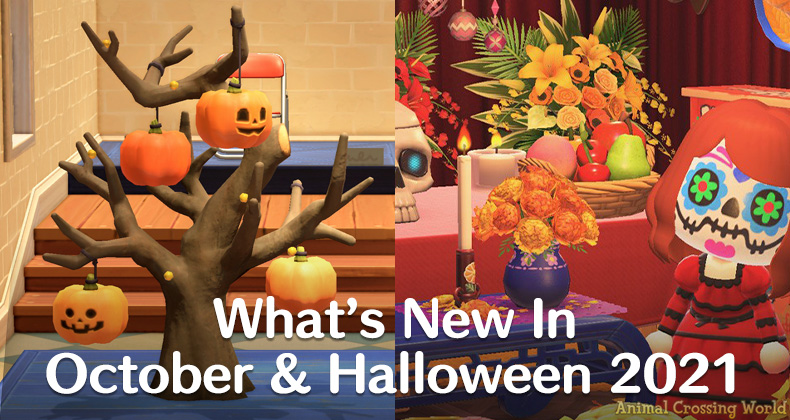 The Halloween season has officially begun during October 2021 in Animal Crossing: New Horizons today with pumpkins on display throughout the game this month!
In this article, we'll cover absolutely everything noteworthy to enjoy during October 2021 and Halloween 2021 in Animal Crossing: New Horizons — including some brand new items for veteran players, and returning activities for newer players.
New Spooky Set Items
This year's most prominent new content during October is a collection of three brand new Spooky Set items newly available for the Halloween 2021 season including the Spooky Treats Basket, Spooky Tree, and Spooky Trick Lamp.
You can see all three new Spooky Set items and their variations introduced in 2021 below, or view our complete Spooky Set item guide here:
These items have been available in the game through time travel since late July when they were introduced in that month's update, but October marks the first time that real-time players will find new Spooky items for sale at Nook's Cranny as part of their intended release.
And for newer players who weren't playing Animal Crossing: New Horizons last October, perhaps because they only started playing after the holiday season, there are another 17 older Spooky Set items that could be new to you including the incredible Spooky Arch, Spooky Carriage, Spooky Fence, and Spooky Tower.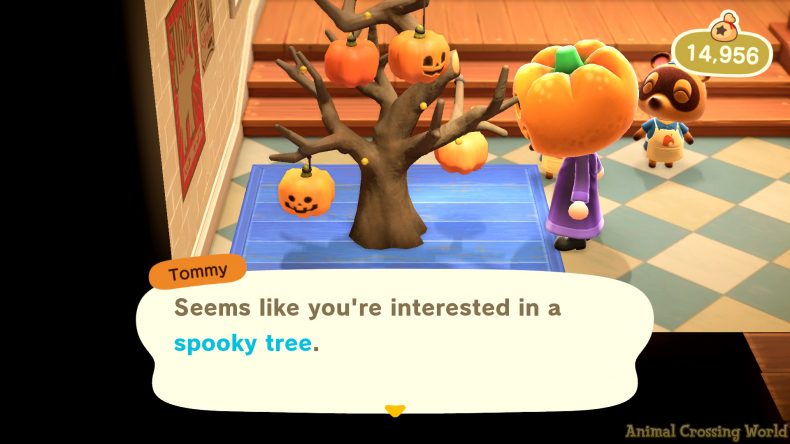 In terms of how to get your hands on Spooky Set items, most can be simply purchased throughout the month of October at Nook's Cranny in the special seasonal slot! There are some exceptions though, including some items exclusively obtained on the Halloween Night event — follow our complete Spooky Set guide here for details on how to obtain every item.
New Day Of The Dead Item From Nook Shopping
Later in October, another brand new piece of content for all Animal Crossing: New Horizons players is a special seasonal item celebrating the Day Of The Dead holiday from Mexico!
From October 25th to November 3rd, players can pick up the new Marigold Decoration item from the Seasonal tab of Nook Shopping's Special Goods section. Read our full guide to upcoming Seasonal Items from Nook Shopping here!
Halloween Candy & Pumpkin Starts
Throughout the month of October, be sure to visit Nook's Cranny to find special Halloween Candy for sale inside the cabinet each and every day up until Halloween Night on October 31st!
By collecting this candy prior to Halloween, you'll be able to have an easier time on October 31st by putting it to use during the special event with Jack.
Plus, you can also purchase Pumpkin Starts from Nook's Cranny during October too. This isn't particularly interesting as they can already be bought from Leif throughout the year, but October is the best time to enjoy growing Pumpkins on your island and Nook's Cranny makes it a little easier.
Halloween Costumes
If you wish to be as well dressed as possible for the upcoming Halloween Night event held on October 31st later in the month, don't forget to frequently check the Able Sisters and Kicks for essential Halloween spooky apparel!
Plus, during the actual event on October 31st, you'll be able to add Jack's Robe and Jack's Face to your collection of fashion options!
Halloween Looks With Nook Miles
The month of October is a great time to unlock two sets of character customization options perfectly fit for the Halloween season!
Found inside of the Nook Miles section of the Nook Stop Terminal, the following unlocks can't be missed:
Body-Paint Costume Tips for 2,400 Nook Miles
Exploring New Eye Colors for 2,400 Nook Miles
After being unlocked, you can customize your character into the new style options by using a mirror or vanity furniture item at any time.
Halloween Night Event On October 31st
Finally, you don't want to miss the finale of Halloween season with the proper event taking place in the evening on October 31st in Animal Crossing: New Horizons! The fun begins at 5PM local time on your island running all the way until Midnight.
Having trouble seeing the event? You need to ensure your game is on Version 1.11.1a — learn more about how to fix this issue here.
During this event, the atmosphere gets spooky as villagers put on fun costumes looking to trick or treat, and Jack the Pumpkin Czar shows up for a special visit.
Throughout the evening, you can collect both Candy and Lollipops from your villagers. Then by exchanging them back to other villagers or Jack, a variety of exclusive Halloween themed furniture items and clothing can be unlocked — including the incredible Spooky Carriage!
Learn everything you need to know about the Halloween Night event with Jack on October 31st with our complete guide here.
Unlock Two Halloween Reactions
Participating in the Halloween Night event on October 31st with Jack can unlock you two special Halloween themed reactions as well called Haunt and Scare. This is the only way to unlock them, so don't miss out if you haven't already got both!
What's Next For Animal Crossing: New Horizons?
Returning players from last year might be disappointed in the relative lack of new content for this year's Halloween season in Animal Crossing: New Horizons, but it appears that most of Nintendo's effort has gone into the holiday season starting in November.
That's because an exciting new update was just recently announced by Nintendo for release sometime during November, including the long awaited introduction of fan favourite character Brewster and his special The Roost cafe inside the Museum!
So while this Halloween might feel quite lackluster, take comfort in knowing that more exciting new content is just around the corner after the spooky season is past us. And for new players, enjoy your first Halloween in Animal Crossing: New Horizons!
Stay tuned to Animal Crossing World for everything on Animal Crossing: New Horizons, including our extensive Guides section here. Our most popular pages include What's New In September 2021, New Halloween Items, Acorn & Pine Cone DIY Crafting Recipes, New September Critters, Bug-Off Event, Sanrio Villagers & Items, Sanrio Amiibo Cards, Redd Art, and Sea Creatures.