We've just received our very first ever look at the return of Brewster and The Roost set to arrive in the November Update for Animal Crossing: New Horizons next month!
Thanks to what appears to be a possible slip-up by Nintendo's YouTube channels in Europe, a new and much wider background shot of The Roost in the upcoming Animal Crossing: New Horizons update has been revealed.
This brand new shot of The Roost allows us to actually see Brewster for the first time in all his glory beyond the boundaries of the original preview from Nintendo where he was hidden away.
Here's the complete and highest quality thumbnail we have, where Brewster can be seen for the first time on the left side of the image:
And here's a cropped and zoomed in version showcasing Brewster in all his glory:
For comparison, this is the much less revealing background shot we originally saw in the preview for this week's Animal Crossing Direct:
Quite the difference, right? We can't say for sure, but it does appear that Nintendo's Europe channels may have accidentally used a promotional shot intended for release after the Animal Crossing Direct, given that the Japanese and North America channels have not used this photo in their promotion.
In terms what we can take away from this unexpected discovery, there's a few things worth noting. First of all, we're pleased to see that the real true and original Brewster is coming to Animal Crossing: New Horizons and not some son or relative of his. That sounds outlandish, but given characters like Chip Jr, it was always a very small possibility.
Secondly, the orientation of Brewster facing towards the left of the photo rather than towards the cash register side, does indicate that The Roost in Animal Crossing: New Horizons may in fact be quite large and spacious. Dare we even say large enough for a stage with K.K. Slider? Just speculation, but we can dream!
The placement of the cash register in contrast to Brewster would also appear to be favourable for the return of Animal Crossing: New Leaf's part-time job feature where players could work for Brewster and fulfill coffee orders for town villagers!
In that game, when taking on the part-time job, players would stand near the cash register facing the shorter side of Brewster's bar stand where villagers would greet them to pick up their coffee order. Brewster would stand next to the player, continuing to face towards the larger side of his bar stand where the bar stools are placed.
Taking a look at the scene we're seeing in the Animal Crossing: New Horizons of The Roost, it sure does look as if that part-time job setup from Animal Crossing: New Leaf has been mostly replicated here giving us hope that the feature will indeed make a return!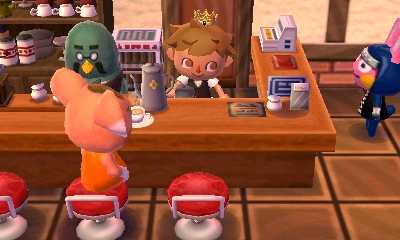 It's worth mentioning one more thing that we don't see though, and that's any Gyroids. While there certainly doesn't need to be any Gyroids near Brewster's counter for Gyroids to be included in the November Update, we'd feel a lot more comfortable if they were to appear here, and that doesn't look to be the case.
Anyhow, that's about it for this unexpected discovery of Brewster in Animal Crossing: New Horizons for the first time! If you've notice anything else of interest in the image that you'd like to point out, share away in the comments below.
We're just a couple days away from the highly anticipated Animal Crossing: New Horizons Direct where we'll surely see much more of our pigeon friend, and hopefully other features as well — check out everything you need to know about watching the Animal Crossing Direct here!
RELATED: What To Expect In Tomorrow's Animal Crossing Direct, Based On Past Datamining
Stay tuned to Animal Crossing World for everything on Animal Crossing: New Horizons, including our extensive Guides section here. Our most popular pages include What's New In October / Halloween 2021, Spooky Set Items & DIY Recipes, Jack's Halloween Event, Series 5 Amiibo Cards, Halloween Costumes, New October Critters, Acorn & Pine Cone DIY Crafting Recipes, Redd Art, and Sea Creatures.
Animal Crossing: New Horizons Brewster News Version 2.0 Update