With just matter of hours remaining until the highly anticipated Animal Crossing Direct on Friday reveals what's in store for the upcoming November Update in Animal Crossing: New Horizons, let's go over what past datamining can tell us to expect!
In this article, we'll reflect on the past 18 months of datamining discoveries since the launch of Animal Crossing: New Horizons in March 2020 covering the most noteworthy features that were 'hinted' and may finally appear in the Animal Crossing Direct.
⚠️ Datamine Information Warning ⚠️
It's important to note that the presence of references in the datamined game code do not guarantee future features as they could be left unfinished forever, plans could change, or simple misunderstandings on our part.
However, we recognize there is some value in using these datamined references as a basis for informed speculation. It's more likely we might see a feature previously hinted in datamining, than a feature that's never been seen at all. Therefore, we are using information from datamining, but we include this warning to ask that you take it with a grain of salt and keep expectations low.
Datamined Hints Have Proven True Many Times
Before we get into the real meat of this article, we'll quickly go over a brief summary of why it's worth paying attention to this datamined information. Here's some major items that were hinted in initial datamining shortly after the launch of Animal Crossing: New Horizons and came to light in updates afterward:
But perhaps most relevant is an article about Brewster's Cafe that we published in late July after the last Animal Crossing update where we laid out the case for why The Roost was still being heavily suggested in the game's code, despite hopes fading for many fans that it would ever come true.
Of course, the upcoming arrival of Brewster and The Roost was officially announced by Nintendo just a few short months later in the September Nintendo Direct, so this makes for a great recent example of why past datamined hints are worth paying attention towards!
Villagers House Visits
If you've been begging for more fresh interactions with your island's villagers, we've got our hopes high that the ability for villagers to visit your own home might return from Animal Crossing: New Leaf.
This feature even goes beyond the datamine 'references' that we usually speak about that only consist of a couple interestingly named strings. In the case of villager home visits, some un-used script files that make the feature 'work' were left in the launch version of Animal Crossing: New Horizons by Nintendo.
Using those scripts that were later removed by Nintendo, a player created a third-party mod adding them back into the game and creating a mechanism to activate the sequence by whacking a villager with your net! Screenshots used in this article are taken from this third-party mod.
Once over at your house, villagers can make comments on the furniture you've got on display.  Further dialogue, such as commenting on photos of themselves in your house, were added in an update last fall.
Given that we know some scripts for this feature were already programmed, it certainly seems likely that we'll see villager visits resurface at some point — and it's unlikely there will ever be a better time than the November Update for that to happen!
Fence Customization
The elusive missing White Picket Fence seen in the first trailer for Animal Crossing: New Horizons at E3 2019 might someday soon be possible to recreate using fence customization in the next update!
Details are extremely limited, but two interesting references to Fences surfaced after the Version 1.10 Update in April. These are strings for both 'mRemakeFence' and 'mRemakeFenceScale', indicating that customization for fences could have been in the works by Nintendo!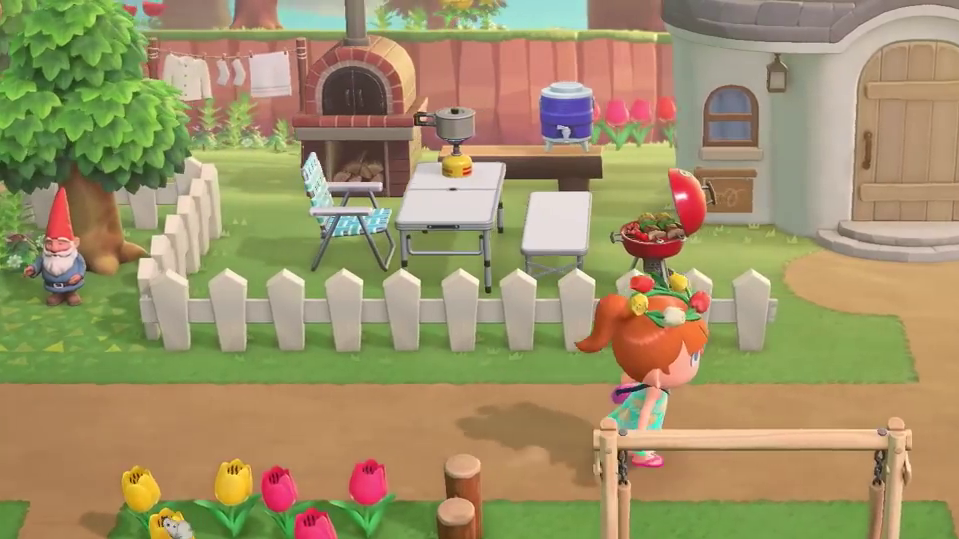 Remake is generally the internal term used by Nintendo for customization of items, borne out of the feature's introduction in Animal Crossing: New Leaf where the term was used officially when remaking items with Cyrus at Re-Tail.
Furthermore, the term 'scale' used in the second string could indicate that this customization of fencing would allow for the size of fences to be adjusted as well. That belongs more on the speculative side of matters though.
Ceiling Furniture
Many new types of furniture for interior design have been introduced over the years in Animal Crossing, but one significant type seen in Animal Crossing: Happy Home Designer still hasn't come to New Horizons.
Just as you can place certain wall furniture items to directly hang off the walls of your home, a similar ceiling furniture feature in Happy Home Designer allowed for other items to directly hang off the ceiling in your house.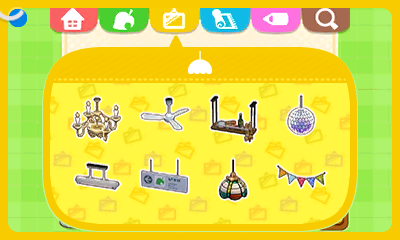 This type of furniture hasn't been seen in Animal Crossing: New Horizons so far, but multiple new references to the feature did show up in an update last year adding 'cRoomEditCeilingNear', 'cRoomEditCeilingNormal', and 'RoomEditCeilingFar'.
They match the existing references used for decorating regular floor items inside your house called 'RoomEditFloorNear', 'cRoomEditFloorNormal', and 'cRoomEditFloorFar'.
These datamined references were first seen after last September's Fall Halloween Update and indicate that someone at Nintendo was at least toying around with the concept of ceiling furniture coming to Animal Crossing: New Horizons.
Growing Vegetables
While many of the major features revealed in the first datamining work shortly after launch have come to fruition, one long time sticking point has been growing and picking a variety of vegetables.
Tomatoes, potatoes, carrots, pumpkins, wheat, and sugar cane were all spotted by Ninji in his first datamine reporting and echoed in our own article at the time.
Pumpkins were indeed introduced in the Fall Halloween Update five months later, but the rest of that expansive vegetable list has been missing in action since. Some fans speculated that the Turkey Day holiday would implement them, but that never came to pass.
An updated version of the Turkey Day holiday for Thanksgiving 2021 is certain to emerge with November's update though, so it's very possible that the full selection of vegetables will finally debut in the Animal Crossing Direct for this year's update.
Fortune (Katrina?)
In past Animal Crossing games, luck and fortune could play a big role on your experience with random encounters like Bells received and items appearing.
Unfortunately, this aspect has been almost entirely absent in Animal Crossing: New Horizons, including special character Katrina who could have an impact on your luck when visiting her shop for a fortune.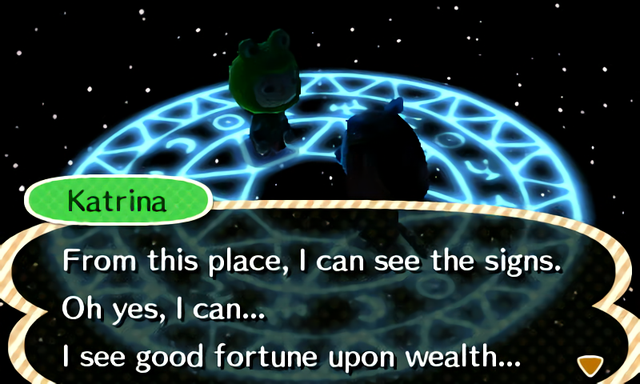 Both the general luck mechanic and Katrina could be on their way back soon though, thanks to a few datamined references spotted in the most recent Version 1.11 Update released in late July.
In that update, two new references to the curiously named 'NNPC_ApproachH_FortuneFriendship' and 'NNPC_ApproachH_FortuneItem' event flows were spotted indicating that some sort of Fortune feature is in the works — though the actual event flow files don't exist and can't be seen.
Those references follow an oddly random cameo appearance of past special character Katrina in the new Nook Points feature within Nook Link earlier this year, where Katrina is depicted with some daily Words of Widsom.
Given the timing of Fortune references appearing in the next update afterwards, it's possible that this was a sneaky way of introducing Katrina to newer Animal Crossing players prior to her release later.
Regardless, we'd consider Katrina in the top five of major 'missing' special characters in Animal Crossing: New Horizons, so her appearance in the next November Update appears to be somewhat likely given the Fortune references discovered so recently.
Gyroids
Going back to the first ever datamining done of Animal Crossing: New Horizons shortly after launch, a referenced Gyroid section in the Museum's The Roost was spotted early on.
In another update a few months later, a further '35_Gyroid' item reference name was scouted as well. Both of these findings are quite dated and relatively thin, but it does appear that Gyroids were in the works at some point.
For those unfamiliar, Gyroids are rather strange furniture items seen in past Animal Crossing games that could be found buried in the ground similarly to fossils after rainfall.
Each Gyroid is unique coming in different shapes and sounds in how they move when activated, making for a great way to add some ambiance to a room in your house. And having them placed outdoors in New Horizons would be particularly fun!
Adding on to the datamined references, it's worth noting that The Roost's Brewster does carry quite a bit of history with Gyroids in both Animal Crossing: City Folk and Animal Crossing: New Leaf.
In the first game, players could actually use Brewster as a storage mechanism for their collection of Gyroids after befriending him. And in New Leaf, some of the most exclusive rewards available for working a part-time job at The Roost even included special Brewster-themed Gyroids known as Brewstoids. (photo credit: JVGS)
Taking the couple datamine references to Gyroids from long ago, plus the undeniable link between the upcoming confirmed Brewster and Gyroids, we'd be quite shocked actually if they didn't make an appearance as a new feature in the Animal Crossing Direct!
Nook's Cranny Shop Upgrade
Despite the ever evolving nature of Nook's Cranny being a staple feature of past Animal Crossing games, there's sadly only ever been a single shop upgrade available in Animal Crossing: New Horizons since launch.
We've hoped in many updates over the past year and a half that a third Nook's Cranny building would come to exist, but it's never happened, despite mention of one found through datamining of the game's launch version.
Beyond that single undetailed reference, there's another reason to believe that a further Nook's Cranny upgrade has been planned by the developers since the beginning: plot footprint.
A great example of this phenomenon is when the Museum building received an upgraded expansion in Animal Crossing's first update, as seen in the screenshots below.
That first edition of the Museum clearly has a bunch of excess space padding out its border, which was later completely filled in by the upgraded building when released later.
The same can be observed when going from the first version of Nook's Cranny to the upgraded second version, but we think there's still room for further expansion in a third building.
In a way, the second edition of Nook's Cranny looks like the first version of the Museum in that the outer border space is used for the wood frame, but not for the actual building.
So while the evidence for an upgraded Nook's Cranny certainly isn't as concrete as many other features mentioned in this article, we do feel that it's a reasonable possibility with such a significant update expected now.
New Bush Type
Animal Crossing: New Horizons already features a variety of different bush types to grow on your island for decorating, but it's possible that a new type may debut soon.
In past datamining work from last summer, we saw a new bush called the Plumeria referenced, which would be New Horizons' seventh distinct type of bush. This came alongside more references to possible vegetables.
Though minor in scope compared to many other features included in this article, it certainly wouldn't hurt to see new bushes added to the game! (photo credit: Gardening Know How)
---
That just about finishes up our overview of what we can expect to see during the Animal Crossing: New Horizons Direct on Friday, October 15th! We certainly don't expect to see everything that's mentioned in this article, but if datamined references hold up as they have for past updates, it's likely a solid chunk will make an appearance.
And of course, we hope to see additions that weren't included in here either, such as a return of Tortimer Island with Kapp'n! We focused more on the pieces that have some decently supportive evidence through datamining.
For more information on the imminent Animal Crossing Direct and how you can watch it, check out our main article on the presentation here.
Dataminer Credits: We would like to thank the work of many community dataminers who dedicated their spare time over the past year and a half to uncovering these datamined references including Ninji, SuperSpazzy, asteriation, Stoney, and more!
Stay tuned to Animal Crossing World for everything on Animal Crossing: New Horizons, including our extensive Guides section here. Our most popular pages include What's New In October / Halloween 2021, Spooky Set Items & DIY Recipes, Jack's Halloween Event, Series 5 Amiibo Cards, Halloween Costumes, New October Critters, Acorn & Pine Cone DIY Crafting Recipes, Redd Art, and Sea Creatures.
Animal Crossing: New Horizons Datamine News Version 2.0 Update