With only a week remaining until the highly anticipated Version 2.0 Update for Animal Crossing: New Horizons, pre-orders are now open worldwide on the Nintendo eShop for the Happy Home Paradise paid DLC expansion!
For those unfamiliar or confused, Animal Crossing: New Horizons – Happy Home Paradise is a paid expansion DLC releasing alongside the free Version 2.0 Update on November 5th, 2021. That free update will introduce many new features like boat tours from Kapp'n, new vegetables to grow, The Roost with Brewster, and new shops at Harvey's Island.
On the other hand, the paid Happy Home Paradise DLC unlocks a completely new Paradise Planning island area to travel to where you can meet villagers and design their dream vacation homes!
When you design a villager's vacation home, you get to pick out a plot of land for them and extensively decorate not only the inside, but also the outdoor area surrounding them.
But perhaps the most important part of Happy Home Paradise is some brand new interior design abilities including Partition Walls, Counters, Pillars, Soundscapes, Room Size Adjustment, and more!
Better yet, it's even possible to carry over most of these new design features over to your own home island when unlocked. Then you'll be able to enjoy decorating with new toys like Partition Walls in your own house!
Various facilities including schools and hospitals can be designed on the Paradise Planning island too, plus you'll earn special new Poki currency to purchase rare items.
How To Pre-Order Animal Crossing: Happy Home Paradise DLC
Pre-ordering the Animal Crossing: New Horizons – Happy Home Paradise DLC is super easy! Just head to the Nintendo eShop (orange shopping bag icon) on your Nintendo Switch and either…
Click on the giant Animal Crossing: New Horizons tile, scroll down to Downloadable Content, and click the Happy Home Paradise listing.
Or type in 'Happy Home Paradise' into the sidebar search to find the direct listing for Happy Home Paradise and click it.
In terms of pricing, the expansion costs $24.99 USD / $32.99 CAD / £22.49 GBP to give a sampling of regional prices.
You can also choose to purchase a digital download code from Amazon here. We'll receive a small commission to help support the site if you do so. Note that it appears codes might be held until release, so pre-load isn't available yet through this method.
Redeem Gold Points For Discount
Don't forget that you can redeem My Nintendo Gold Points towards a discount of your purchase of Animal Crossing: New Horizons – Happy Home Paradise if you have any on your account!
My Nintendo Gold Points are primarily earned as a form of cashback by making other purchases on the Nintendo eShop, but can be earned in limited amounts from physical purchases too.
Don't Forget About Nintendo Switch Online + Expansion Pack
Remember that there's another way to gain access to Animal Crossing: New Horizons – Happy Home Paradise besides actually purchasing the DLC from the Nintendo eShop!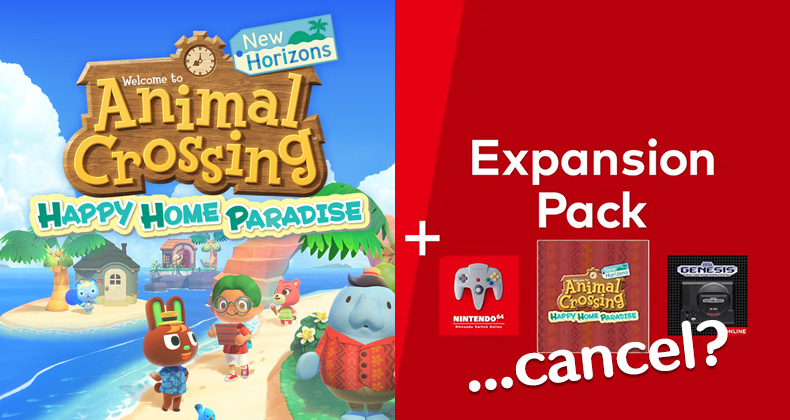 Subscribers of the recently launched Nintendo Switch Online + Expansion Pack membership that provides access to many features, including a library of Nintendo 64 games, receive a complimentary entitlement to the Happy Home Paradise DLC during their subscription.
But if you unsubscribe from this service later, then you'll lose access to visiting the Paradise Planning island and all features associated with the area. On the bright side though, you can retain your unlocked design features like Partition Walls! Read our What Happens If You Get Animal Crossing: Happy Home Paradise With Switch Online And Cancel Later article for more details.
You Can Pre-Load Happy Home Paradise, Either Way
Regardless of how you choose to gain access to Animal Crossing: New Horizons – Happy Home Paradise, whether that be through a direct purchase or subscription, all players can now pre-load the DLC through the Nintendo eShop right now.
Note that the download is pretty small, with the North America Nintendo eShop reporting a file size of just 595MB, so there's not really much time saved here anyway. It feels great to download regardless though!
---
Let us know in the comments below if you've pre-loaded Animal Crossing: New Horizons – Happy Home Paradise onto your Nintendo Switch, and if so, did you choose to purchase the DLC or use a subscription?
Stay tuned to Animal Crossing World for everything on Animal Crossing: New Horizons, including our extensive Guides section here. Our most popular pages include 16 New Villagers, Version 2.0 Update, Happy Home Paradise DLC, Series 5 Amiibo Cards, What's New In October, Spooky Set Items & DIY Recipes, Jack's Halloween Event, New October Critters, Redd Art, and Sea Creatures.
Animal Crossing: Happy Home Paradise Animal Crossing: New Horizons News