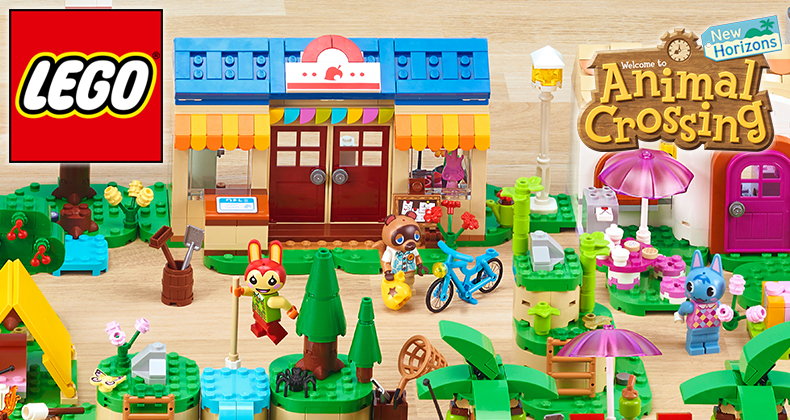 The long-rumored Animal Crossing LEGO collaboration is finally official and we've got all the details! This guide covers all of the sets available, which characters and pieces they'll include, how much each set will cost, and when you can get your hands on them.
Fully revealed in all their glory by Nintendo on October 10th, the official Animal Crossing x LEGO crossover will feature 8 different classic characters split among 5 different sets available for purchase.
Those eight fan favorite characters will include Rosie, Bunnie, Marshal, Kapp'n, Fauna, Julian, Isabelle, and Tom Nook covering a wide spectrum! In terms of set pieces, you'll be able to build the iconic Nook's Cranny shop, Kapp'n's Boat, Rosie's House, and more.
LEGO worked closely together in partnership with Nintendo to create this collection with the Director of Animal Crossing: New Horizons Aya Kyogoku offering up the following quote:
The Animal Crossing video game series is about creating a world where you freely build the life you want, and now with LEGO bricks, you can build that world with your own hands in the real world too. We hope that the world of Animal Crossing and its characters, now also in the form of LEGO bricks, can bring smiles to people's faces by being a part of their day-to-day lives.
All of the sets have been specifically designed to fit together letting players enjoy a level of customization by mixing and matching them together.
Notably, this will be a general Animal Crossing series crossover, not one specifically themed to New Horizons. You can see this with the rather inconsistent look of the characters. For example, notice how Isabelle is sporting a 2013 era Animal Crossing: New Leaf style, while Tom Nook is rocking the 2020 era Animal Crossing: New Horizons clothes.
Create your LEGO Animal Crossing world as you want it – with Isabelle, Tom Nook, Marshal and more. Coming March 2024!#AnimalCrossing #LEGO #Nintendo pic.twitter.com/dfy8nXQy4s

— Nintendo of America (@NintendoAmerica) October 10, 2023
LEGO Animal Crossing Sets & Prices
Five different LEGO Animal Crossing set bundles will be available for sale starting on March 1st, 2024 — here's how many pieces and characters each will include, plus price tags and photos for everything.
LEGO Animal Crossing Nook's Cranny & Rosie's House #77050
535 Pieces, $74,99 / £64.99 / €74,99
Nook's Cranny & Rosie's House is absolutely the featured set of LEGO Animal Crossing with both Tom Nook and Rosie included as characters, among 535 pieces letting you build the iconic Nook's Cranny shop with a bicycle and more!
LEGO Animal Crossing Isabelle's House Visit #77049
398 Pieces, $39.99 / £34.99 / €39.99
Isabelle is the star of the show with Isabelle's House Visit as the second largest LEGO Animal Crossing set featuring both Isabelle and beloved Fauna as included characters! This set allows you to build your own home complete with mailbox, vegetable patch, DIY workbench, and more among the 389 pieces included.
LEGO Animal Crossing Kapp'n's Island Boat Tour #77048
233 Pieces, $29.99 / £24.99 / €29.99
Set sail with Kapp'n in Kapp'n's Island Boat Tour set including Kapp'n himself and Marshal as characters exploring a multi-level deserted island! With the 233 pieces included, you can build his iconic boat, palm trees, umbrellas, and many assorted tools.
LEGO Animal Crossing Bunnie's Outdoor Activities #77047
164 Pieces, $19.99 / £17.99 / €19.99
Similar to the Kapp'n set, Bunnie's Outdoor Activities set takes place on a deserted island featuring a tent, cedar trees, rocks, flowers, water, and more within 164 pieces. As one of the cheaper options, this one simply includes Bunnie and no further characters.
LEGO Animal Crossing Julian's Birthday Party #77046
170 Pieces, $14.99 / £12.99 / €14.99
Julian's Birthday Party is the cheapest entry-level option available to pick up Animal Crossing LEGO and comes with just a single character — Julian! With 170 pieces included, you can build a Cherry Blossom tree, cake, balloons, and more.
---
All five of the LEGO Animal Crossing sets covered above will be available for purchase on the official LEGO website here where you can currently view them in advance: LEGO US, LEGO Canada, LEGO UK.
So, now that you've seen all of the pieces and characters that LEGO Animal Crossing had to offer, will you pick any up in March? Let us know in the comments below!
Stay tuned to Animal Crossing World for everything on Animal Crossing: New Horizons, including our extensive Guides section here. Our most popular pages include Redd Art, Spooky Set Items, Halloween Event, Acorns & Pine Cones DIY, Fishing Tourney Event, New October Creatures, Bush Types & Colors, Villager Houses, Sea Creatures, K.K. Slider Songs.