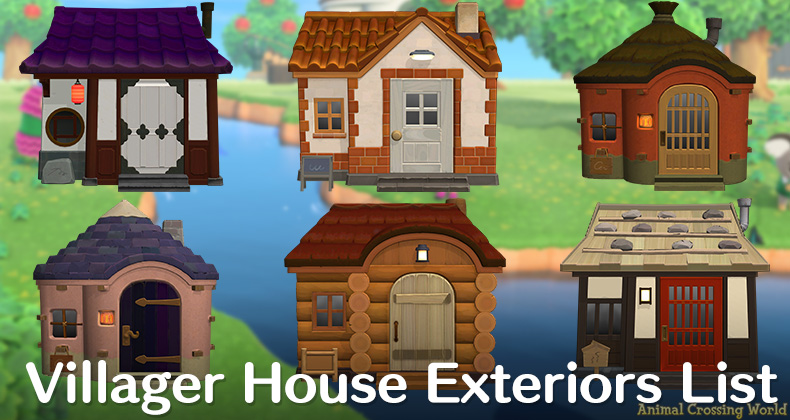 Every villager has a unique and different house exterior design in Animal Crossing: New Horizons (ACNH), check out how each villager house looks in this complete guide!
Since you can easily move villager houses around your island in Animal Crossing: New Horizons, it's worth thinking about incorporating the exterior design of these homes as part of your island's overall look and feel. If you're looking to theme a particular area, you might find a villager house matches perfectly!
By using this guide, you can find the perfect villager houses to suit whatever design you're looking for or see in advance what the design of an incoming villager house will look like before they move in.
Villager personalities have been included as well to help you pick out a preferred exterior home design for your island if you are looking to add a particular personality that's currently missing and you need to narrow down the options.
Complete List of Villager House Exterior Designs
Use the handy table below containing a full list of every villager house exterior design for all 391 villagers currently available in Animal Crossing: New Horizons. Click on a house to load the full-size image.
MARCH 29TH UPDATE: We have now updated the list with exterior house design models for the six new Sanrio-inspired villagers introduced in the March Update called Chai, Chelsea, Étoile, Marty, Rilla, and Toby! Once again, we'd like to thank SuperSpazzy for his work rendering these.
Don't forget to make use of the search field in the top right of the table to filter results by villager name or personality! This can help you easily find exactly what you're looking for.
Villager
House Exterior

Admiral

Cranky

Agent S

Peppy

Agnes

Uchi

Al

Lazy

Alfonso

Lazy

Alice

Normal

Alli

Snooty

Amelia

Snooty

Anabelle

Peppy

Anchovy

Lazy

Angus

Cranky

Anicotti

Peppy

Ankha

Snooty

Annalisa

Normal

Annalise

Snooty

Antonio

Jock

Apollo

Cranky

Apple

Peppy

Astrid

Snooty

Peppy

Aurora

Normal

Ava

Normal

Avery

Cranky

Axel

Jock

Baabara

Snooty

Bam

Jock

Bangle

Peppy

Barold

Lazy

Bea

Normal

Beardo

Smug

Beau

Lazy

Becky

Snooty

Bella

Peppy

Benedict

Lazy

Benjamin

Lazy

Bertha

Normal

Bettina

Normal

Bianca

Peppy

Biff

Jock

Big Top

Lazy

Bill

Jock

Billy

Jock

Biskit

Lazy

Bitty

Snooty

Blaire

Snooty

Blanche

Snooty

Bluebear

Peppy

Bob

Lazy

Bonbon

Peppy

Bones

Lazy

Boomer

Lazy

Boone

Jock

Boots

Jock

Boris

Cranky

Boyd

Cranky

Bree

Snooty

Broccolo

Lazy

Broffina

Snooty

Bruce

Cranky

Bubbles

Peppy

Buck

Jock

Bud

Jock

Bunnie

Peppy

Butch

Cranky

Buzz

Cranky

Cally

Normal

Camofrog

Cranky

Canberra

Uchi

Candi

Peppy

Carmen

Peppy

Caroline

Normal

Carrie

Normal

Cashmere

Snooty

Celia

Normal

Cesar

Cranky

Chadder

Smug

Chai

Peppy

Charlise

Uchi

Chelsea

Normal

Cheri

Peppy

Cherry

Uchi

Chester

Lazy

Chevre

Normal

Chief

Cranky

Chops

Smug

Chow

Cranky

Chrissy

Peppy

Claude

Lazy

Claudia

Snooty

Clay

Lazy

Cleo

Snooty

Clyde

Lazy

Coach

Jock

Cobb

Jock

Coco

Normal

Cole

Lazy

Colton

Smug

Cookie

Peppy

Cousteau

Jock

Cranston

Lazy

Croque

Cranky

Cube

Lazy

Curlos

Smug

Curly

Jock

Curt

Cranky

Cyd

Cranky

Cyrano

Cranky

Daisy

Normal

Deena

Normal

Deirdre

Uchi

Del

Cranky

Deli

Lazy

Derwin

Lazy

Diana

Snooty

Diva

Uchi

Dizzy

Lazy

Dobie

Cranky

Doc

Lazy

Jock

Dora

Normal

Dotty

Peppy

Drago

Lazy

Drake

Lazy

Drift

Jock

Ed

Smug

Egbert

Lazy

Elise

Snooty

Ellie

Normal

Elmer

Lazy

Eloise

Snooty

Elvis

Cranky

Erik

Lazy

Etoile

Normal

Eugene

Smug

Eunice

Normal

Fang

Cranky

Fauna

Normal

Felicity

Peppy

Filbert

Lazy

Flip

Jock

Flo

Uchi

Flora

Peppy

Flurry

Normal

Francine

Snooty

Frank

Cranky

Freckles

Peppy

Freya

Snooty

Friga

Snooty

Frita

Uchi

Frobert

Jock

Fuchsia

Uchi

Gabi

Peppy

Gala

Normal

Gaston

Cranky

Gayle

Normal

Genji

Jock

Gigi

Snooty

Gladys

Normal

Gloria

Snooty

Goldie

Normal

Gonzo

Cranky

Goose

Jock

Graham

Smug

Greta

Snooty

Grizzly

Cranky

Groucho

Cranky

Gruff

Cranky

Gwen

Snooty

Hamlet

Jock

Hamphrey

Cranky

Hans

Smug

Harry

Cranky

Hazel

Uchi

Henry

Smug

Hippeux

Smug

Hopkins

Lazy

Hopper

Cranky

Hornsby

Lazy

Huck

Smug

Hugh

Lazy

Iggly

Jock

Ike

Cranky

Jacob

Lazy

Jacques

Smug

Jambette

Normal

Jay

Jock

Jeremiah

Lazy

Jitters

Jock

Joey

Lazy

Snooty

Julia

Snooty

Julian

Smug

June

Normal

Kabuki

Cranky

Katt

Uchi

Keaton

Smug

Ken

Smug

Ketchup

Peppy

Kevin

Jock

Kid Cat

Jock

Kidd

Smug

Kiki

Normal

Kitt

Normal

Kitty

Snooty

Klaus

Smug

Knox

Cranky

Kody

Jock

Kyle

Smug

Leonardo

Jock

Leopold

Smug

Lily

Normal

Limberg

Cranky

Lionel

Smug

Lobo

Cranky

Lolly

Normal

Lopez

Smug

Louie

Jock

Lucha

Smug

Lucky

Lazy

Lucy

Normal

Lyman

Jock

Mac

Jock

Maddie

Peppy

Maelle

Snooty

Maggie

Normal

Mallary

Snooty

Maple

Normal

Marcel

Lazy

Marcie

Normal

Margie

Normal

Marina

Normal

Marshal

Smug

Marty

Lazy

Mathilda

Snooty

Megan

Normal

Melba

Normal

Merengue

Normal

Merry

Peppy

Midge

Normal

Mint

Snooty

Mira

Uchi

Miranda

Snooty

Mitzi

Normal

Moe

Lazy

Molly

Normal

Monique

Snooty

Monty

Cranky

Moose

Jock

Mott

Jock

Muffy

Uchi

Murphy

Cranky

Nan

Normal

Nana

Normal

Naomi

Snooty

Nate

Lazy

Nibbles

Peppy

Norma

Normal

O'Hare

Smug

Octavian

Cranky

Olaf

Smug

Olive

Normal

Olivia

Snooty

Opal

Snooty

Ozzie

Lazy

Pancetti

Snooty

Pango

Peppy

Paolo

Lazy

Papi

Lazy

Pashmina

Uchi

Pate

Peppy

Patty

Peppy

Paula

Uchi

Peaches

Normal

Peanut

Peppy

Pecan

Snooty

Peck

Jock

Peewee

Cranky

Peggy

Peppy

Pekoe

Normal

Penelope

Peppy

Phil

Smug

Phoebe

Uchi

Pierce

Jock

Pietro

Smug

Pinky

Peppy

Piper

Peppy

Pippy

Peppy

Plucky

Uchi

Pompom

Peppy

Poncho

Jock

Poppy

Normal