Nintendo dropped an expansive new piece of key artwork for Animal Crossing: New Horizons today and you can bet exactly what that means! We're diving into this amazing new art to discover everything new there is to find, including two brand new characters.
Be sure to check out our other new articles today showing off the new TV commercial, key artwork, box art, and re-released high quality screenshots for New Horizons today too!
Chip Has A Son? Maybe!
It looks like our ol' pal Chip has a new buddy around the island in Animal Crossing: New Horizons! We're not sure exactly who this is, but there's definitely a vibe of a younger version of Chip to me. Perhaps this is either his son or nephew? Either way, I love him already!
Some folks have speculated that this could still be the same Chip and simply just a new look for the character, but I feel pretty confident this is a new character. The resemblance to Chip definitely can't be denied though and I don't doubt for a second this is probably a relative of his.
But what purpose does this new relative serve in New Horizons? Well, we already learned way back at E3 2019 that fish bait will be introduced in this game for the first time and we've even seen it being thrown in an ocean in a later trailer. Between this new character and bait, this could point to fishing getting a big upgrade in New Horizons over previous Animal Crossing games.
Perhaps this new younger Chip will run his own fishing shop selling bait and other new special supplies, with the original Chip still running the fishing tournaments? Or vice versa. I can't imagine Nintendo completely replacing Chip as he's one of the original characters since the series' beginning, so there's got to be some purpose for the new guy.
Here's hoping that Chip 2.0 might have a little more respect for our hard earned catches than Chip did though! What purpose do you think he'll serve though? Let me know in the comments below.
New Dodo Airlines Character
We got our first look at Dodo Airlines back in September as part of the Nintendo Direct trailer, but we've still been waiting to see the Dodo man himself since then! Finally, we've got a peek at the new Dodo special character that likely runs the new Dodo Airlines agency.
It's most likely that he's the pilot of the seaplane rides you'll need to take to enter and leave the deserted island, but it's possible he could just be the air traffic controller and/or running the airport building for your arrivals and departures.
Besides the mysterious new Dodo character, we've also got a great look at the building and seaplane sitting nearby that will take us away! Note that the colors of both the building and seaplane can vary — we've seen different colors in previous screenshots. It's unknown so far whether that's a random island generation feature or a customizable feature like the Town Halls in New Leaf.
Harvey's Island?
This new artwork is really the gift that keeps on giving. If we take a peek all the way into the very top right corner, a separate island with none other than Harvey can be spotted!
If you didn't play the Welcome amiibo update for New Leaf, this Harvey fellow was a new addition in the update who ran his own campground off to the side of your town. While he served a number of different purposes, the main reason for his introduction was to make New Leaf amiibo compatible.

We already heard from New Horizons' director Aya Kyogoku that amiibo compatibility in the game is all but certain, so perhaps Harvey will return to reprise his previous role!
But more than that, I'm most interested by the fact that he's hanging out on what appears to be his own entire separate island. Obviously we can expect to be able to travel to other players' islands online, but I've been waiting to see if there would be any other non-player islands we could visit.
This is getting deep into speculative territory, but we still haven't seen any signs of the Museum or other standard buildings on the island that have long been Animal Crossing staples. Perhaps some of these important functions will be accessible at a separate island from our towns, similar to the City in Animal Crossing: City Folk.
At the very least, the discovery of Harvey's island certainly raises the possibilities for anything of the kind! What do you think Harvey will do in New Horizons or what other islands do you think we might be able to visit? Let me know in the comments below!
Isabelle's First New Horizons Appearance
Yes, we're finally getting our very first look at Isabelle in Animal Crossing: New Horizons!! It's kind of hard to believe but we somehow went a full 6 months since the game's initial reveal at E3 2019 before seeing the most popular Animal Crossing character.
As we learned at E3, she won't be at your deserted island from the very start, but will show up at a later date once your game has progressed to some degree. The exact details are still up in the air though, but her outfit seems to offer a hint!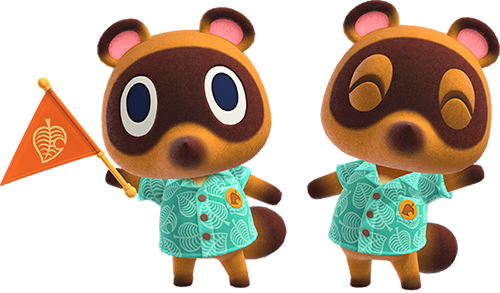 If you didn't notice yourself, her clothing seems suspiciously similar to the Nook Inc. uniforms that both Tom Nook and Timmy & Tommy wear in New Horizons. So putting the pieces together, it seems quite possible that at some point Isabelle is invited to the deserted island by Nook Inc. and works as an employee for them on the island.
Wooden Bridge and Villagers
Alright, this one is pretty minor, but check out the bottom left corner of the new artwork to find our first look at a wooden bridge! Like practically everything in New Horizons, it looks amazing in HD and better than any previous Animal Crossing game.
And while you're at it, enjoy that first peek at Apollo in New Horizons hanging out on the wooden bridge. What a legend. And did you notice those sleeves actually go on his wings? Hopefully that's in-game and not just the artwork!
And here's the first appearance of Rod in New Horizons too! Looks like he's enjoying the deserted island's excellent sun coverage with a side of 'vacation juice'.
Additionally, we also got a higher quality version of a previous screenshot that showed off a stone bridge, check it out below:
Well, that just about wraps up all of the major new discoveries and details we spotted in today's gorgeous new artwork for Animal Crossing: New Horizons! I just can't wait for this game to finally release and there's not much longer to go.
If you found anything else we missed that you'd like to share, please feel free to leave a comment below — I'd love to hear from you. What are you most excited about from today's artwork?
Animal Crossing: New Horizons launches worldwide in less than three months from now on March 20th! Check out our release date countdown here, or pre-order the game here. Stay tuned to Animal Crossing World for more news as we approach the release!