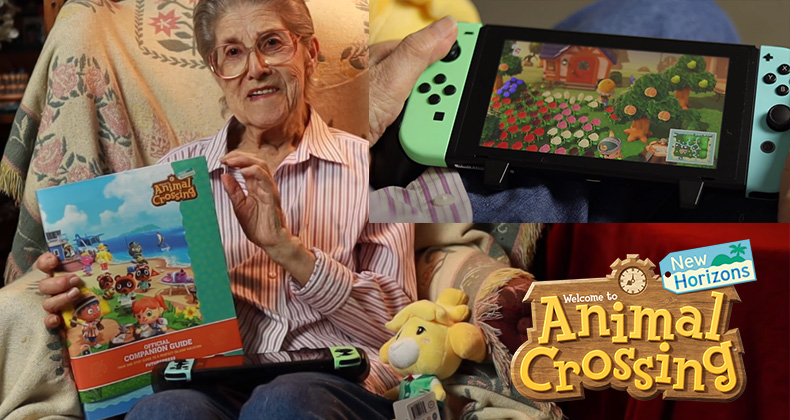 There's a good chance you've heard about the 89 year old grandma with an incredible amount of hours in Animal Crossing: New Leaf, and now she's back again with a tour of her Animal Crossing: New Horizons island!
If you're not already familiar though, Grandma Audie went viral across the internet early last year when her grandson uploaded an incredibly wholesome video showing off her town in Animal Crossing: New Leaf with over 3,500 hours of playtime.
Then earlier this year after the release of Animal Crossing: New Horizons, a followup video was released of Grandma Audie opening up her new Animal Crossing Special Edition Nintendo Switch with a copy of the game to begin new adventures on a deserted island.
In that last video, Audie's grandson Paul promised an island tour video eventually to show off her progress exploring the new game, and he's finally delivered with a brand new video this week.
Interestingly, Audie reveals in the new video that she still continues to play Animal Crossing: New Leaf from time to time keeping up, which isn't a surprise given how many thousands of hours have been dedicated already. She does play New Horizons more often though, with about three hours of playtime per day since launch.
But does she prefer the latest Animal Crossing: New Horizons to the older New Leaf? Not necessarily, as she says that they're 'about the same'! We're inclined to agree as well — both games definitely have shown their own unique pros and cons.
And before she gets into the actual island tour, we couldn't help but notice it seems Audie is feeling the same many of us have been about our own islands noting that she hasn't made as much progress in 3 months as she'd like! Same Audie, same…
As for the actual contents of Audie's island though, there really isn't too much unique to see, but it's worth a watch just to enjoy her relaxed exploration of the island. It's a perfect example of how Animal Crossing is truly a game for everyone, no matter someone's level of experience with video games.
Plus, we have to admit how lovely and wholesome it is to experience her grandson's endearing nature when touring the island. His kind demeanor of letting Audie explain her New Horizons experience as if he's never seen the game before is definitely sweet.
You can watch the complete video tour of Audie's Animal Crossing: New Horizons island below, or check it out yourself at the following Dream Address: DA-3280-5622-8262
There's certainly one thing missing from Audie's island though that needs to be amended ASAP  — Audie! If you didn't already know, it's been widely speculated that the new villager Audie in Animal Crossing: New Horizons may have actually been named after this famous grandma.

Of course it's impossible to say for sure whether this is the intention unless Nintendo comments on it, but it's quite likely given the perfect match to her character's name and how popular the original video was with over 12 million views. It's a nice thought anyway to think it might be related.
Here's the previous two videos in the series, so to speak, in case you missed them before or perhaps want to give a rewatch:
Stay tuned to Animal Crossing World for everything on Animal Crossing: New Horizons, including our extensive Guides section here. In particular, don't miss out on our recent August Fireworks Show Event, Tripping & How To Craft King Tut Mask, and Dreaming With Luna guides.