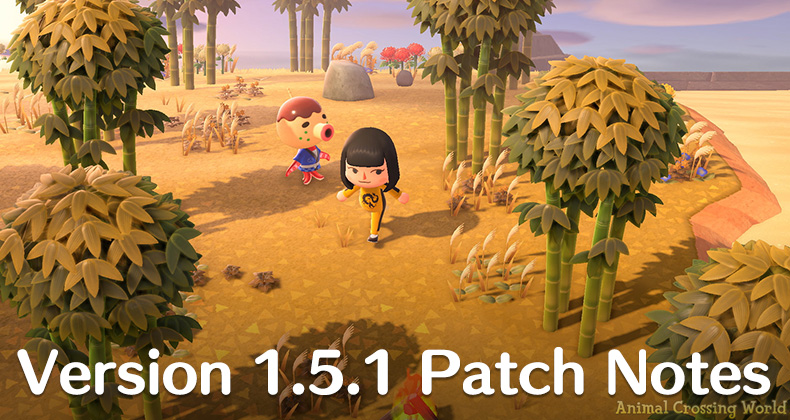 Following a round of game server maintenance, a brand new Version 1.5.1 update for Animal Crossing: New Horizons (ACNH) has been released tonight by Nintendo!
As the first update since the huge Fall Halloween Update launched last week, today's release is a relatively minor update focused on fixing up a few bugs and glitches that have revealed themselves, which is to expected. When a major Animal Crossing update is coming with noteworthy features, you'll hear about it in a trailer announcement.
The most noteworthy fix in this update addresses a bug with Passport Titles earned using Nook Miles where titles that you've already earned would sometimes be unable to display in your Passport — everything is back to normal now with the update.
Other than that, a few other minor glitches have been resolved that we didn't even know about such as English language text incorrectly displaying when playing in another language like French, and Villagers wrongly commenting on pumpkins when giving them Bamboo Shoots as a gift.
Anyway, here's the full official patch notes for Version 1.5.1 of Animal Crossing: New Horizons released on October 8th, 2020 in English from Nintendo of America below, which have been roughly translated from Japanese:
Official Patch Notes For Animal Crossing: New Horizons Version 1.5.1 (English)
Ver. 1.5.1 (Released October 8, 2020)

The software has been updated if you see "Ver. 1.5.1" in the upper-right corner of the title screen.

General Updates

The following issues occurring in Ver. 1.5.0 have been fixed:

Fixed an issue where some title keywords obtained via Nook Miles would not appear within the Passport.
Fixed an issue where certain messages would display in English for users playing in French, Spanish, German, Italian, Dutch, or Russian.
Fixed an issue where animal residents would talk about pumpkins when given a bamboo shoot.
Fixed an issue where it was no longer possible to jump over a river based on the location of certain furniture.
RELATED: Fall Halloween Update Datamine Hints New Upcoming Features For Animal Crossing: New Horizons
Please note that you will need to be updated to Version 1.5.1 to play online multiplayer with other players and access other network features going forward after this update. Local multiplayer can only be played with others on the same version of the game as you.
If you are reading this article immediately after the update release, the game's servers may still be down for maintenance as well. You will have to wait until that ends to play online if so.
Your copy of the game should update automatically for you, but if for some reason it doesn't, you can manually trigger the update by pressing the + button on the Animal Crossing: New Horizons home screen icon, selecting Software Update, and hitting Via the Internet.
Stay tuned to Animal Crossing World for everything on Animal Crossing: New Horizons, including our extensive Guides section here. In particular, don't miss out on our popular Pumpkin Farming, Spooky Set Items, Halloween Costumes & Clothing, Redd Art, and Sea Creatures guides.