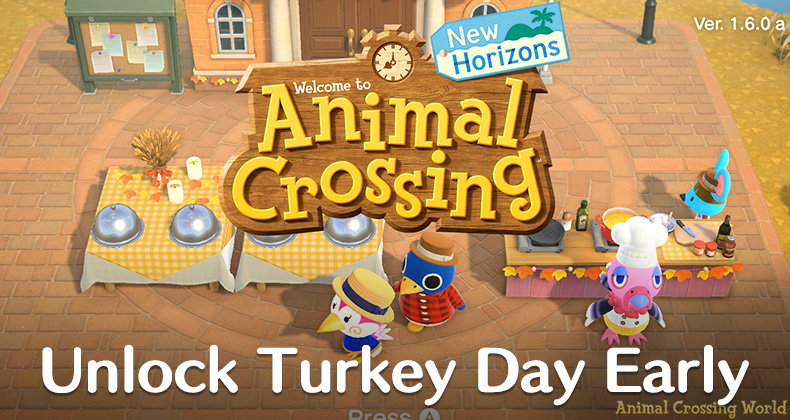 The highly anticipated Turkey Day event for Thanksgiving in Animal Crossing: New Horizons (ACNH) can now be played worldwide by everyone with a little bit of tinkering on their Nintendo Switch!
As you likely know by now, the Turkey Day event has been time locked to the real time and date of Thanksgiving ever since the Winter Update released, preventing any early time travel.
Many players enjoy playing Animal Crossing in real time and have no interest in advancing early, but other fans treasure the ability to play events ahead of time if they so desire.
Since the clock has ticked past Midnight on November 26th in Japan and other regions though, it's now possible to legitimately get your hands on the event early with a little work!
In order to unlock the Turkey Day event in Animal Crossing: New Horizons, you need to get your game's version number increased to Ver. 1.6.0a with the 'a' addition being the important part. Franklin won't appear on Thanksgiving unless you're on this version or later.
Unlike other Animal Crossing updates though, this is not a typical patch download that releases globally at the same time everywhere, like the initial Winter Update.
Nintendo uses a separate behind the scenes system for unlocking the sub-versions with letters on the end that contain holiday events. It's based on the network time of your Nintendo Switch, rather than a globally released download.
Note that there's a difference between network time and the normal time & date set on your Nintendo Switch, which is why simply advancing the time and date earlier this week for example didn't work.
How To Unlock Turkey Day Early Worldwide
Follow the simple instructions below to unlock the Turkey Day Thanksgiving event in Animal Crossing: New Horizons right now from all regions.
Step 1: Change Time Zone to Tokyo
Go to System Settings at the bottom of the HOME Menu, scroll down to System, then scroll down to Date & Time and press A.
Then scroll down to Time Zone, select it, and change your Time Zone to Tokyo (UTC +9:00). Technically, you could pick any time zone where it's past midnight on Thursday, November 26th including ones in Australia, but we'll just use Tokyo for this example.
This is decisively different than simply changing your time and date ahead to November 26th, without adjusting the Time Zone, because your Nintendo Switch's network time remains the same then.
Step 2: Change Time Past 9AM, If Needed
As we write this article, it's currently only 3:06AM in Tokyo and the Turkey Day event festivities with Franklin don't begin until 9AM on an island.
So if it's still not past 9AM in Tokyo, you'll also need to manually make a time adjustment to sometime after 9AM on November 26th. However, it's important that you keep the Time Zone set to Tokyo when doing this.
Step 3: Load New Horizons & Look For 1.6.0a
Once you've got your Time & Date settings all sorted out, head back to the HOME Menu and start up Animal Crossing: New Horizons. Be sure to close and restart it if you left the game open though.
When Animal Crossing: New Horizons boots up to the title screen with the logo, check the top right corner of your screen for Ver 1.6.0a. If you see the a, then you're good to go and it's likely you can already see the Turkey Day event on screen.
If you only see Ver 1.6.0 without an 'a' on the end, then something has gone wrong. Go back through the steps and ensure that your Time Zone has been set correctly, and that you're playing on November 26th or later.
One possible reason that you might not see Ver 1.6.0a is if you're not connected to the internet, or if you don't have a user linked to a Nintendo Account. Make sure you're meeting those requirements.
Complete Turkey Day Guide
Now that you can enjoy the Turkey Day Event, be sure to check out our complete Turkey Day Thanksgiving Event Guide: Ingredients, Recipes, Rewards. It covers absolutely everything you need to know for finishing the event and enjoying everything there is to see, including complete recipes and more.
Stay tuned to Animal Crossing World for everything on Animal Crossing: New Horizons, including our extensive Guides section here. In particular, don't miss out on our popular Mushrooms, Maple Leaves, Acorns & Pine Cones, Thanksgiving Turkey Set, Christmas Toy Set, Redd Art, and Sea Creatures guides.