The exciting new Winter Update is here now for Animal Crossing: New Horizons, but with an unexpected surprise for fans who like to adjust the date and time on their Nintendo Switch to experience new features faster.
Unlike some of the other recent updates, it's currently not possible to 'time travel' with the latest Winter Update in order to enjoy the new holiday events ahead of time. If you prefer to play Animal Crossing: New Horizons in real time, this won't affect you, but many fans enjoy changing the date.
For some players, this comes as quite the disappointment since the Winter Update is almost exclusively focused on the two holidays events with Turkey Day for Thanksgiving and Toy Day for Christmas Eve. That means there really isn't much new content to explore with today's update outside of those events.
Initially, when Animal Crossing: New Horizons updates first launched back in March, the Bunny Day event and other subsequent events later in the spring implemented a real-time date locking feature that prevented timed in-game events from appearing until the date was reached in the real world.
However, the developers appeared to change their tune after the Summer Update Wave Two introduced a new Fireworks Show event that was immediately available without any date locking to prevent time travel. That was a surprise, but the update did release only just a couple days prior to the event, so maybe that was the reason.
RELATED: Absolutely Everything New In Animal Crossing's Winter Update (14 New Features & Additions)
More recently though, we also saw the Halloween event with Jack release in the Fall Update with no date restrictions. Given that the update released over a full month before Halloween, we took the lack of date lock on the event to be a sign that Nintendo didn't care anymore about time traveling to experience their events ahead of time.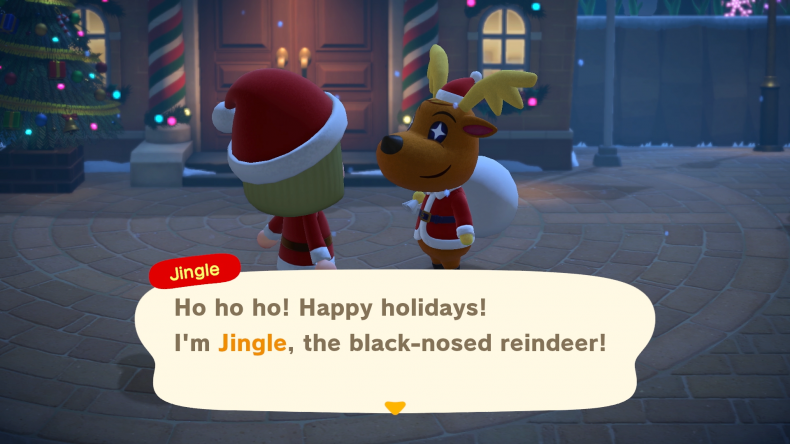 Clearly, that's not the case anymore though! Perhaps the missing date lock for Halloween's event was a simple unintended mistake that's now been resolved. Or is Halloween simply not special enough to warrant the trouble? It's hard to say for sure, but the bottom line is that we can't experience the new Thanksgiving or Christmas events yet as of today.
It's worth noting that hacked Nintendo Switch systems will still be able to get around the date lock on events soon with a little bit of work, so you can expect that there will still be screenshots and information on the events floating around online. But for the average Animal Crossing player, they're off limits.
And by the way, just to be clear, this restriction only affects the ability to access the events ahead of time before the real-world date is reached. We don't expect there to be any issue with backtracking to play the event later after the real-world Thanksgiving and Christmas Eve have occurred!
RELATED: Check Out Every New Item Added In The Winter Update For Animal Crossing: New Horizons (Datamine)
Let us know in the comments below what you think about this reversal for time traveling to events early. Are you a disappointed time traveler, or do you prefer to play in real time and aren't bothered at all by this? I'd love to hear what everyone thinks!
Stay tuned to Animal Crossing World for everything on Animal Crossing: New Horizons, including our extensive Guides section here. In particular, don't miss out on our popular Mushrooms, Maple Leaves, New Fish & Bugs In November, Spooky Set Items, Acorns & Pine Cones, Redd Art, and Sea Creatures guides.