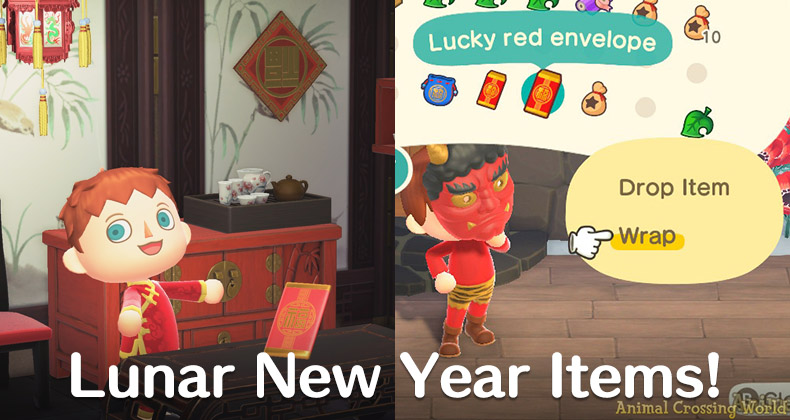 The Lunar New Year is upon us and Nintendo is ready to celebrate in Animal Crossing: New Horizons with multiple brand new items available to order, plus new dialogue!
Here are the three new items available to order in Nook Shopping's Seasonal menu for the holidays — two for Chinese New Year and one for Korean New Year:
Lunar New Year Decoration for 2,000 Bells
Lucky Red Envelope for 500 Bells
Bokjumeoni Lucky Pouch for 500 Bells
The Lunar New Year Decoration is a traditional furniture item that can be placed as a hanging item on walls inside of your house as a decoration. It's quite shiny too!
But what's more interesting about these Lunar New Year items is that the other two items, Lucky Red Envelope and Bokjumeoni Lucky Pouch, have unique wrapping capabilities similar to Wrapping Paper at Nook's Cranny.
Using either the Lucky Red Envelope or Bokjumeoni Lucky Pouch items, you can wrap up some of your Bells! Simply select one of these two Lunar New Year items in your inventory, choose Wrap, and select either a Bell bag or coin.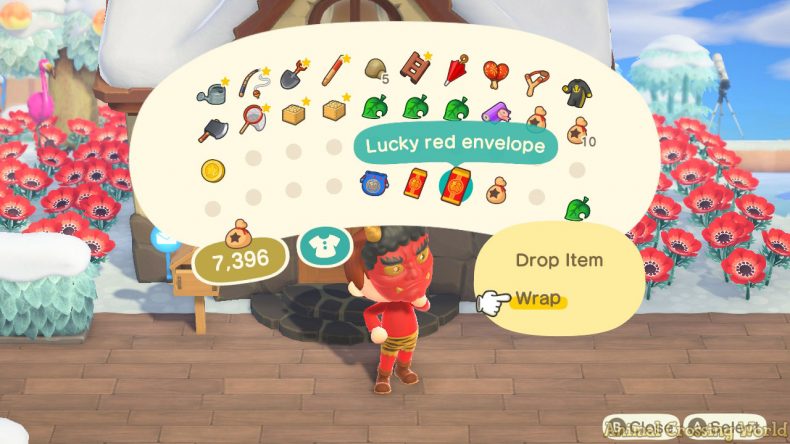 Note that you'll need to actually remove Bells from your 'wallet' into an actual item to do this — select your total Bells wallet and pick one of the amount options to take out Bells for wrapping.
After using the Wrap option, the Lucky Red Envelope will transform into a Lucky Money item and the Bokjumeoni Lucky Pouch will transform into a Sebaetdon item. Now your Bells will be contained inside these new items!
You can then choose to either keep the Bells inside the new item as a souvenir, or ideally give the Lucky Money or Sebaetdon to a friend to open as a gift for Lunar New Year!
But perhaps what's most exciting about wrapping up Bells in these Lunar New Year items is the unique ability to gift Bells to your favourite villagers! Well, sort of.
Under normal circumstances, gifting Bells to a villager will simply result in them returning the currency back to you as they consider it wrong to accept money. But if you wrap Bells using a Lucky Red Envelope or Bokjumeoni Lucky Pouch, your villagers will be happy to take them!
Of course, it's a bit of a technicality since you're really just giving them the Lucky Money or Sebaetdon item in reality. But still, if you ever liked the idea of gifting Bells to your villagers and were frustrated by the limitation, there you go!
In addition to the new seasonal items, you'll also find some fresh villager dialogue celebrating the beginning of Lunar New Year. Be on the look out when speaking to all of your villagers!
And of course, Isabelle has a short message for Lunar New Year during her morning announcements as well. Hooray for something besides hearing about another lost sock!
Be sure to order all of the Lunar New Year items you desire from Nook Shopping's Seasonal items tab before they disappear after February 17th.
Stay tuned to Animal Crossing World for everything on Animal Crossing: New Horizons, including our extensive Guides section here. Our most popular pages include Festivale Furniture Set, Festivale Clothing, Sanrio Card Reprint, ColourPop Collection, Winter Snowflake Recipes, How To Build Perfect Snowboy, Redd Art, and Sea Creatures.