The highly anticipated Sanrio Amiibo Cards for Animal Crossing: New Horizons are releasing at Target in the United States exclusively today and we have all of the details you need to know for snagging them.
Details have been pretty scarce up until now on the availability of Sanrio Amiibo Cards at Target with our social media posts covered in concerns from fans wondering what's going on in the past few weeks, but thankfully Target has finally lifted the curtain to reveal their plans.
Sanrio Amiibo Cards Release Time At Target
The Animal Crossing: New Horizons Sanrio Collaboration amiibo cards were released exclusively at Target on Friday, March 26th at 8AM Central Time. You can find the product listing on Target's website here.
However, as of 10AM Central Time, the Sanrio Amiibo Cards are now sold out and unavailable at most Target stores for Order Pickup — though you should check just in case.
If by any chance you spot a store near you displaying the cards as in-stock, we recommend to keep trying if you want them, even if it's giving an error back. In particular, try spamming the Place Order button rapidly… as ridiculous and absurd as that sounds, it has worked for numerous fans.
Additionally, some Target stores appear to be selling them in-store on the shelf without Order Pick-Up, despite Target's weekly ad indicating this wouldn't be an option. We can't guarantee anything at all, but it might be worth checking your local store if you're desperate just in case!
Nintendo and Target have not yet announced any possible restocks for the Animal Crossing: New Horizons Sanrio Amiibo Cards, so it remains uncertain whether more will be coming.
Hi – Target always want our guests to have a great online order experience! You can purchase order pickup and drive up. On Monday, March 29, they will be made available to purchase in store. Thank you. – Kay

— AskTarget (@AskTarget) March 26, 2021
However, Target's social media support has recently tweeted about the possibility of in-store availability starting on Monday, March 29th. This might be true technically, but we're doubtful in the sense that the cards are likely to be fully sold out everywhere by then, and it seems too early to be a restock.
Fans who haven't been able to get the cards may want to consider third-party custom options — details on that option later in this article.
In-Store Pickup & Limits
In addition to the release time, the Target website covers the same information we first heard about in a flyer appearance last week — the Sanrio Amiibo Cards will only be available through Order Pickup or Drive Up.
According to Target, Order Pickup & Drive Up are features that allow you to reserve an item on their website or mobile app before getting it in store. The website also states that there will be an order limit of 2 per guest.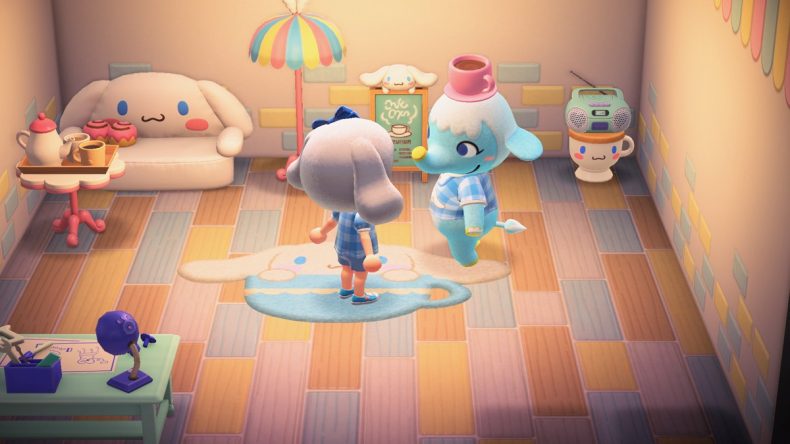 That means the Sanrio Amiibo Cards won't be simply available for a casual purchase when wandering into the store, rather an online or app reservation will be required using the Order Pickup or Drive Up feature.
Here's an official explanation of these services from Target's website:
Drive Up allows you to order items from the Target app, and we'll bring them out to your car when you arrive at the designated drive up parking spaces at your local Target store.

Order Pickup allows you to order items on Target.com or in the Target app and pick them up for free at your local Target store. Order Pickup is listed on the item's page, and usually ready within 2 hours* of placing your order. Items marked Ship to Store can be picked up within 4-7 days instead.
Though we don't know for sure why Target made this decision, two likely reasons are to avoid busy line-ups at their stores during the pandemic and prevent any fighting over the limited stock in-store because all cards will already be reserved.
We're also not expecting any Sanrio Amiibo Cards to be available for online delivery, given how Target has emphasized Order Pickup and Drive Up. That's disappointing and concerning for those who don't live near a Target store.
Limited Quantities
This week's Target Flyer also states that the Animal Crossing Sanrio Amiibo Card are 'Quantities limited; no rain checks'. That really shouldn't come across as a surprise to anyone, but certainly isn't comforting for fans eager to get the cards.
Consider Custom or Third-Party Cards
If you're not able to get your hands on the official Sanrio Amiibo Cards from Target, whether due to an ability to reserve the cards at 8AM Central Time or the lack of any nearby Target store, another option worth considering is third-party or 'custom' amiibo cards sold online.
These are unofficial alternatives not made by Nintendo that essentially contain the same chip inside as the official cards, meaning they will function in Animal Crossing just the same — allowing you to unlock Sanrio content.
We always recommend purchasing the official cards as a first choice, but given how Nintendo is making it quite difficult to purchase the Sanrio Amiibo Cards legitimately with these restrictions, we wouldn't fault anyone for considering custom amiibo instead.
The best place to shop for third-party or custom Sanrio Amiibo Cards is at Etsy in our opinion. There are a number of options, both replicating the official cards and other forms like tokens.
---
We'll continue to keep you up to date on the latest news for getting the Animal Crossing: New Horizons Sanrio Amiibo Cards in our pre-order guide here, and you can view all of the Sanrio Villagers & Items in our guide here.
Let us know in the comments below how you're feeling about the Sanrio Amiibo Cards — whether you've secured a pre-order in your country, are feeling annoyed about Target's approach to the release, or have ordered custom cards from sites like Etsy.
Stay tuned to Animal Crossing World for everything on Animal Crossing: New Horizons, including our extensive Guides section here. Our most popular pages include March Update, Sanrio Villages & Items, Sanrio Amiibo Cards, Super Mario Items, Spring Season, Young Spring Bamboo Recipes, Redd Art, and Sea Creatures.