Animal Crossing players will be able to enjoy the Bunny Day event for the entire month of April in Animal Crossing: New Horizons, thanks to a new extension announced by Nintendo this morning!
Beginning with the Version 1.9.1 update releasing today, the Bunny Day event in Animal Crossing: New Horizons will now run all the way until April 31st, 2021 to ensure all Animal Crossing players have enough time to collect all of the Easter Eggs they desire.
Today's surprise extension comes in response to a rising tide of requests from Animal Crossing fans demanding they be able to experience all six types of Easter Eggs across their island for a longer period. Some players worried that they might not have enough time to collect them all with the original event only 8 days long.
New villager dialogue has been introduced as well with villagers expressing how excited they are about the Bunny Day event extension, as we caught personally from Eunice in the screenshot above.
Insider sources at Nintendo told Animal Crossing World that a full year extension of Bunny Day was considered by the company too, so that players could enjoy collecting the various types of eggs all year long, but ultimately squashed in favor of only a month extension.
It's understood that the Animal Crossing developers believed allowing fans to experience Bunny Day for an entire year would reduce the unique joy brought by eggs making them less special. Rather, the developers think it's for the best if players enjoy Bunny Day as a 'special treat', without becoming spoiled to the experience all year.
We've also heard that introducing Easter themed Gyroids as a buried event item was briefly considered by Nintendo as a replacement for Earth Eggs to spice up Bunny Day's extension, but ultimately discarded in the belief that Animal Crossing fans would prefer Earth Eggs.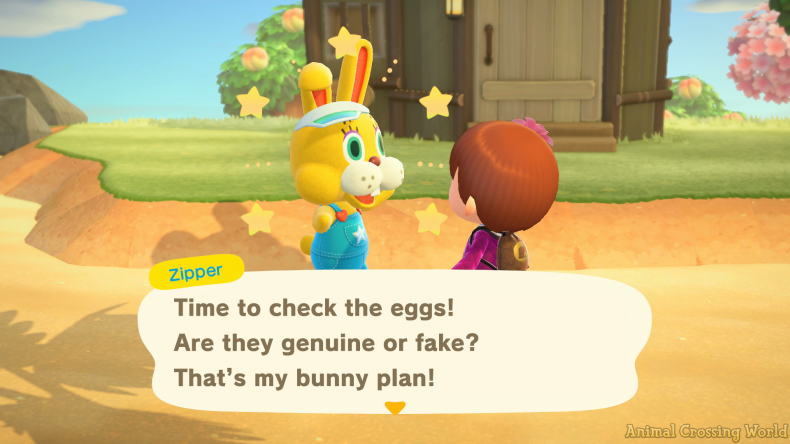 Other changes in today's update include the introduction of rare Easter Eggs sold at Jolly Redd's Treasure Trawler. Note that eggs will need to be inspected first by Zipper T. Bunny to determine authenticity as Redd can sometimes sell forged eggs with fake paint.
We attempted to find an Animal Crossing: New Horizons player available to go on the record sharing their desire for an extended Bunny Day event, but were unable to find any such fan on Planet Earth at press time. Enjoy Bunny Day until April 31st, 2021 everyone — and happy April Fool's!
Stay tuned to Animal Crossing World for everything on Animal Crossing: New Horizons, including our extensive Guides section here. Our most popular pages include Bunny Day Event, Cherry Blossom Petal Recipes, Sanrio Villagers & Items, Sanrio Amiibo Cards, Nook Points, Super Mario Items, Redd Art, and Sea Creatures.