An exciting collection of eight new Shamrock themed items are now available to enjoy in Animal Crossing: New Horizons starting today to celebrate St. Patrick's Day on March 17th!
These lucky new items can be found spread apart in three different locations throughout Animal Crossing: New Horizons all week long during the holiday celebration, so we'll go over all of them to make sure you don't miss out.
First, you'll find three Shamrock themed items for order at the usual Seasonal tab location inside the Special Goods section of Nook Shopping. Those are the Shamrock Doorplate, Shamrock Rug, and Shamrock Soda.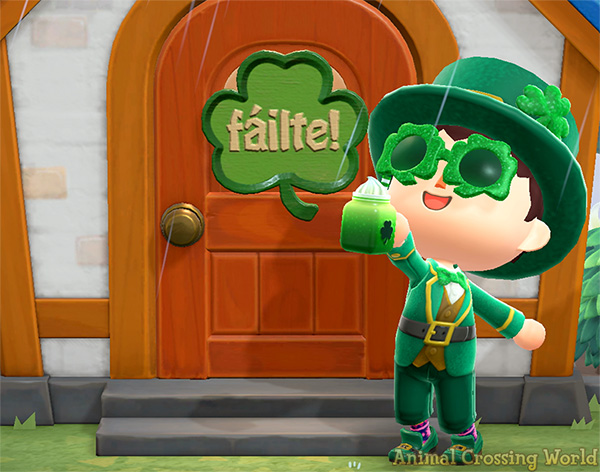 As you'd expect from the name, the Shamrock Doorplate is one of those special items that can actually be mounted onto your house's door for decoration. And the Shamrock Soda is an awesome item you can hold in your hand with a fun 'cheers' animation when used!
Similarly to a few other recent Nook Shopping holidays, these three Shamrock items will rotate in and out with only one item available at a time, so you need to check back in each day to order all of them. You can time travel forwards though if you wish — there's no time lock restrictions past today.
Next, the Able Sisters shop on your island will be selling a complete set of Shamrock themed clothing items during the week. This lucky set includes the Shamrock Hat, Shamrock Sunglasses, Shamrock Suit, and Shamrock Shoes.
Unlike the Nook Shopping items, you may pick up the entire set of clothing from Able Sisters on a single day to fully embrace the St. Patrick's Day holiday right away!
Finally, and perhaps most exciting, a brand new crafting recipe can be found in flying Balloon Presents on your island during the St. Patrick's Day event period. Yes, that's right — a new RECIPE!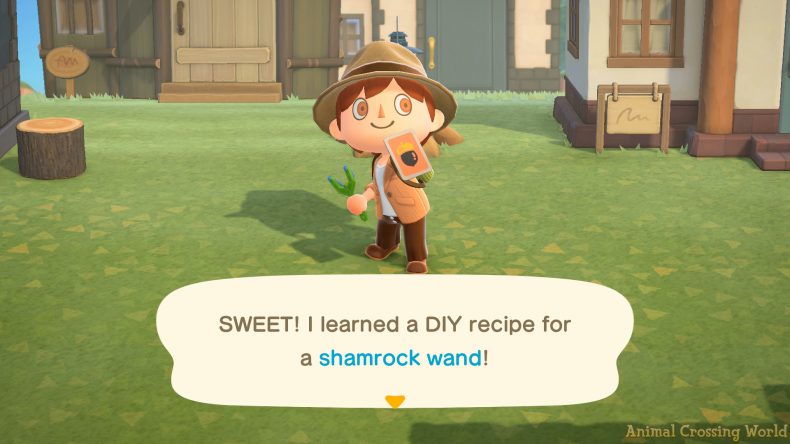 Look out for the exciting new Shamrock Wand DIY crafting recipe to drop from one of the first balloons you pop with a slingshot from March 10th to 17th. To craft the Shamrock Wand, you'll need 3 Star Fragments and 3 Clump of Weeds.
Honestly, having a new crafting recipe come out of a balloon present is a very welcome addition to the game and we hope to see more new items introduced like this in the future. Animal Crossing: New Horizons was built around crafting, so it only makes sense to keep that as a focus for new content.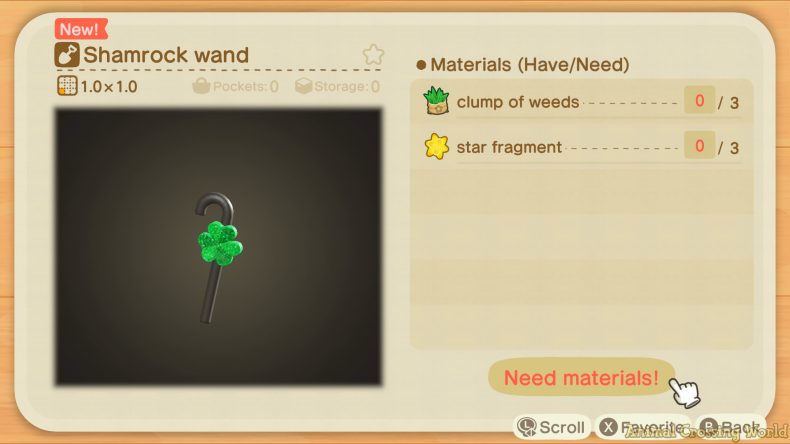 All of the St. Patrick's Day themed Shamrock items described in this article will be available in Animal Crossing: New Horizons from March 10th to 17th, so be sure to get everything you want by then!
RELATED: Build-A-Bear Workshop X Animal Crossing: New Horizons Collection Officially Announced
Stay tuned to Animal Crossing World for everything on Animal Crossing: New Horizons, including our extensive Guides section here. Our most popular pages include Super Mario Items, Mario Warp Pipes, Spring Season, March Seasonal Items, Sanrio Card Pre-Orders, Young Spring Bamboo Recipes, Redd Art, and Sea Creatures.