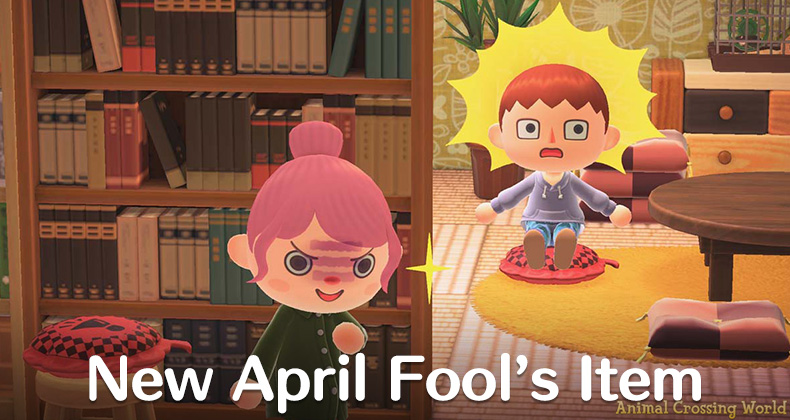 A brand new seasonal item celebrating the upcoming April Fool's Day holiday is now available in Animal Crossing: New Horizons today for players to pick up, including multiple color variations!
This marks the first of many new seasonal items that will be available during March and April that were included in this month's March Update for the game.
Players can pick up the new Whoopee Cushion item in Animal Crossing: New Horizons from the Special Goods of Nook Shopping from March 26th, 2021 until April 1st, 2021 to celebrate everyone's favorite April Fool's Day event.
Though it may seem like a simple and basic piece of cushion furniture at first glance, this item features a very special fart sound effect fitting of an April Fool's Day prank. See if you can lure in your unaware friends for a surprise!
Nintendo spared no expense on the development of this magical cushion as it appears there at least three different fart sound effects that can be played at random each time someone sits on the item. Thanks, Nintendo… I think?
Even better, the Whoopee Cushion item comes in three different color variations to collect including Red, Green, and Yellow. These styles will rotate in and out of Nook Shopping during the seasonal period on a daily basis, so you'll want to keep checking back.
See the complete set of Whoopee Cushion items for April Fool's Day in Animal Crossing: New Horizons below…
More seasonal items are coming to Nook Shopping later during April for other events like Prom Night, Tree Planting Day, and Nature Day. Get a preview of everything on the way with our latest seasonal items article here.
Today also marks the official release date of Animal Crossing: New Horizons Sanrio Amiibo Cards in North America with Target carrying the cards in the United States and Best Buy & Amazon covering Canada. Find the latest purchase information at our buying guide here.
Stay tuned to Animal Crossing World for everything on Animal Crossing: New Horizons, including our extensive Guides section here. Our most popular pages include March Update, Sanrio Villages & Items, Sanrio Amiibo Cards, New Seasonal Items, Super Mario Items, Spring Season, Young Spring Bamboo Recipes, Redd Art, and Sea Creatures.