More new seasonal holiday items are coming to Animal Crossing: New Horizons in the March Update to enjoy throughout March and April!
These items are in addition to Sanrio villagers and items, Custom Design improvements, the return of Easter's Bunny Day event with new items, and more in the March Update this week.
April Fool's Day
Animal Crossing: New Horizons players can get their pranks on with a brand new and playful Whoopie Cushion item celebrating April Fool's Day from March 26th to April 1st in Nook Shopping!
Appearing as a relatively ordinary cushion at first glance, this item can trick your Animal Crossing friends into a suspicious fart sound. It'll be available in multiple color variations daily too.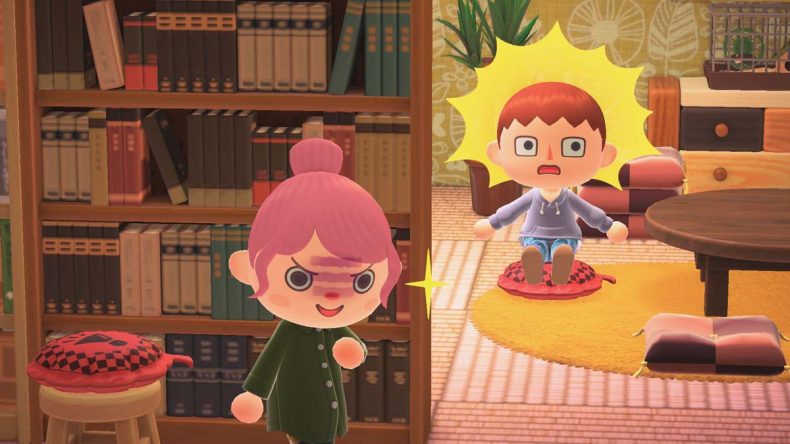 Unfortunately, the Whoopie Cushion seems to indicate we won't be receiving a full-fledged proper April Fool's Day event this year.
We'd previously been hoping and speculating that such an event could return from Animal Crossing: New Leaf in this update, but I guess that's not meant to be. Maybe next year?
Prom Night
Throughout the entire month of April, a selection of new Prom Night themed seasonal items will be available at Nook Shopping including Prom Night Wall, Prom Night Flooring, and Prom Sash!
That's not all though — new formal costumes can be purchased at the Able Sisters store during the Prom Night period as well. It sounds quite similar to how St. Patrick's Day content worked.
Tree Planting Day (Korea)
Celebrate the Tree Planting Day holiday, known as Singmogil holiday in South Korea, that encourages planting new trees in Animal Crossing: New Horizons!
This holiday will offer a new Forsythia plant furniture item at Nook Shopping from April 1st to 10th to celebrate.
Nature Day
Keep our planet and your environmental impact in mind on Nature Day with the new Cool Globe seasonal item available from April 15th to 22nd in Nook Shopping!
As Nintendo shows off in a preview screenshot above, the Cool Globe will be perfect for library settings in your Animal Crossing: New Horizons house.
Notably, there's no sign of last year's Nature Day 'event' with special Nook Miles+ tasks returning this year meaning this Nook Shopping item likely replaces it.
First Anniversary Bonus Update Gift
As always with major new Animal Crossing: New Horizons updates, the March Update will deliver a new thank-you gift in the mail, like the Mario Update's Mushroom Mural.
After updating to the Version 1.9 March Update releasing on March 18th, every player will receive a very special 1st Anniversary Cake item to celebrate the first birthday of Animal Crossing: New Horizons this month!
We aren't getting that massive 'Anniversary Update' that some fans have been dreaming of, but hey, everyone loves cake.
Let us know in the comments below which of these fun new seasonal items you're most looking forward to picking up in the March Update! And don't forget about the Custom Design upgrades and returning Bunny Day event.
Stay tuned to Animal Crossing World for everything on Animal Crossing: New Horizons, including our extensive Guides section here. Our most popular pages include Super Mario Items, Mario Warp Pipes, Spring Season, Shamrock Items, Sanrio Card Pre-Orders, Young Spring Bamboo Recipes, Redd Art, and Sea Creatures.