Over the past week, it feels as if the entire Animal Crossing: New Horizons community has collectively decided that we need a significant new content update for the game, and we need it now.
Of course, some fans have been wanting updates since nearly the beginning, but there's been an intense wave of discourse about future updates lately across Reddit, Twitter, and forums. It's clear that everyone is ready and waiting for the next big addition!
UPDATE: Yeah so, about that timing… a new update was JUST announced the very next morning after writing this! Check out all the Swimming, Sea Creatures, Pascal Come To Animal Crossing: New Horizons In Early July here. I was wrong — not afraid to admit it!
Don't get me wrong here — I want Animal Crossing: New Horizons updates just as much as anyone else does, if not more! After all, fresh new content means more news and guides to cover right here on Animal Crossing World.
However, I think there's been a missing component in these discussions about future updates and that's unfortunately the possible impact of Coronavirus on Nintendo's development plans for Animal Crossing.
While we're all very aware of how the pandemic has affected global travel and our day to day lives, it's easy to be unaware of how there's been an unmistakable impact on the production of video games as developers have had to adjust to working from home.
In particular, this has been most difficult for Nintendo's developers based in Japan where working from home is quite rare in most industries and there is little infrastructure setup for it.
In case there was any doubt though, Nintendo President Shuntaro Furukawa actually addressed this topic of work at home impacts on the company in an investor Q&A just last month where he said the following:
As for game development work being done remotely, since there are indeed big limitations on what can be done from home, we do think this will have a large impact. Nintendo has development partners and development offices not just in Japan, but all over the world. The first locations to be affected were the offices in Europe and America, where working from home started early. Then our offices in Japan also switched to working from home.

In the case of Japan, this had a major impact on development because we did not already have a remote development environment in place. But even so, we are gradually gaining experience in assessing what can and cannot be done remotely, and in determining how much progress we can make on the work we are able to do from home. Please be aware that the impact on game development in terms of both hardware and software may potentially increase as the amount of time spent working remotely increases.
That's a long answer, but it tells the story I'm trying to paint here. Business is not as usual for Nintendo right now, and especially in Japan, where they were not accustomed to working remotely. Furukawa says himself that this had a major impact on development, and that it could increase further the longer remote work continues.
The way in which switching to work at home can affect development is separated into two different aspects: workplace communication and development resources. For many companies, transitioning from communicating in-person at the workplace to entirely online channels has been quite difficult slowing down productivity.
On the other hand, having the right development hardware to work with is important too. Adjusting to home without all of the equipment that developers are accustomed to having at the office at least initially can be hard or completely prohibitive.
It's likely Nintendo has worked to partially resolve this issue by bringing more hardware home since the initial move, but it's another disruption to the planned development schedules. It's worth noting that Furukawa specifically mentions "assessing what can and cannot be done remotely", implying that some work just won't be possible until they return to the office.
For another example, we can look towards the complete cancellation of the annual E3 Nintendo Direct presentation that typically arrives in early June with a platter of massive game announcements.
While the actual in-person E3 event was cancelled, there's no reason Nintendo couldn't have put together the same yearly pre-recorded video to make those announcements. What's likely is that some of the game content originally planned simply wasn't ready to show because of delays.
It takes a surprising amount of work to put together those carefully crafted E3 trailers and demos we see every year, and they're typically prepared during these crucial past spring months prior to E3 in early June.
While we may be starting to see these circumstances ease now as many countries around the world begin to reopen from states of emergency, including Japan, it's important to remember that development to release has a lag time.
Presumably, the development work for an update scheduled for release in late June or early July would have been deep in development during early April, right when the pandemic began to truly hit home for Nintendo.
All of this is to say, we shouldn't expect a normal update release schedule to stay in place during the very abnormal situation that we live in right now. In my view, it's very well possible that the large content update we're all waiting for could still be some time away due to these impacts.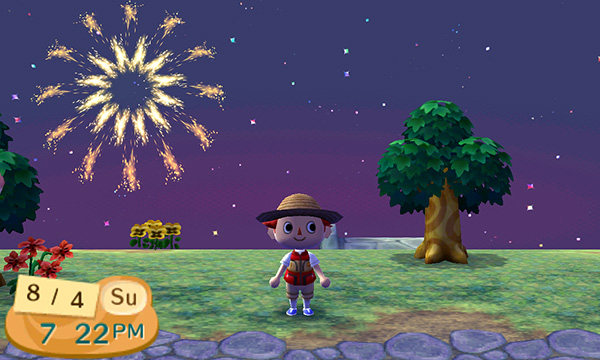 And if an update does hit soon, it wouldn't be surprising to see its content significantly cut down from the company's original plans. Perhaps we'll see a few upcoming holidays like the August Fireworks Festival make it into Animal Crossing: New Horizons, but some of those exciting datamined features could be set back until later.
I know many fans have been speculating that the next big update will arrive at the very beginning of July, right after the ongoing Wedding Season event wraps up on June 30th. This is exactly what I thought would happen too — I'm willing to bet this was the original release plan and could still be.
But as we've discussed, we don't live in normal times right now and it's very well possible that a previously planned update release date of early July following Wedding Season had to be postponed until later in the summer.
Despite all of this though, it may sound like I'm giving Nintendo a complete pass here on the lack of content. That's not the case — there's no doubt in my mind that Animal Crossing: New Horizons is missing vital features.
If we're to be upset as a community about anything though, it should be Nintendo's initial development plan to deliver the game's content like this over a period of time. If the missing content we desire was already in the game at launch, we wouldn't need to be concerned about when updates arrive anyway.
On the other hand, the Animal Crossing developers obviously crafted this plan in a different world where they could feel confident in meeting deadlines without a global pandemic throwing everything off. I'm sure they're just as disappointed as we are!
Of course, I have no insider knowledge of Nintendo's plans. For all I know, a massive new Animal Crossing: New Horizons update will be announced tomorrow morning immediately after publishing this article leaving me in a puddle of harassment.
Regardless, I believe the underlying principles here remain and could explain why we haven't already received more updates sooner. I certainly hope Nintendo does surprise us with a sweet update sooner than later, especially if that brings some much needed Quality of Life changes.
Let me know in the comments below what you're most hoping to see in the next Animal Crossing: New Horizons update! Stay tuned to Animal Crossing World for everything on New Horizons, including our extensive Guides section here.