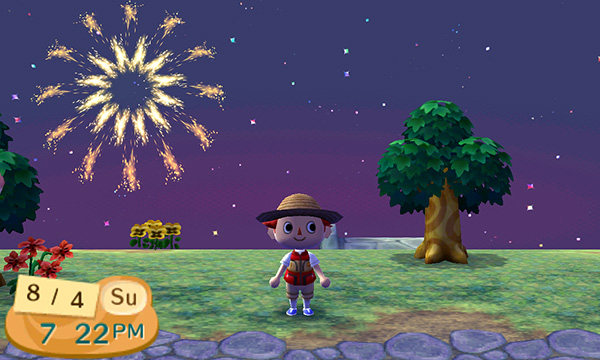 The Fireworks Show event held during August in Animal Crossing: New Leaf is full of celebrations in the sky and exclusive prizes from both Isabelle and Crazy Redd!
2020 UPDATE: Looking for information on the new Fireworks Show event in Animal Crossing: New Horizons? Check out our ACNH Fireworks Show Guide here!
You can watch the fireworks set off into the sky either from the main Town Tree plaza where you'll find Isabelle and Crazy Redd's Tent, or from anywhere else in your town for a view by yourself. Your neighborhood villagers will be outside for the festivities too, so say hello!
When is the Fireworks Show Held?
The Fireworks Show event is held at 7PM every Sunday night during the month of August! For 2019, the event dates are the following:
August 4th, 2019
August 11th, 2019
August 18th, 2019
August 25th, 2019
Fireworks Show Prizes from Redd's Cookies
A selection of exclusive prizes can be gotten from the Fireworks Show event by speaking to Crazy Redd at his tent nearby your Town Tree plaza and purchasing a Redd's Cookie from him for 500 Bells.
Just like the regular Fortune Cookies at the Nookling Stores, you'll get a ticket inside when you eat one. Then you can trade in your ticket to Redd for a variety of toy-like prizes.
Here's a complete list of the Fireworks Show tickets you can get from Redd and what item will be inside:
| Prize | Ticket | Sell Price |
| --- | --- | --- |
| Boxed Figurine | Bang Ticket | 300 |
| Lovely Phone | Flash Ticket | 2600 |
| Love Tester | Pow Ticket | 256 |
| Miniature Car | Sparkle Ticket | 2500 |
| Ten Billion Barrel | Whiz Ticket | 256 |
| Ultra Hand | Crackle Ticket | 256 |
| Ultra Machine | Pop Ticket | 256 |
| Ultra Scope | Kaboom Ticket | 256 |
If there's one item you should be trying to get here, it's definitely the Lovely Phone. Using the Lovely Phone, you can easily discover your Lucky Item every day, which is especially useful for completing the Lucky Item Initiative!
Sometimes you'll get a Dud Ticket, which will always get you either a Roman Candle or Sparkler. Unfortunately Redd's Cookie tickets are random and you have no control over which one you will receive. Good luck!
Fireworks Show Bopper Items from Isabelle
In addition to the prizes from Crazy Redd, there are four more items from Isabelle by the Town Tree plaza to celebrate the Fireworks Show! These items are the Bulb Bopper, Flower Bopper, Heart Bopper, and Star Bopper.
When you first speak to Isabelle during the Fireworks Show, she'll randomly give you one of these Bopper items for free, but no more. To get the other three, you'll need to visit her in the next shows throughout the month of August.
| Bopper Prize | Sell Price |
| --- | --- |
| Bulb Bopper | 40 |
| Flower Bopper | 40 |
| Heart Bopper | 40 |
| Star Bopper | 40 |
If you're super impatient or already missed some of the events in the month, you can use another character in your town as she'll give one to each player and not always the same one. It's always possible she'll just give the same one you already have though, so keep that in mind.
To do this, just create a new player, go through the opening sequence, and then talk to Isabelle at the plaza. When you get a Bopper from her, you can drop it on the ground, save, and delete the new character after.
Prizes Image Credit: MoriDB.com