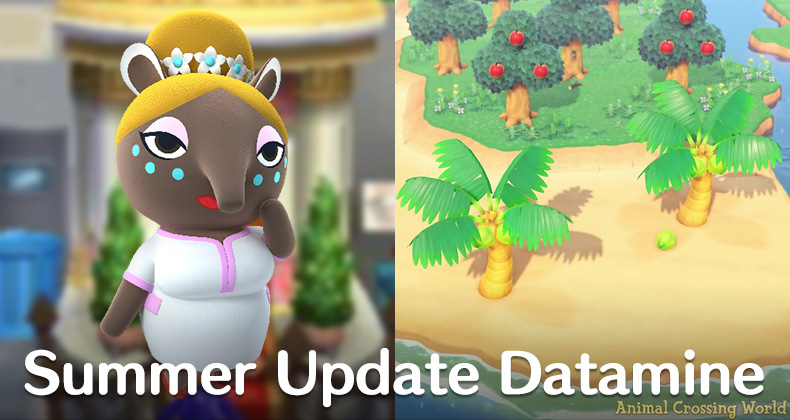 More hints of progress on both announced and datamine leaked new features for Animal Crossing: New Horizons have been found in the Summer Update!
These features aren't entirely new discoveries having been previously found in either datamining or official announcements from Nintendo, but there's been further development work seen in the latest Summer Update giving us further insight and confirmation on what's going on.
Plus, it's always possible you missed the news about some of these features in the past when they were first covered, so it doesn't hurt to take another look after the recent Animal Crossing: New Horizons update!
Luna Added To File Further Confirming The Dream Suite
After the Spring Update released back in late April, there was quite a bit of interesting evidence found in the game files pointing to heavy work on the Dream Suite returning to Animal Crossing: New Horizons.
For those unfamiliar, the Dream Suite was a fantastic feature in Animal Crossing: New Leaf allowing you to travel to 'copies' of other towns online without actually visiting them. It was perfect for checking out another player's creation without needing to be friends with them or online at the same time.
Since April, we haven't heard anything more about the Dream Suite, but there's a brand new piece of data in the Summer Update that pretty much confirms we'll be seeing Luna and her Dream Suite very soon!
Interestingly, Luna's name is newly found in a file that handles text strings for sender names in the mail system. This doesn't necessarily mean that Luna will send mail though as there are a few characters with their names in the file that don't mail letters.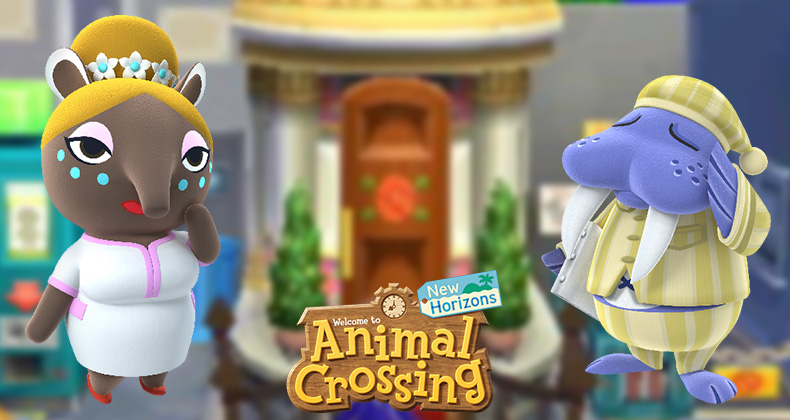 The inclusion of Luna into this file in Version 1.3.0 is very meaningful though because every other name referenced is an implemented character in the game – there's no placeholder names of missing characters like we've seen in some other files. In addition, Ninji reports that a bunch more internal Dream Suite references have been added.
Between this latest addition in the Summer Update and the previous discoveries back in April's update, we're pretty confident that Luna and her Dream Suite are definitely coming to Animal Crossing: New Horizons in the near future.
Animal Crossing: New Horizons Island Save Data Transfer Messages
Another upcoming feature that we're getting a closer look at in the Animal Crossing: New Horizons Summer Update is the ability to transfer our island save data to another Nintendo Switch!
Unlike some other additions that have been datamined, the save data transfer feature was officially announced by Nintendo back in February. Since then though, there's been absolutely no further word on when the option will be released other than a vague promise of sometime during this year.
That's obviously been quite frustrating for many, especially if they've decided to upgrade from a Switch Lite to the regular Nintendo Switch for example. We regularly receive both emails and comments here at Animal Crossing World from fans who are desperate to hear more news on when the feature will arrive!
Thanks to a batch of new text strings included in the Summer Update this month though, we can finally share some news and confirm that Nintendo is still hard at work on developing the island save data transfer feature.
Take a look at some of the text messages below that will be used for the Island Save Data transferring process:
Atsume Animal Forest
Save data is available
Located on the Nintendo Switch.
Do you want to move save data?

I am preparing to move.
Of the Nintendo Switch you are moving to
Power on
Please start the moving app.

As a destination
●● was found.
Do you want to continue moving?

Atsume Animal Forest
This is a moving app.
The main body that has the data to move
Please move.

We are preparing to accept the move.
I am ready to move.

We have found the main unit XX to cross.
Do you accept moving?
As you can probably easily notice from the broken English, these text strings are currently only written in Japanese right now and we've had to roughly translate them using automated tools.
So that tells us the feature certainly isn't ready to go out the door right away, but could be soon once all of the necessary regional translations are complete! It's easy to forget sometimes that not only do new features need to be developed, but they also must be translated into many different languages.
Note that there's technically two separate save related features promised for this year: the ability to transfer between two consoles, and the ability to recover saves from Nintendo's server similar to a cloud backup. So far, we're only seeing evidence of the former.
Possibly More Work On Vegetables & Farming
Finally, we have a small update on possibly the most exciting potential future update to Animal Crossing: New Horizons — vegetables and farming!
If you haven't heard before, an extensive amount of code was found back in early April revealing that six different types of foods might be available to grow and pick in the future, including tomatoes and carrots. There were hints of a cooking feature to go alongside farming too.
Since then, the Animal Crossing developers appear to be making more of an effort to conceal these discoveries by using codenames and other forms of obfuscation, so we can't learn as much.
Some other fun things: there's a bunch more references internally to Dream Suite features, and there's also something unknown ("Vn"), mysteriously obfuscated as is now habit for Nintendo, added in the same location that referenced the different kinds of vegetables before

— Ninji (premium) (@_Ninji) July 3, 2020
According to dataminer Ninji though, something new referred to as a mysterious 'Vn' has been added in the game's code near the same location where types of vegetables were originally discovered.
Suspiciously, that 'Vn' reference happens to start with a V for Vegetable, just like how the vegetable names were previously renamed to ambiguous titles like V0 and V1 to hide their secrets. So it seems very likely that this 'Vn' addition represents further development work on the farming feature.
Given how Nintendo chose to bring swimming and diving for Sea Creatures in an update during the Summer, it seems likely they may choose to do the same for farming when Autumn arrives!
Don't forget that the next major update for Animal Crossing: New Horizons is already scheduled for early August with Summer Update Wave Two. So far, we know that the August Fireworks Show event will be making a return, but anything else is a mystery!
Personally, I think it's likely that the farming feature still needs some time in the oven and deserves its own dedicated update, but hopefully we'll see both the Island Save Data Transfer and Luna's Dream Suite make it in August's update!
Stay tuned to Animal Crossing World for everything on Animal Crossing: New Horizons, including our extensive Guides section here. In particular, don't miss out on our new Sea Creatures, Pascal's Mermaid Set, and Pirate Gulliver guides.