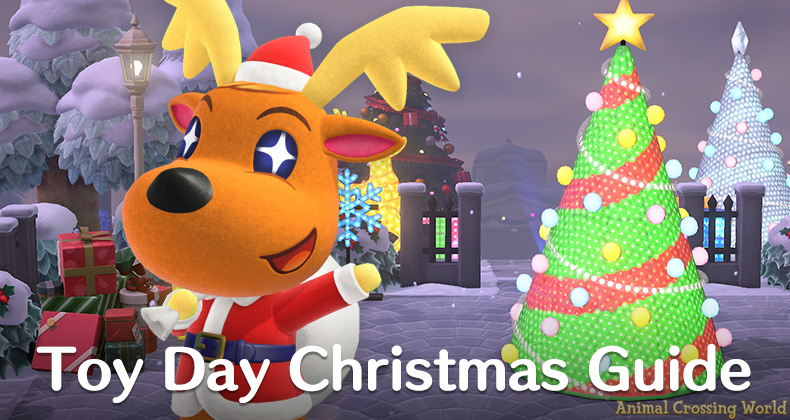 Toy Day with Jingle is an event in Animal Crossing: New Horizons (ACNH) celebrating the Christmas Eve holiday on December 24th with gift giving activities and exclusive rewards! Learn all of the recipes, ingredients, and rewards in this guide.
This event is a new feature introduced in the Version 1.6 Winter Update for Animal Crossing: New Horizons and requires a fully updated game to experience. Learn more about everything in the update here.
Guide Contents
Toy Day Christmas Eve Event Start Time & Date
The Toy Day event with Jingle is held in Animal Crossing: New Horizons on December 24th every year for Christmas Eve, including during 2023! It begins on December 24th at 5AM and runs for a full 24 hours until 5AM the next day on December 25th.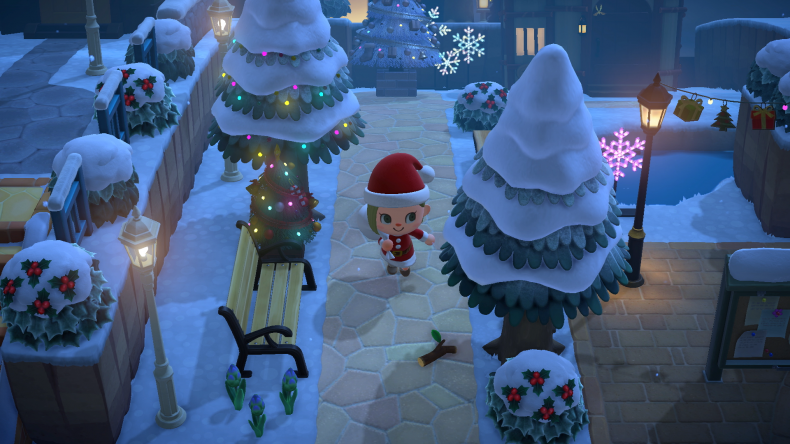 This date is the same for islands in both the Northern Hemisphere and Southern Hemisphere. Note that the upgraded Resident Services with Isabelle must be unlocked to fully experience the entire event.
You'll know the Toy Day event has begun on your island when Isabelle wears a Santa Hat during her morning announcements and you can hear special holiday themed music start to play replacing the usual hourly theme!
Toy Day Christmas Eve Event Activities — What To Do
Once the Toy Day Christmas Eve Event begins in Animal Crossing: New Horizons, you can find Jingle the Reindeer on your island looking for help! We've summarized the main activity flow for this event below, with more details on each part later in this complete guide.
Talk to Jingle outside Resident Services to unlock the Festive Wrapping Paper DIY recipe.
Craft Festive Wrapping Paper and get the Magic Bag of presents from Jingle.
Visit all of your villagers outside and indoors to give them presents from the Magic Bag.
Get rewards from Jingle after delivering presents to villagers.
Exchange your own gifts with villagers to get Christmas Toy Set furniture items.
Learn more about all of the fun Toy Day activities you can enjoy on Christmas Eve in the sections below, including specific details on how to get every item reward available in this event.
Find Jingle At Resident Services
To begin the Toy Day Christmas Eve event, head over to Resident Services and look for Jingle hanging out nearby the plaza area. He'll introduce himself as the black-nosed reindeer and tell you about his job this year helping Santa deliver presents on the island.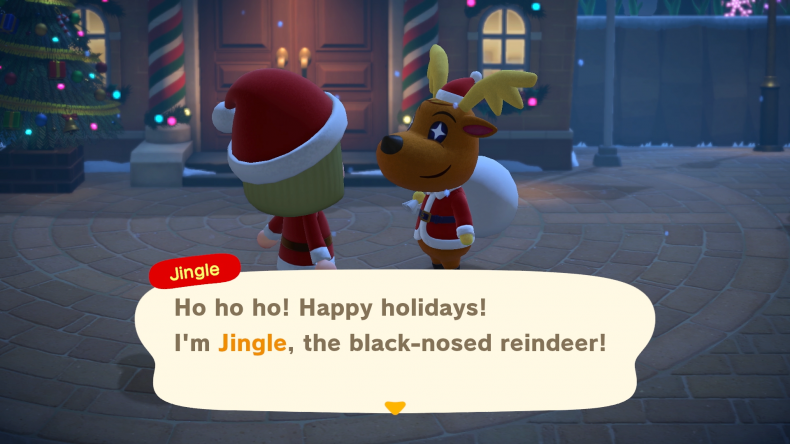 You can also find the complete Santa Outfit of clothing and accessories for purchase at Able Sisters on Toy Day, but they're simply for holiday spirit fun and are not required to participate in the event. If you do choose to wear the outfit though, some villagers will comment on it!
Craft Festive Wrapping Paper For Jingle
To begin the next phase of the Toy Day event in Animal Crossing: New Horizons, you'll need to craft 3 pieces of the Festive Wrapping Paper item at a DIY Workbench for Jingle! If you don't see the option in the crafting menu, look for a DIY Recipe card left in your inventory by Jingle and learn it.
Crafting the Festive Wrapping Paper is pretty simple and requires one of each Ornament color as listed below:
1 Red Ornament
1 Blue Ornament
1 Gold Ornament
Since you need to craft 3 of the Festive Wrapping Paper, this will require 3 Red Ornaments, 3 Blue Ornaments, and 3 Gold Ornaments in total to proceed with the Toy Day event.
If you don't already have these crafting materials, you can find Christmas Ornaments by looking for the decorated Christmas pine trees on your island and shaking them.
It might take quite a few shakes, but beautiful Ornaments still start to drop eventually! Isabelle can help you out inside of Resident Services as well if you don't feel like hunting for the Ornaments yourself.
Learn more about how to get Festive Christmas Ornament and what you can craft with them in our complete guide here.
Deliver Presents To Villagers
Once you've given Jingle 3 of the Festive Wrapping Paper needed, he will give you the exclusive Toy Day Stockings furniture (hang them inside your house for another reward!) and the special Magic Bag item containing presents for all of your villagers!
Inside of the Magic Bag, you will find enough presents for each of your island's residents to receive a gift from Santa, or in this case — you. To deliver presents, simply equip the Magic Bag and run around your island looking for villagers both roaming outdoors and celebrating inside their homes.
When you have the Magic Bag in hand, talk to a villager and select either the 'I have a gift for you!' or 'Happy Toy Day!' options to hand the villager their Christmas present from Jingle! If your friendship with a villager is high, they may give you a gift back too.
Wondering who's left to deliver gifts to? You can open your inventory and interact with the Magic Bag at anytime to check how many presents still need delivering. If there's only a few presents left, the Magic Bag will tell you who you're missing.
Once you've delivered as many gifts to villagers as you can, return back to Jingle near Resident Services to receive some prizes for your hard work, depending on how many presents were delivered.
Successfully delivering presents on Toy Day to more than half of your island's villagers will get you the Gift Pile DIY recipe, and delivering to every single villager will earn you the Toy Day Sleigh furniture item.
After delivering every present, you can begin participating in gift exchanges with your villagers as covered later in this guide.
What About Villager Gift Hints?
Notably, there is no need to pick and choose which presents you give out of the Magic Bag to each villager as it's completely automatic. If you're looking for a Toy Day villager gift hint list, there simply isn't one because this feature doesn't exist in Animal Crossing: New Horizons.
Some other past Animal Crossing games featured a mechanic where specific hints would be provided ahead of the event by villagers, and a special reward was given for correctly solving the puzzle of which present each villager wants, but New Horizons doesn't have that.
What If Villagers Are Sleeping Or Can't Be Found?
If you aren't able to deliver gifts to all of the villagers on your island, it might be due to some of them sleeping in their homes. Be sure to check every single house and area on the island, and try saving and reloading the game to move villager positions.
Keep in mind that if you're playing during the early hours of the morning, or late hours of the evening, there's a good chance some of your villagers are sleeping requiring you to seek them out at a different time of day.
Remember that Jingle sticks around for the Toy Day event all day long up until 5AM on December 25th, so you can always return later to hunt down missing villagers and grab the Toy Day Sleigh if you can't find someone initially.
Toy Day Christmas Eve Item Rewards & Prizes
Toy Day isn't only for giving your villagers presents, there's plenty of prizes for your hard work in this Christmas Eve event as well! In total, there are 5 different item rewards to obtain during the Toy Day event in Animal Crossing: New Horizons.
The first time you speak to Jingle, he will give you the DIY recipe for making Festive Wrapping Paper. After crafting enough paper and giving it to him, Jingle will share the Toy Day Stockings furniture item with you.
Next, after delivering presents around the island to your villagers, there are two more prizes to get from talking to Jingle:
Unlock the Gift Pile DIY recipe by delivering presents to more than half of your island's villagers.
Get the Toy Day Sleigh furniture item by gifting presents to every villager on your island.
Finally, you can get Jingle's Photo by hanging up the Toy Day Stockings on the wall in your house. Then during the next day on December 25th, interact with the stockings on your wall to find Jingle's Photo waiting for you inside!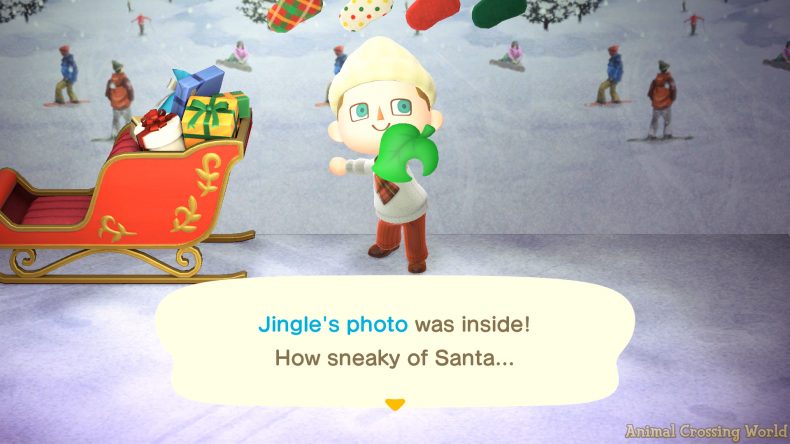 In our experience, you can also find Jingle's Photo inside of the Toy Day Stockings on other days after December 25th too, with testing performed up until January 1st. But obviously having the item as soon as possible is best, so we recommend checking for it on the 25th!
For a simple summary and checklist of every Toy Day reward you can unlock, check out the table below:
| Reward | How To Get |
| --- | --- |
| (DIY Recipe) | Talk To Jingle |
| | Give Festive Wrapping Paper To Jingle |
| (DIY Recipe) | Deliver Presents To More Than Half Of Villagers |
| | Deliver Presents To All Villagers |
| | Interact With Toy Day Stockings After Toy Day |
Need help crafting the Gift Pile DIY recipe? Try speaking to a villager and requesting a gift exchange while missing any wrapped items in your inventory. They should help you out the first time you do this by giving you 3 Red Wrapping Paper!
Unfortunately, that's as far as Toy Day goes in terms of unique and exclusive rewards in Animal Crossing: New Horizons. It's a bit disappointing as previous Animal Crossing games have featured an entire set of Jingle Series red and green colored furniture, but there is no Jingle furniture in New Horizons!
Exchange Gifts With Villagers For Toys
While you can't choose what presents your villagers get from the Magic Bag when you're pretending to be Santa during the Toy Day event in Animal Crossing: New Horizons, they will be happy to do gift exchanges with you after you've delivered all of the presents from Jingle!
Exchanging gifts with your villagers during Toy Day requires an item to be fully wrapped, either by crafting Toy Day's Festive Wrapping Paper or purchasing wrapping paper at Nook's Cranny. If you don't have wrapping paper, try giving a gift to a villager anyway and they'll give you some wrapping paper for free the first time.
Once you've got gifts wrapped up and ready to go, you can talk to any villager and select the 'Let's exchange gifts!' option. In return, the villager will give you a wrapped up gift back in exchange that you can open up in your inventory! You can only exchange a gift with each villager once.
During the Toy Day event, the items that villagers gift back to you in exchange will be from the Christmas Toys Set of furniture that are sold in Nook's Cranny throughout the month of December. This villager gift exchange can be a great last minute opportunity to get any of the toy items you missed earlier in the month!
Even better, our research confirms that villagers will give you different color and style variations of the Christmas Toys than the ones sold in your shop during December. Exchanging gifts with your villagers on Toy Day is a great way to get new variations you might not have already.
Finally, it's worth being aware that the items you gift to villagers on Toy Day as part of the gift exchange can be displayed in their homes, just like regular gifts in Animal Crossing: New Horizons. Some players prefer their villager houses to remain uncluttered without extra unwanted items.
If this is a concern for you, we recommend just wrapping up fruit or other miscellaneous items as gifts for villagers instead. They'll gladly accept them and still give you a present back in exchange.
---
Special thanks to StylusLover444 for collecting information and screenshots on the behalf of us to make this guide possible. If you use a screenshot from this guide, please kindly linkback to this page and credit Animal Crossing World.