The biggest Animal Crossing: New Horizons update of the year so far has just been released with the March Sanrio Update tonight!
With today's latest update, the game's version number has been increased to Version 1.9.0 with six cute new Sanrio-inspired villagers and their associated items to collect. You can scan Sanrio Amiibo Cards to earn these.
That's not all though — the March Update also makes some notable improvements to the Custom Design experience including more slots, new types of designs, and a new NookPhone app.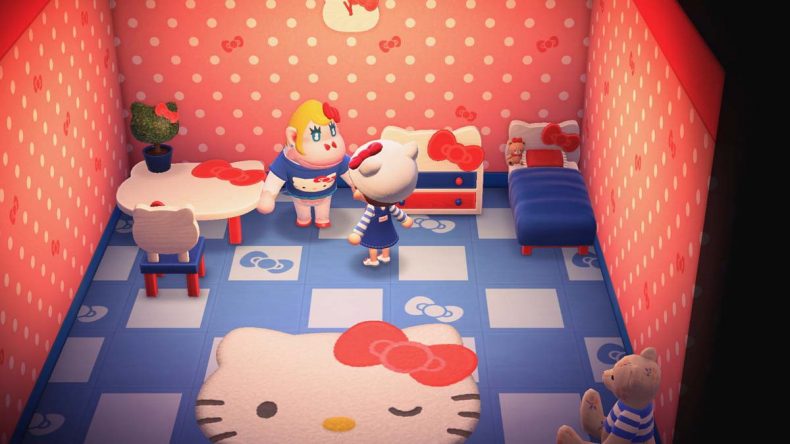 Last year's Bunny Day holiday event for Easter makes a return as well in 2021 with some all-new Bunny Day items coming to Nook's Cranny beginning on March 28th.
In addition to the new features, Nintendo mentions that two notable bugs and glitches have been fixed in Version 1.9.0. One of these is a fairly well known glitch that allowed you to plant nature items like trees and flowers on top of stone paths by using the 'Imagine' feature when placing a building. We're sad to see this go and were just about to write a guide soon!
Animal Crossing: New Horizons v1.9.0 Patch Notes (English)
The official English patch notes from Nintendo of America for the Version 1.9.0 March Sanrio Update of Animal Crossing: New Horizons can be found below:
Ver. 1.9.0 (Released March 17, 2021)

The software has been updated if you see "Ver. 1.9.0" in the upper-right corner of the title screen.

General Updates

The Bunny Day seasonal event has been updated.
Additional support for the Sanrio® Collaboration amiibo cards has been added.
New miles redemption options have been added to the Nook Stop.

Custom Design Pro Editor+
Adds additional custom design slots and new pattern options.
Custom Designs Portal*
Adds access to the Custom Designs Portal from the Custom Designs app.

The following content has also been added:

Additional limited-time seasonal items from Nook Shopping.
Nintendo Switch Online membership item*.

*A Nintendo Switch Online membership (paid service) is required to use the Custom Designs Portal and obtain the Nintendo Switch Online membership item.

Fixed Issues

Fixed an issue from Ver. 1.4.0 where if a player used a wand to transform, then swapped their wand for another item while their pockets are full, the player would no longer be able to remove the transformation outfit.
Fixed an issue from Ver. 1.7.0 involving kits where a player could dig where they normally shouldn't be able to if they change their mind after using the "Let me imagine it…" option.
Other adjustments and corrections were made to improve the game play experience.
You will need to be updated to Version 1.9.0 to play online multiplayer with other players and access other network features. Local multiplayer can only be played with others on the same version of the game as you.
RELATED: All New Items In March Sanrio Update For Animal Crossing: New Horizons (Datamine)
Observed Changes In Version 1.9.0 Missing From Patch Notes
In our experience, most major new updates for Animal Crossing: New Horizons tend to contain some smaller changes that weren't included in the official patch notes.
These undocumented changes in the past have included new items in the Nook Stop Terminal, quality of life improvements, and other small adjustments. We anticipate that the same will be the case in the March Update and will be documenting any secret or unmentioned changes and additions here.
Here's what's been uncovered so far prior to the update:
Celebrate the first anniversary of Animal Crossing: New Horizons with a special 1st Anniversary Cake item in your mailbox as an update gift!
Please share in the comments below if you spot any more interesting small changes or additions that haven't been mentioned already, so we can update this article as the best resource!
How To Download March Update For Animal Crossing: New Horizons (Version 1.9.0)
Your copy of the game should update automatically now that the download has been released, but if for some reason it doesn't, you can manually trigger the update by pressing the + button on the Animal Crossing: New Horizons home screen icon, selecting Software Update, and hitting Via the Internet.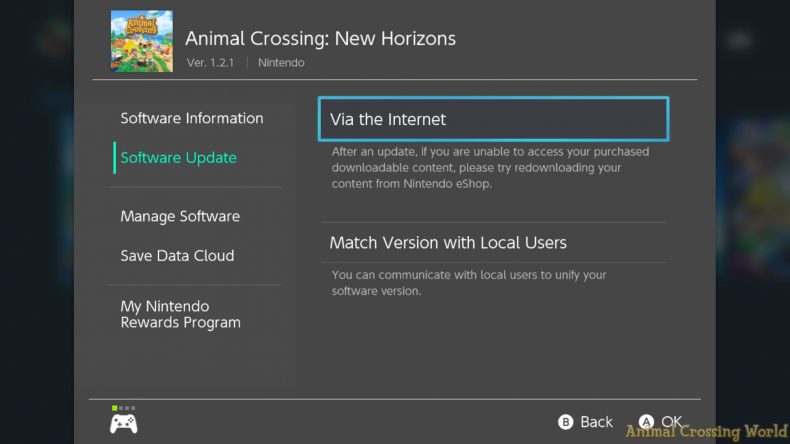 After you've had a chance to play around with the March Sanrio Update, be sure to let us know in the comments below what you think and if you've noticed any other changes not covered by Nintendo in the official patch notes!
Where Are The New March Update Features?
If you've updated your copy of Animal Crossing: New Horizons to Version 1.9.0 with the March Update and find yourself wondering the new content is, you'll need Sanrio Amiibo Cards to directly access the most significant new Sanrio content.
The upcoming re-print of Sanrio Amiibo Cards aren't actually scheduled to release until next week on March 26th, but fans who have the cards from past releases can scan them immediately.
Additionally, it should be possible to obtain the Sanrio items from other players online with the cards by trading. Follow our Sanrio trading article here for more details.
Other features like the Custom Design improvements are available immediately after updating by heading to the Nook Stop Terminal and purchasing upgrades with Nook Miles.
On the other hand, the updated Bunny Day event for 2021 has been time-locked until March 28th and you'll have to wait a bit longer for the next seasonal Nook Shopping items to appear.
Stay tuned to Animal Crossing World for everything on Animal Crossing: New Horizons, including our extensive Guides section here. Our most popular pages include March Update, Sanrio Villages & Items, Sanrio Amiibo Cards, Super Mario Items, Spring Season, Young Spring Bamboo Recipes, Redd Art, and Sea Creatures.