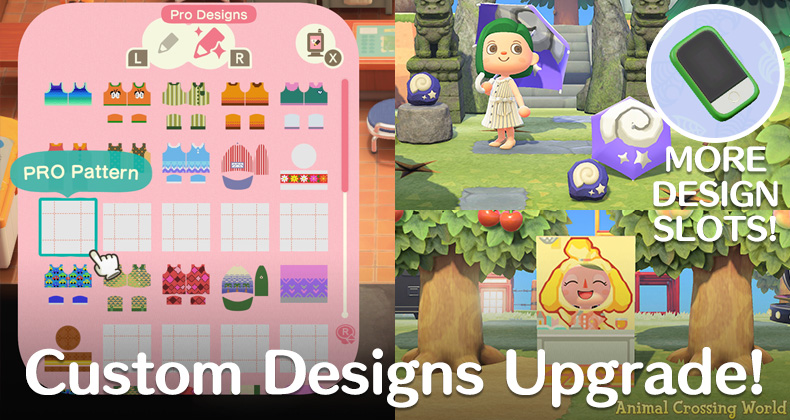 A long requested wish from Animal Crossing: New Horizons fans has finally been fulfilled by Nintendo after almost a full year of demands!
In the latest March Update releasing on March 18th, it will now be possible to expand the Custom Design app's design slot capacity by another 50 new slots in each of the Normal and Pro modes, for a total of 100 more slots.
You'll be able to unlock this long awaited design slot expansion doubling your possible pattern storage by purchasing the new 'Custom Design Pro Editor +' item at the Nook Stop Terminal in Resident Services for 2,000 Nook Miles!
Ever since the game's launch back in March last year, we've heard endlessly from Animal Crossing: New Horizons players about the restrictive limit of only 50 slots, so this is sure to be a crowd pleaser.
In addition to expanding your available design slots, the Custom Design Pro Editor + upgrade will also introduce four new types of designs you can create expanding your options.
These newly expanded Custom PRO Design options include patterns on an umbrella, a small flag, a Japanese uchiwa fan, and a photo standee. Some of those may be familiar to Animal Crossing: New Leaf players!
But that's still not all of the love Nintendo is showing Animal Crossing fans who love using custom designs in this new update! One more new upgrade will be made available at the Nook Stop Terminal called the 'Custom Designs Portal'.
By purchasing this item for 300 Nook Miles, the Custom Design Portal from the Able Sisters shop will become available as another app on your NookPhone.
That's a pretty notable new feature because it'll allow players to access the portal and download new custom designs even when the Able Sisters store is closed due to hours of the day — let alone saving time on loading screens!
Between the doubling of available design slots, all-new ways to feature designs with these new options, and the new NookPhone feature, we're incredibly excited to see everything the Animal Crossing: New Horizons community will create now.
As part of today's announcement, Nintendo also took the time to share a pretty fun statistic — over 12 million Custom Designs have been uploaded to the Custom Design Portal so far since last year's launch.
All of these new Custom Design related features will be available in the March Update for Animal Crossing: New Horizons set for release on March 18th, 2021. (some time zones can enjoy the update in the evening on March 17th!)
This isn't everything coming in the March Update for Animal Crossing: New Horizons! Learn about the return of Easter's Bunny Day event with new items and new seasonal items including April Fool's.
Let us know in the comments below if you're glad to see that Nintendo finally listened to our demands for additional design slots! Now if only they'd hear about Brewster next…
Stay tuned to Animal Crossing World for everything on Animal Crossing: New Horizons, including our extensive Guides section here. Our most popular pages include Super Mario Items, Mario Warp Pipes, Spring Season, Shamrock Items, Sanrio Card Pre-Orders, Young Spring Bamboo Recipes, Redd Art, and Sea Creatures.