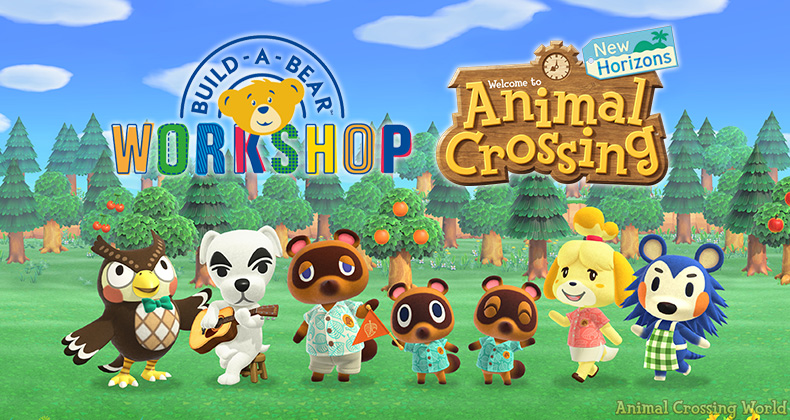 An official Build-A-Bear Workshop collection of Animal Crossing: New Horizons products has now been released, though it is currently out of stock!
After having previously teased the possibility on social media a few times last year, Build-A-Bear Workshop has finally delivered with an official collaboration with Nintendo.
Animal Crossing Build-A-Bear: Release Date
The Build-A-Bear X Animal Crossing: New Horizons collection was released on April 6th, 2021 with the online waiting room opening at 9:30AM Central Time and has now sold out as of 1:30PM CT. Click here for the US store, and click here for the UK store.
Restocks & In-Store Availability
Thankfully, there will be more opportunities to catch the Animal Crossing Build-A-Bear collection in the future if you missed out on April 6th as the company has confirmed on Twitter that more will be in stock soon!
UPDATE: We're so sorry but we have officially sold out. If you weren't able to purchase the Animal Crossing™: New Horizons collection today, don't worry! We will have the collection back in stock soon!

— buildabear (@buildabear) April 6, 2021
Additionally, for those would prefer to make an in-store purchase, Build-A-Bear has also confirmed that the collection will arrive this summer at Workshop stores.
Animal Crossing Build-A-Bear: Character Lineup
The Build-A-Bear Workshop lineup for Animal Crossing is now available and currently only includes two characters featuring Tom Nook and Isabelle.
You can choose from the following four Animal Crossing Build-A-Bear configurations starting at $51:
Potential Future Characters
Isabelle and Tom Nook are great, but what about other popular Animal Crossing characters? And especially regular villagers such as Raymond and Audie?
There's good news — based on an interesting quirk in how the Build-A-Bear website works when handling certain name searches, we have reason to believe a number of specific Animal Crossing characters are likely to arrive in the future.
Those potential characters include special character K.K. Slider, plus villagers like Raymond, Audie, Marshal, and Bob.
Additionally, the Build-A-Bear Twitter account has made a couple rather suspicious replies to fans heavily hinting that more Animal Crossing characters are coming to the collection later — we've embedded one of them below.
😉

— buildabear (@buildabear) April 6, 2021
For more information on the additional characters we're expecting to arrive in the future and the evidence behind this rumor, read our full article here.
Animal Crossing Build-A-Bear: Available Countries
As for regional availability, Build-A-Bear Workshop has made the Animal Crossing collection available on their United States and United Kingdom stores so far. Canadians appear to be able to place an order from the US store as well.
Let us know in the comments below what you think about this exciting collection from Build-A-Bear and whether you'll be picking up anything! Personally, I'm not really interested in Tom Nook or Isabelle and will be waiting for any villagers before making a purchase.
Stay tuned to Animal Crossing World for everything on Animal Crossing: New Horizons, including our extensive Guides section here. Our most popular pages include Bunny Day Event, Cherry Blossom Petal Recipes, Sanrio Villagers & Items, Sanrio Amiibo Cards, Nook Points, Super Mario Items, Redd Art, and Sea Creatures.