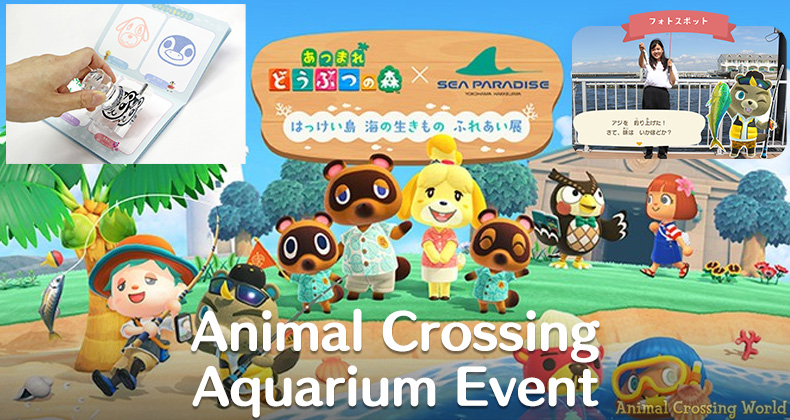 This might just be the most impressive Animal Crossing: New Horizons collaboration we've seen so far — a comprehensive Animal Crossing event at a real sea life park in Japan!
Running from July 12th until August 31st, the Hakkeijima Sea Paradise aquarium park in Yokohama, Japan will be hosting an official Animal Crossing: New Horizons event with activities and prizes in collaboration with Nintendo.
During the event, the park's aquarium exhibits featuring over 100 fish and sea creatures from the game will have fun Animal Crossing themed commentary cards sharing information from Blathers.
Taking things even further, there will be a special C.J. Fishing Tournament held outside where participants can race to catch as many fish as they can during a 3 minute period, just like the in-game Animal Crossing: New Horizons event.
The winner of each tournament will receive an Animal Crossing C.J. Sticker to commemorate their victory, and participants can actually have their caught fish fried or grilled to eat afterwards! A 'photo spot' with C.J. is available too.
Another fun activity takes place in the sea park's sea lagoon area where visitors can step in the water and touch various sea life up close, like starfish and sea urchin. Snorkels can be used as well.
As part of the Animal Crossing promotion, special Scallops will be hidden in the water where they can be traded with staff members to receive a special Animal Crossing Pascal Sticker as a prize, just like finding Scallops when swimming in-game!
Finally, inspired by the in-game International Museum Day event, a Stamp Rally will even be held at the aquarium. For just 200 yen, you can purchase a Stamp Rally book and fill it out by finding the 10 villager icon stamps around the park!
Those who complete their Stamp Rally book can receive a special villager pattern sticker shown below as a prize for their hard work.
And as one more fun bonus, visitors who use the Check-In feature of the My Nintendo website can receive a free Animal Crossing amiibo card and poster!
All together, this entire Animal Crossing event looks like a pretty fun collaboration that Nintendo and Hakkeijima Sea Paradise have put together. I've definitely got this park on my eye for visiting on my next trip to Japan next year, even when the promotion is over!
Let us know in the comments below your thoughts on the event and if you wish you could experience it! For more information, check out the official Japanese website here, preferably with Google Translate in your browser.
Stay tuned to Animal Crossing World for everything on Animal Crossing: New Horizons, including our extensive Guides section here. Our most popular pages include New In July 2021, New July Creatures, Upcoming Seasonal Items, UNIQLO Clothing, Bug-Off Event, Sanrio Villagers & Items, Sanrio Amiibo Cards, Redd Art, and Sea Creatures.