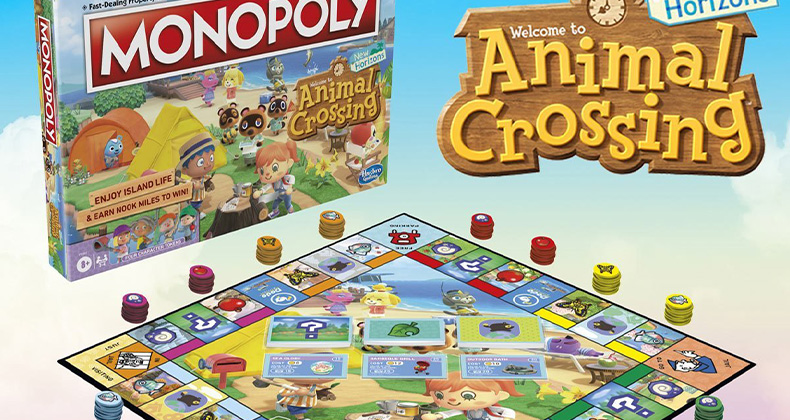 An exciting official Animal Crossing: New Horizons themed Monopoly game appeared yesterday in social media, and now we have proper photos and details from a retailer with pre-orders!
Unlike some of those '[name]poly' knock-offs you've likely seen in the mall over the years, this Animal Crossing: New Horizons edition is an official fully licensed Monopoly game by Hasbro.
First leaked from some user reports on Reddit earlier this week, the Animal Crossing: New Horizons Monopoly has now appeared for sale on board game retailer Entertainment Earth with official photos and description of the product giving us a complete look.
Rather than simply being a makeover of the classic Monopoly board with Animal Crossing themed spaces, it appears that Hasbro has made significant gameplay changes to the game for this edition.
In fact, it would seem there are no traditional properties to purchase and rent. Instead, landing on different spaces will have you earning crafting material tokens such as fruit, bugs, fish, and fossils. Those resources can later be sold to the Bank in exchange for Bells.
When you pass the GO space, instead of collecting $200, you'll be able to access the Nook's Cranny shop allowing you to purchase decorations using Bells. Those decorations are worth Nook Miles, and the player with the most Nook Miles wins the game!
There are also four different Skill cards that players can choose one of after completing their first run around the board, allowing them to unlock a special ability to help them throughout the game.
Or something like that… honestly, these Animal Crossing specific rules are a little confusing without having played the game ourselves, but they're no doubt quite a twist to the traditional Monopoly rules!
Cleverly, the classic Railroad spaces on each side of the board have been replaced by Dodo Airlines spaces — love to see that. It's a shame that the Free Parking and Jail spaces appear untouched though.
And in order to make all of these special rules happen, the game includes plenty of Animal Crossing themed pieces like Bell coins, Nook Miles cards, decoration cards, skill cards, resource chips, and more.
Not to mention, there are four Animal Crossing player character tokens taking after some of the renders often seen in the game marketing materials — a fisher, a bug catcher, a fossil digger, and a fruit gatherer. (image via calysunflower on Reddit)
Here's a complete list of everything you'll find inside the Animal Crossing: New Horizons Monopoly box:
Gameboard
4 character tokens
4 Skill cards
35 Decoration cards
14 Chance cards
14 Nook Miles cards
160 Resource chips
40 Five-Bell coins
54 Bell coins
40 player markers
A numbered die
A Nook's Cranny die
A label sheet
Game rules
Where To Buy & Pre-Order Animal Crossing Monopoly
Pre-orders are currently open for the Animal Crossing: New Horizons Monopoly game in a few different countries! Here's a compiled listed below that will be updated as we approach release:
You also might be able to find an early copy of the game in stores like Walmart, like some social media users did, but it appears the official release isn't until August.
Stay tuned to Animal Crossing World for everything on Animal Crossing: New Horizons, including our extensive Guides section here. Our most popular pages include New In July 2021, New July Creatures, Upcoming Seasonal Items, UNIQLO Clothing, Bug-Off Event, Sanrio Villagers & Items, Sanrio Amiibo Cards, Redd Art, and Sea Creatures.