We've got fantastic news today for collectors of Animal Crossing Amiibo Cards, and in particular for those planning to complete the new Series 5 set!
Announced by Nintendo UK in a rather lowkey tweet this morning, an official Collector's Album for the brand new Series 5 Animal Crossing Amiibo Cards has been confirmed for future release in January next year with pre-orders opening soon.
This album is an exciting follow-up to a previous collection of albums that were produced many years ago for Series 1, Series 2, Series 3, and Series 3. Sadly, they were never officially released in North America, though imports were possible and quite popular.
The Animal Crossing amiibo cards Collector's Album – Series 5 launches in January and will be available to pre-order soon.

— Nintendo UK (@NintendoUK) November 5, 2021
No official photos of the new Series 5 Collector's Album have been released yet by Nintendo, but it's likely that they will feature a modernized version of the design that the original albums had before! Take a look below at the classic Series 1 and Series 2 albums for an example of what to expect.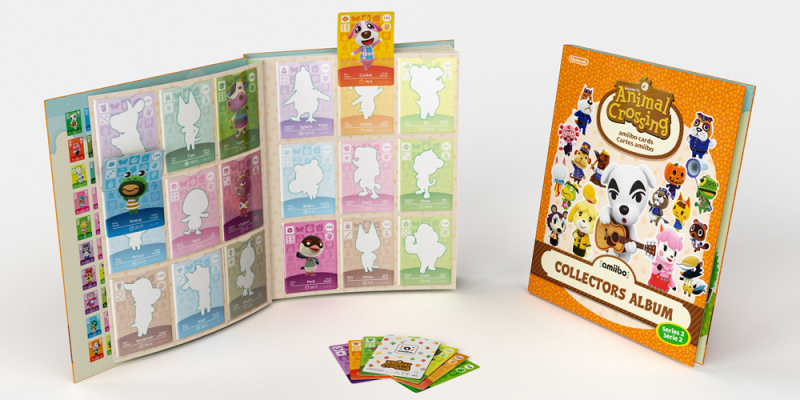 As you can see in the photos, these Collector's Albums were more than just a fancy cover with a bunch of empty white pages in the middle! The card slots are actually themed to each card that belongs in a slot with an outline of the relevant character.
And perhaps this is a little overly optimistic, but might we possibly see a re-print of the original 4 albums to go along with the new release? There's no official word on that, but we sure hope so for newer Animal Crossing amiibo collectors to get a chance! Copies of the classic Collector's Albums can sell on eBay for hundreds of dollars.
So far, we've only seen an official announcement for the Series 5 Animal Crossing Amiibo Cards Collector's Album in the United Kingdom, but it's almost certain that other countries in Europe will get a release too.
Given how much Nintendo has improved on worldwide releases for their products since the days of 2015, we think it's possible that a release of this new album could happen in North America as well, but that's no guarantee! At the very least, imports from Europe are likely to be an option for dedicated collectors.
Stay tuned to Animal Crossing World for everything on Animal Crossing: New Horizons, including our extensive Guides section here. Our most popular pages include Prepare For Version 2.0, 16 New Villagers, Happy Home Paradise DLC, Series 5 Amiibo Cards, Version 2.0 Update, Mushroom DIY Recipes, New November Critters, Redd Art, and Sea Creatures.