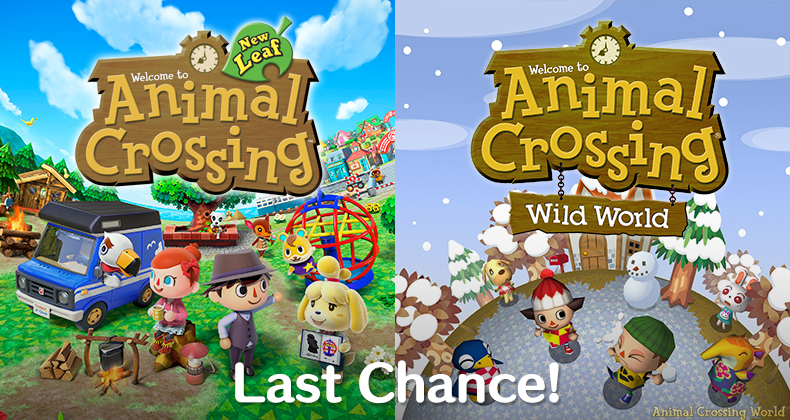 Want to secure easy digital access to some classic Animal Crossing games from the past? You've got just a couple days left to make a purchase on the Nintendo eShop as Nintendo is just days away from cutting off access to these games and many more!
As first announced by the company early last year, the ability to purchase new games from the Nintendo eShop on both Nintendo 3DS and Wii U is scheduled to end on March 27th, 2023 at 5:00PM Pacific Time. When that day comes, new purchases of software will no longer be possible, but crucially downloads of already owned games will continue for the foreseeable future.
Of course, there are many different games on the 3DS and Wii U eShops that are worth purchasing, but in this article we'll be focusing on the Animal Crossing games available on these platforms and why we recommend all Animal Crossing fans consider purchasing them digitally if they haven't yet already!
Animal Crossing: New Leaf
Animal Crossing: New Leaf is the direct predecessor to New Horizons, released on Nintendo 3DS in 2012/2023, and is absolutely worth for both veterans and newcomers! It currently costs $19.99 USD on the Nintendo eShop — and there are perks to owning a digital version that we'll discuss below.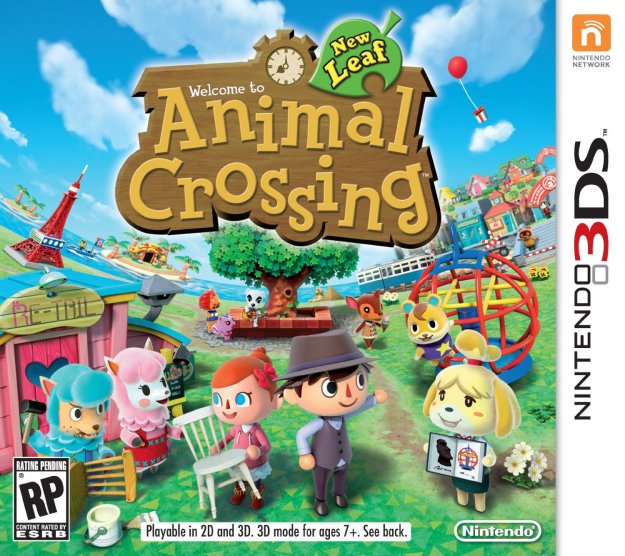 The Most Content-Filled Animal Crossing Game
If you're a newcomer to the Animal Crossing series and have only played New Horizons, you owe it to yourself to pick up New Leaf and give it a try sooner or later. Even after the many content updates to New Horizons, no game in the franchise can manage to surpass how much different content there is to enjoy in Animal Crossing: New Leaf.
The highlights include a Main Street area to explore with shops across the train tracks from your town, many more uniquely themed furniture sets, expansive multiplayer mini-games to play with your friends, and many superior holiday events to enjoy — and that's just scratching the surface.
However, we won't hide the dark parts either. It should be noted that Animal Crossing: New Leaf is ten years old and doesn't hold up to the modern conveniences of Animal Crossing: New Horizons. The interface can be clunky and slow, it has much more limited design and customization tools, and there's certainly no terraforming to enjoy!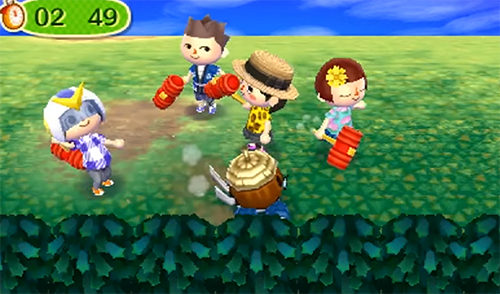 Regardless of any drawbacks though, we can confidently say every serious Animal Crossing fan should give New Leaf a shot as there's hundreds to thousands of hours of unique content to enjoy.
Easily Own Multiple Towns
Another reason to consider an Nintendo eShop purchase of Animal Crossing: New Leaf is that it will allow you to create another town easily without erasing your old one. Unlike Animal Crossing: New Horizons, which only allows for a single island per Nintendo Switch system to much disappointment, it's possible to enjoy multiple towns on a single Nintendo 3DS if you own multiple copies of Animal Crossing: New Leaf.
It's also possible to achieve a second or third town by obtaining more physical copies of the game, but it's much more convenient to add an extra town to your collection through a quick digital purchase — and that option is about to disappear when the Nintendo eShop closes to new purchases!
So if you don't already own a digital copy of Animal Crossing: New Leaf and think you might want to start up a fresh new town at some point without deleting your original, we highly recommend considering grabbing a copy from the Nintendo eShop while you still can. It's a unique opportunity for sure if you value multiple towns to play with!
Convenient Digital Access
While it continues to be possible to pick up physical copies of Animal Crossing: New Leaf, it's impossible to deny that Animal Crossing games are one of the best types of content to have digitally downloaded on a console, due to the nature of daily play! There's no need to swap game cartridges in and out every time you want to check back in on your town.
Animal Crossing: Wild World
Animal Crossing: Wild World is the second generaton title in the Animal Crossing series originally released on Nintendo DS almost 20 years ago! It currently costs $9.99 USD for purchase on the Wii U eShop — far cheaper than most physical copies will cost you on the second hand market.
Obviously, the Wii U Nintendo eShop isn't nearly accessible as the Nintendo 3DS for many, but it's worth some thought if you're one of the lucky (or unlucky) folks out there to have owned a Wii U.
A Classic Animal Crossing Game — Almost 20 Years Old
Due to its age, there are certainly many shortcomings to Animal Crossing: Wild World, but arguably that's part of its charm too given how different the game can feel from the most modern entries in the series. Veterans of the franchise can enjoy a healthy dose of nostalgia for the past, while newer players might find insight into what Animal Crossing used to be.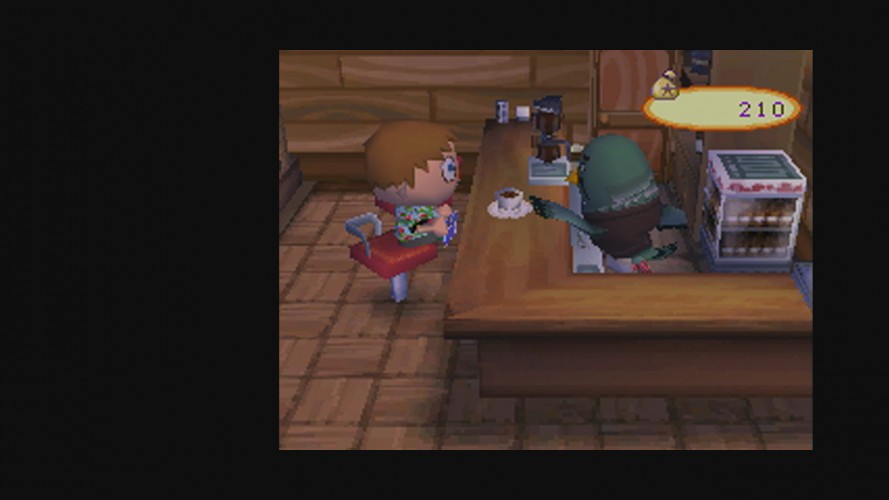 Besides pioneering many features that are now series staples, such as hybrid flower breeding and Brewster's The Roost, Wild World happens to include a fair amount of novelty additions that sadly never made it into future instalments.
One of our favourite unique features in Animal Crossing: Wild World is no doubt the so-called 'Golden Axe Trade', an innovative way of unlocking the iconic Golden Axe tool that's more interesting than any other game in the series. It's a sort of 'quest' that involves trading up items between multiple special characters like K.K. Slider, Pascal, Tom Nook, and more until eventually trading for the Golden Axe itself.
Those who enjoy interacting with villagers and special characters to learn more about them should enjoy Animal Crossing: Wild World as well for its solid dialogue, especially in comparison to newer games. Some special characters like Tom Nook, Mabel, and Blathers even have elaborate in-depth backstories to share that you won't read in the latest versions of Animal Crossing!
Nookingtons Store Unlock Fix
Notably, the version of Animal Crossing: Wild World released on Wii U's Virtual Console was uniquely modified by Nintendo to resolve an element of the game that already causes problems for many players and will only get worse in the future.
Much like every other Animal Crossing game, Wild World features a series of upgrades to the town's primary store run by Tom Nook. It starts as Nook's Cranny, but slowly progresses through three other iterations ending at the final upgraded upscale department store called Nookingtons.
However, in an effort to promote the game's multiplayer features, the original game requires that a player character from another town visit your town's Tom Nook store and purchase an item as an unlock condition to build Nookingtons.
Arguably, the Nookingtons expansion in Wild World is especially important as it also functions as the unlock of Harriet's hair salon Shampoodle — the only way to change your hairstyle and color in the game after your character steps into town for the first time.
Thankfully, this multiplayer requirement has been removed from the Wii U Virtual Console version of Animal Crossing: Wild World allowing the game to be fully completed without any multiplayer interactions required — a key feature for future proofing and another reason to purchase this version before it's gone forever!
Animal Crossing: Happy Home Designer
Finally, an honourable mention goes to Animal Crossing: Happy Home Designer, a spin-off game released on Nintendo 3DS in 2015! This game currently costs $19.99 USD for purchase on the Nintendo 3DS eShop.
Fans who are interested in simply having a complete collection of Animal Crossing games should consider getting a copy of Happy Home Designer, but otherwise we'd suggest many players consider just taking a pass.
There's nothing particularly wrong with Animal Crossing: Happy Home Designer, it's a good game, but the Happy Home Paradise DLC expansion to Animal Crossing: New Horizons is clearly a direct successor and largely a superior one.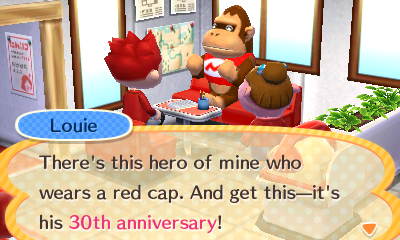 If you happened to fall in love with the gameplay of Happy Home Paradise DLC though and have been wishing for more content, you'll certainly get more of the same in Happy Home Designer on Nintendo 3DS, with the benefit of a different gallery of furniture to use in your creations compared to New Horizons.
---
Let us know in the comments below if you'll be picking up any of these classic Animal Crossing games prior to the Nintendo eShop shut down — or which ones you already have!
Stay tuned to Animal Crossing World for everything on Animal Crossing: New Horizons, including our extensive Guides section here. Our most popular guides include Redd Art, Young Spring Bamboo, Cherry Blossom Petals, Bunny Day Event, New March Creatures, Bush Types & Colors, Villager Houses, Sea Creatures, K.K. Slider Songs.
Animal Crossing: Happy Home Designer Animal Crossing: New Leaf Welcome amiibo Animal Crossing: Wild World News