A fantastic set of Super Mario themed items for Animal Crossing: New Horizons have just been revealed in today's Nintendo Direct, including a surprising island teleportation feature using Warp Pipes!
Previously announced last year, a new batch of Super Mario themed furniture and clothing has just been shown off in detail for the first time revealing a wide variety of items including entire outfits for Mario, Luigi, Peach, and Wario.
Using these new items celebrating the 35th Anniversary of Super Mario, you can decorate your island using Mushrooms, Coins, Blocks, Power-Ups, Thwomps, and more. In particular, the new Mushroom Platforms look great.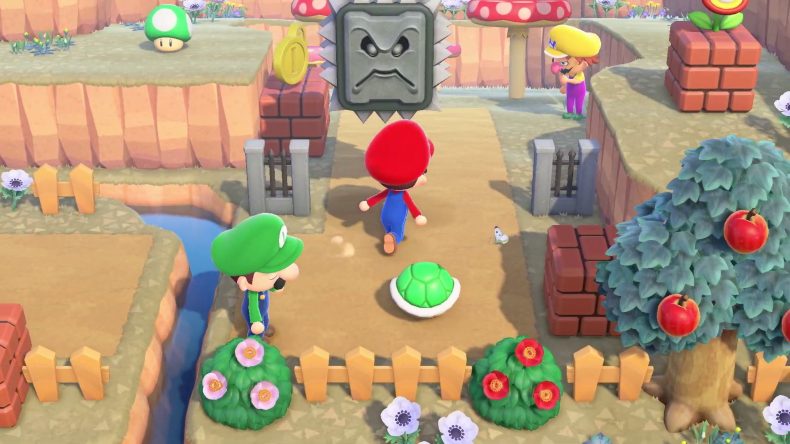 Plenty of great effects can be seen for the new items too, such as Coins actually getting picked up to reappear afterwards and Thwomps rising up to slam the ground below.
But perhaps most exciting of all, Nintendo revealed that the new Warp Pipe furniture items from Super Mario won't just be any ordinary piece of decoration — they'll actually allow you to teleport around your Animal Crossing: New Horizons island by jumping in one pipe and coming out the other side!
That's right, you can now fast travel across your island with this latest update by placing two Warp Pipes at different locations. As shown in an example by Nintendo, you could use Warp Pipes to teleport from outside your house over to your beach into the top right.
We certainly weren't expecting anything like this to ever be introduced, so it's a pretty surprising addition to the game! Even cooler, the feature will work in multiplayer by the looks of Nintendo's preview.
The Mario Update for Animal Crossing: New Horizons containing all of the new Super Mario themed furniture and clothing, including teleportation Warp Pipes, will be made available in a free update releasing next week on February 25th.
As for exactly how you'll be able to get the new Super Mario items in-game, they'll be made available for order in the Special Goods of Nook Shopping beginning on March 1st, similarly to seasonal holidays.
Given how many items there appears to be, we're curious whether the daily order limit will apply to these items making us split the items into many different days, or if Nintendo might provide an exemption for the promotion.
Today's announcement definitely raises some questions as well about the future of Animal Crossing: New Horizons updates, given that the next update previewed was the Mario Update, and no further previews were revealed today.
UPDATE: It turns out the Mario Update has a little more to offer than we originally thought — check out some new seasonal items including St. Patrick's Day that have been revealed here!
Hopefully, a more substantial update containing new features and events will be still arriving sometime during March and the Super Mario items don't represent the only new content coming our way next month!
Let us know in the comments what you thought about today's Animal Crossing: New Horizons update reveal, and in particular the rather surprising new Warp Pipe feature!
Stay tuned to Animal Crossing World for everything on Animal Crossing: New Horizons, including our extensive Guides section here. Our most popular pages include Sanrio Card Reprint, ColourPop Collection, Winter Snowflake Recipes, How To Build Perfect Snowboy, Redd Art, and Sea Creatures.