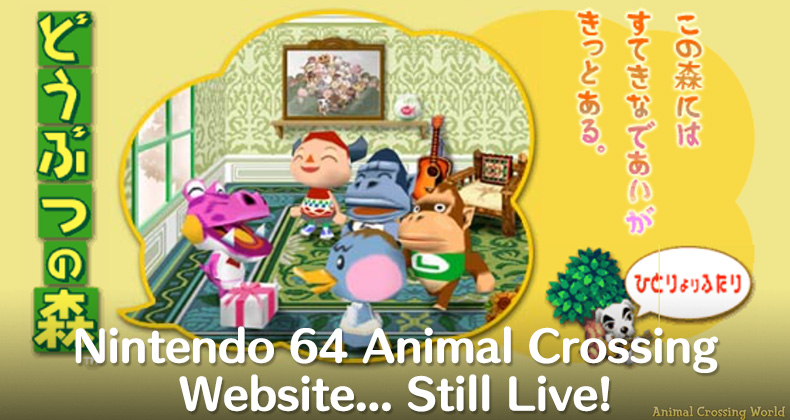 Today marks twenty years since the very first game in the Animal Crossing series released, and you can celebrate by exploring the game's original Japanese website still alive and functioning all these years later!
Animal Forest (Doubutsu no Mori) released in Japan 20 years ago today on April 14th, 2001 as a surprise Nintendo 64 game late into the system's life-cycle. In fact, Animal Forest was the very last first-party game released by Nintendo on the N64 before its demise with the Nintendo GameCube just around the corner.
Looking back at the original Animal Forest, the game feels very much like a 'beta' version compared to what we know today — it didn't even feature the Museum to donate your creatures, the Able Sisters, or the town mayor Tortimer.
Given how late the Nintendo 64 game released though, Nintendo quickly released a follow-up enhanced port of Animal Forest for the GameCube less than a year later under the title Animal Forest+.
Then a short while later, Nintendo of America finally brought the series overseas with an enhanced version in English through what we know today as Animal Crossing on September 16, 2002! This edition added even more features not seen in the Japanese version, including additional holidays for the overseas audience.
Amazingly, Nintendo is still hosting the original Japanese website for Animal Forest on Nintendo 64 in its full glory 20 years later, including some brief audio clips of K.K. Slider from the game. Those .wav files still play just fine today!
Across the website, you'll find a variety of classic screenshots of the original game, plus some fittingly low quality renders of characters, furniture, and more. Most of the website's text can be easily translated into English using Google Translate too, resulting in this amusing bit about Bells…
For those who are interested in the history of Animal Crossing, or even just adore the nostalgia of the 'old internet', it's quite a joy to look through and we highly recommend taking a peek in case it's ever taken down one day.
You can explore and browse the website yourself by clicking here. Thanks to Nookipedia for the tip!
Stay tuned to Animal Crossing World for everything on Animal Crossing: New Horizons, including our extensive Guides section here. Our most popular pages include April Update, Sanrio Villagers & Items, Sanrio Amiibo Cards, Nook Points, Cherry Blossom Recipes, Bunny Day Event, Super Mario Items, Redd Art, and Sea Creatures.