The Animal Crossing series is officially 20 years old today and Nintendo has celebrated this exciting anniversary with an interesting piece of new artwork!
Released first on social media by the official Japanese Animal Crossing account on Twitter, the 20th Anniversary artwork features a lovely line-up of nearly every special character in the Animal Crossing series so far.
Notably, this artwork showcases many familiar characters from the franchise's past that haven't yet made an appearance in Animal Crossing: New Horizons, including the elusive Brewster that fans have been waiting over a year to see.
To view the 20th Anniversary artwork in full 3000 pixel wide high definition, click the image above.
Other popular characters from recent Animal Crossing games included in this anniversary artwork, but missing from New Horizons so far, include Kapp'n, Katrina, Harriet, Tortimer, Porter, and more.
Perhaps more interesting is that a couple much more rare and unknown past characters named Farley, Serena, and Frillard made the list! Many Animal Crossing players in 2021 have likely never seen or heard of them, so here's a fun little rundown of history…
Farley
Only seen in the original Animal Crossing game for Nintendo GameCube, Farley was a fairy special character connected to the game's Perfect Town rating system, similarly to New Horizons' 5-Star rating.
If a player successfully maintained a Perfect Town for two straight weeks, Farley would then appear at the Wishing Well offering the Golden Axe as a reward! Otherwise, he's never been seen again, making for quite a lovely easter egg in the anniversary artwork. (image via JVGS)
Serena
Similarly to Farley, Serena was another single-game character related to upgrading your Axe, seen in Animal Crossing: City Folk for Wii.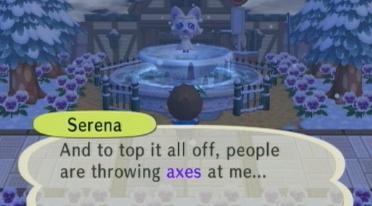 In this case, players could summon Serena to their town by building a fountain near the Gate and throwing an Axe item into it. After answering a few questions and choosing a hand, Serena would sometimes hand you the Silver Axe or Golden Axe upgrades — depending on your luck. (image via Nookipedia)
Frillard
Also seen in Animal Crossing: City Folk on Wii, Frillard was a lizard special character found performing occasionally at the Marquee theatre in the City.
Typically, comedy shows at the Marquee were performed by Dr. Shrunk, a character seen later seen again in Animal Crossing: New Leaf — but Frillard would step in from time to time offering a different kind of performance. (image via Nookipedia)
---
While the vast amount of characters featured in today's anniversary artwork are unlikely to indicate any specific returns in future Animal Crossing: New Horizons updates, we think it's pretty great that Nintendo has chosen to acknowledge all of these old characters! Rest assured, they haven't been completely forgotten.
Nintendo also announced a new set of Animal Crossing: New Horizons soundtrack collections today for release in Japan that collectors are sure to live, presumably as part of the anniversary.
For information on when the next major Animal Crossing: New Horizons update will arrive and what it might contain, check out our April Update predictions article here.
Stay tuned to Animal Crossing World for everything on Animal Crossing: New Horizons, including our extensive Guides section here. Our most popular pages include April Update, Sanrio Villagers & Items, Sanrio Amiibo Cards, Nook Points, Cherry Blossom Recipes, Bunny Day Event, Super Mario Items, Redd Art, and Sea Creatures.