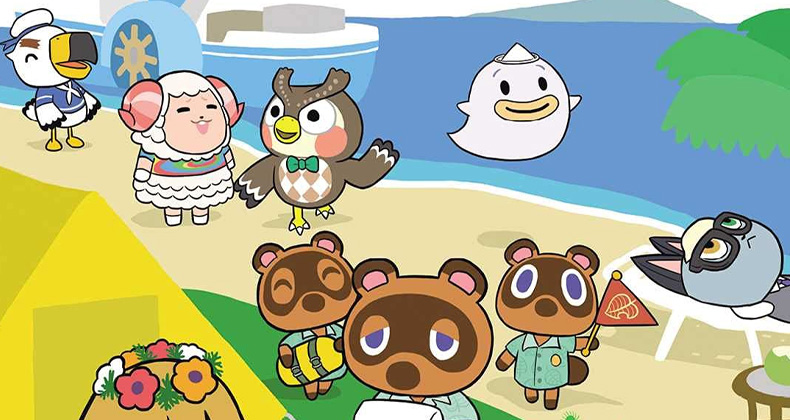 The official Animal Crossing: New Horizons themed manga is coming overseas from Japan with an English localization later this year and pre-orders are now live today!
First released in Japan during June last year, Animal Crossing: New Horizons Deserted Island Diary is the first volume of a two-part Animal Crossing manga series created by Kokonasu Rumba.
As announced on Twitter by publisher VIZ Media, the manga is finally releasing in English and official English cover art has now been revealed accordingly, as seen below.
Some of the main characters featured in Animal Crossing: New Horizons Deserted Island Diary include favorites like Tom Nook, Blathers, Gulliver, Wisp, Dom, and of course… Raymond!
It appears that this Animal Crossing manga is geared towards a young audience and takes a heavy comedic approach as the official description promises plenty of antics, goofy gags, and silly stories. You can find a 12 page preview of the Japanese version here.
The manga will clock in at 128 pages according to the publisher, though it's worth noting that some 'tips and tricks' for playing Animal Crossing: New Horizons are included in a special bonus section too. This is likely inflating the true page count.
Animal Crossing: New Horizons Deserted Island Diary is set for release on September 14th, 2021 at a price point of $9.99 USD and $12.99 CAD. Pre-orders are now live at Barnes & Noble and Amazon Canada.
This manga localization is just one of the many ways Animal Crossing has been reaching outside of video games with the recent release of a Build-A-Bear collaboration and the upcoming new set of adorable Animal Crossing: New Horizons plushies.
Stay tuned to Animal Crossing World for everything on Animal Crossing: New Horizons, including our extensive Guides section here. Our most popular pages include Museum Day Event, Upcoming Seasonal Items, Swim In River Glitch, New May Creatures, April Update, Sanrio Villagers & Items, Sanrio Amiibo Cards, Redd Art, and Sea Creatures.