If you've ever wished that Animal Crossing: New Horizons would celebrate one of the world's greatest foods, you're in luck with a new cheese themed event in-game starting today!
To commemorate this year's Cheese Rolling event, a brand new item resembling a giant block of cheese has been introduced into Animal Crossing: New Horizons for you to enjoy.
We're not playing a prank on you — it turns out that 'Cheese Rolling' is truly a real-world event originating from England where participants take place in a race down a hill against a giant rolling piece of cheese! Appropriately, the winner of the race gets to take home the big cheese.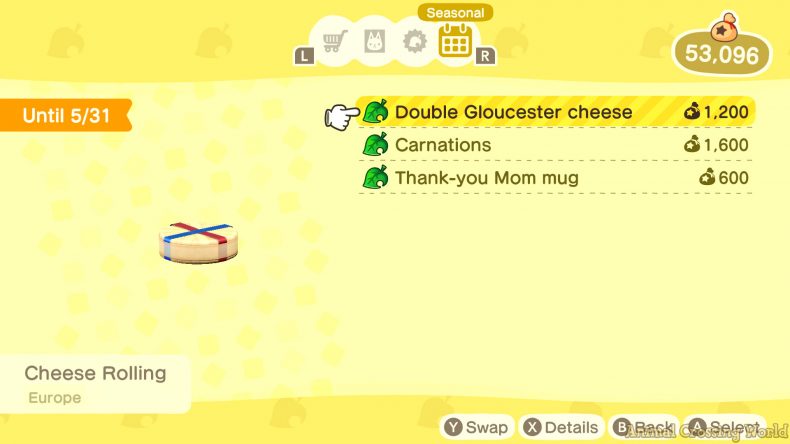 Players can pick up this limited-time Double Gloucester Cheese item in Animal Crossing: New Horizons from the Special Goods section of Nook Shopping for 1,200 Bells beginning today until May 31st.
Here's the official description from Nintendo covering their explanation of the Cheese Rolling event:
Do you love cheese enough to chase a wheel of Double Gloucester down a hill at 60 miles per hour? Many folks in Europe do! It's all fun and games until someone gets curd.
We've definitely got to give Nintendo some props here for bringing us interesting seasonal items like this that are so unique and outside the mainstream ones you'd expect. On the other hand, we still wish these 'events' would come with a bit more fanfare than appearing in the catalog.
It's too bad that the Double Gloucester Cheese item can't actually roll down the cliffs of our Animal Crossing: New Horizons island though — that'd really be something!
And while you're at it, don't forget to grab two Mother's Day seasonal items released in Nook Shopping earlier this month — the Carnations and Thank-You Mom Mug.
Follow our New & Returning Seasonal Items For May, June, July 2021 Guide here for a preview of what's coming next in Animal Crossing: New Horizons!
Stay tuned to Animal Crossing World for everything on Animal Crossing: New Horizons, including our extensive Guides section here. Our most popular pages include Museum Day Event, Upcoming Seasonal Items, Swim In River Glitch, New May Creatures, April Update, Sanrio Villagers & Items, Sanrio Amiibo Cards, Redd Art, and Sea Creatures.